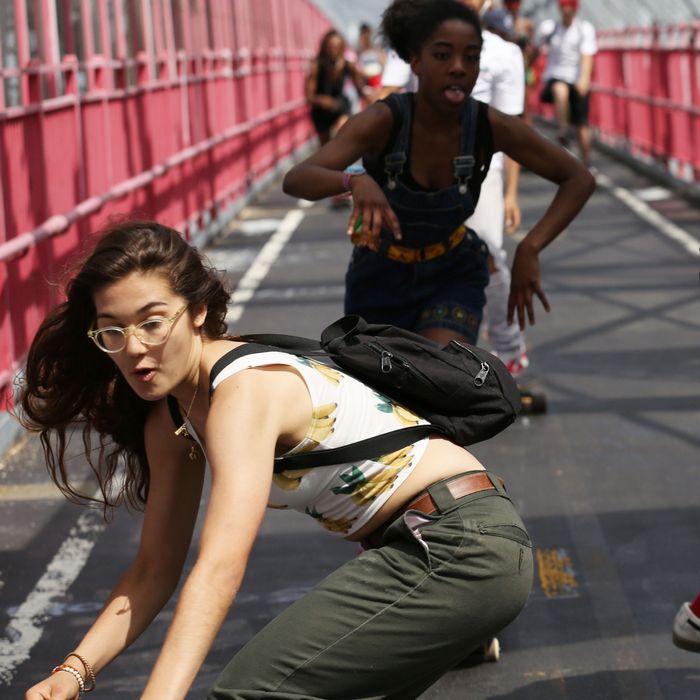 Skate Kitchen.
Photo: The Years Of Living Dangerously, LLC./Courtesy of Magnolia Pictures
Being the old and dusty thirtysomething pile of bones that I am, I did not know what getting "credit carded" was until this week, and now, no thanks to the opening of Crystal Moselle's Skate Kitchen, I am knee-squeezingly enlightened. The worst and most shocking incident in the coming-of-age story occurs within the first three minutes, as Long Island skater girl Camille (Rachelle Vinberg) wipes out in bloody, anatomically specific fashion at her local skate park. The ensuing hospital visit has her mom laying down the law — no more skating for Camille. She protests, until mom brings up the fact that she might not only invite more grievous injury to herself, but she may prevent herself from being able to have kids.
It's a bracing, kind of out-of-left-field set of stakes to introduce so early in the film, but making us painfully aware of our young female protagonist's body is one of the smartest things Moselle does in her first narrative feature after her debut documentary The Wolfpack. Skate Kitchen, based around an eponymous real-life Lower Manhattan all-girl skateboard posse, has a barely veiled cinéma-vérité style, the kind that's very in vogue right now. But it's clear Moselle vibes off the unscripted group dynamics of tight clans, and Skate Kitchen feels pointedly different than a similar loosey-goosey slice-of-life would feel about teen skater boys (for proof, see: Larry Clark's Wassup Rockers). Later, after running away from home, Camille talks to temporary roommate Janay (Ardelia Lovelace) about the betrayal that puberty was; the disappointment that at some point she would have to deal with and think about her own body. At one point, the two laze about Janay's bedroom, watching videos of boys doing reckless stunts. "I feel like a lot of good skaters just don't think," Janay says. "That's the thing, you can't think," Camille replies. "And us girls, we think too much." There's more than a hint of self-admonition in her voice.
The acceptance of being a girl is one thing, but on a plot level, Skate Kitchen is more about being in a group of girls, and what that means for an individual's growth and sense of self. Camille is intimidated the first time she travels to Manhattan and meets the Skate Kitchen girls, but they welcome her into the fold easily, and provide emotional and practical support when her relationship with her mother crumbles. Perhaps Camille had skater friends before this, but it's clear she's never been part of such a cohesive family unit. The girls skate, party, and smoke up together; they defend each other from "asshole" men in their wider skating circle as best they can. Of course, it is one of these asshole men (Jaden Smith) who ultimately drives a wedge between Camille and the group, effectively forcing her to pick a female or male realm.
This is the great tragedy of female friendship, and as basic as it is, it's rarely presented with such realism and loneliness as when Camille, cut off from her tribe, endures a dark night of the soul with Jaden and his rowdy roommates. But the way the film deals with it is disappointingly insubstantial, and other elements of Skate Kitchen feel hastily sketched, seemingly out of obligation. Every scene between Camille and her mother feels forced, as if Moselle can't wait to get back to the skate park. Neither can we, honestly, but the effect is a shallow sense of drama, and the sneaking feeling that the film exists more as a Weekend Styles trend-piece than an actual dramatic work. As such, it's more than aesthetically engrossing, and Moselle has a great eye for the details of the corner of Manhattan she's carved out for herself as a filmmaker. It never gets tiring to watch the girls coast down the Manhattan streets, cocky and breezy and effortless, turning the heads of younger girls who gaze at them, starstruck. But it's also featherlight, not meant to endure much longer than those brief airborne moments Camille and her friends live for.