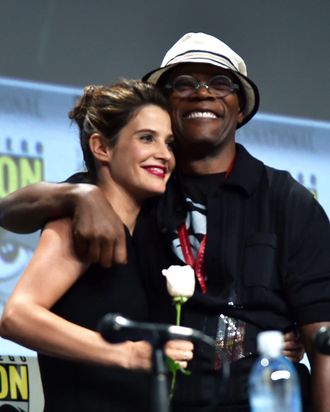 Photo: Alberto E. Rodriguez/Getty Images for Disney
Though Samuel L. Jackson appeared only briefly in Avengers: Infinity War, where (spoiler alert!) his long-running Marvel character, Nick Fury, was a post-credits casualty of the film's super-villainous snap, rest assured that this isn't the last you'll see of the actor in that cinematic universe. In fact, 2019 might be Jackson's most Marvel-ous year yet.
In March, he has a significant starring role opposite Brie Larson in the 1990s-set Captain Marvel, where a digitally de-aged Jackson will show us who Fury was before he put on that iconic eye patch. Now, Vulture can confirm that Jackson will also star in Spider-Man: Far From Home, which means Fury will share scenes with Tom Holland's web-slinger for the first time. That sequel to Spider-Man: Homecoming comes out July 5, 2019, roughly two months after the still-untitled fourth Avengers film will presumably de-dust both Nick Fury and Peter Parker.
What's more, we can confirm that Cobie Smulders will be joining Jackson in Spider-Man: Far From Home, where she'll reprise her character Maria Hill, Fury's frequent comrade-in-arms. Since she, too, was last seen evaporating into the wind at the end of Infinity War, perhaps Thanos should start worrying. (Sony had no comment on either casting.)
The Spidey sequel, currently shooting in Europe, adds Jackson and Smulders to an ensemble that will feature Jake Gyllenhaal as the villain and brings back much of Spider-Man: Homecoming's winning cast, including Zendaya, Jacob Batalon, and Tony Revolori. And fortunately for Jackson, it will keep him employed until at least September. Who knew that death could present so many career opportunities?