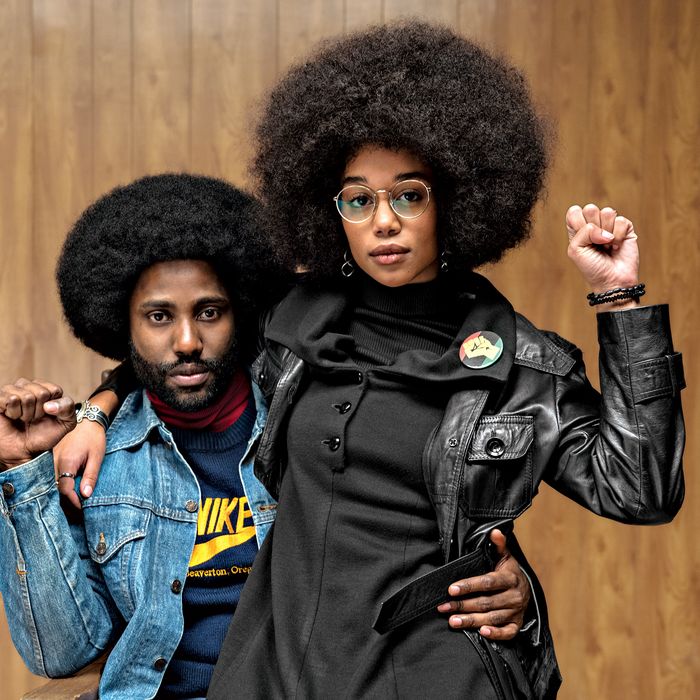 John David Washington and Laura Harrier.
Photo: David Lee/Focus Features
There's something important to know when you see Spike Lee's explosive BlacKkKlansman, which is based on the bizarre exploits of black Colorado Springs undercover detective Ron Stallworth: Since Lee's days as an NYU graduate film student, he has publicly stewed over D. W. Griffith's The Birth of a Nation and wanted to savage it onscreen — which he does here, definitively. In one of BlacKkKlansman's most stunning scenes, Stallworth (John David Washington) watches Ku Klux Klan initiates and their proud families at a screening of Griffith's film: They're repulsed on cue when shiftless blacks take over a southern legislature, enraged when a pure white virgin throws herself off a cliff rather than submit to a black man, and enraptured when the holy Klan gallops in to avenge the death, dumping the black man's corpse in his town as a warning. Lee himself has a propagandist streak, and he knows nothing ever sold the message of white emasculation and the existential necessity of keeping blacks down as well as Griffith's 1915 film. It revived the Klan and — insult to injury — is still reckoned a landmark of narrative filmmaking. If there were no other reason to make BlacKkKlansman, this one would be good enough.
But there are, of course, plenty of other reasons. Stallworth's memoir is set in the late 1970s but obviously resonates in an age of resurgent white supremacy and anti-Semitism, not to mention a sympathetic U.S. president (who makes an appearance in the film's 2017 Charlottesville coda). The movie's tone is queasy but with huge laughs at the cretinousness of Klan members, among them their national leader, David Duke (played by Topher Grace). Stallworth's feat is engaging Klan members over the phone by fulminating about Jews and n—ers, especially the one who put his "filthy black hands" on his "purest white-driven-snow" sister. Obviously, Stallworth can't show up at the actual meetings and dispatches in his place fellow undercover cop Flip Zimmerman (Adam Driver), who happens to be a Jew. A black and a Jew putting one over on the dimwitted racists! Lee wants audiences to laugh their black/Jewish/liberal asses off. As for those without black/Jewish/liberal asses, well, it's hard to say what they'll do.
Lee and co-screenwriter Kevin Willmott (along with the team of Charlie Wachtel and David Rabinowitz) have made a couple of key changes to Stallworth's memoir. The most significant is that it's now a quasi-redemption story. The first black detective on the Colorado Springs police force, Stallworth lands the undercover gig by agreeing to pose as an audience member at a speech by Black Panther Stokely Carmichael, a.k.a. Kwame Ture (Corey Hawkins), who's considered by law enforcement a dangerous agitator. Although Stallworth professes pride in being a cop, you see the shame in his eyes when he's forced to report on his own people. He's also trying to make time with a black activist, Patrice Dumas (Laura Herrier with an Angela Davis–size Afro), with no use for racist cops who shoot black people in the streets. Not all cops, he tries to say, but that doesn't exactly take. As Ture exhorts the crowd to "stop running away from being black" and says he'd "rather see a brother kill a white racist cop than kill a Vietnamese," Lee shows black faces, male and female, drift across the screen, materializing and dematerializing, drinking in these words. Stallworth isn't immune to them. Lee doesn't endorse violence — it would be a betrayal of the real Stallworth, who in his memoir is no fan of Antifa and its ilk — but he doesn't un-endorse it. Demagogues are salesmen and salesmanship excites him.
In life, there was no woman activist to turn Stallworth on and tell him off. The cop who stood in for Stallworth at Klan meetings wasn't Jewish and didn't have to worry about being inspected for circumcision. And the climax in which the wife of a Klan member carries a bomb to Patrice's house didn't happen — it's Birth of a Nation–style melodrama. Lee doesn't do subtlety. But the movie is very entertaining and comes with a stupendous, lushly melodic score by Terence Blanchard. Stallworth's attempts to engage Patrice ("How you doin' this evening, my sister?" "I can dig it, I can dig it") are painfully funny, and his racist telephone rants — delivered while colleagues look on, struggling not to explode — outright howls. Jasper Pääkkönen is the Klan member who's suspicious of Driver's "Stallworth" from the get-go, and with his scarily unblinking eyes, he's a ringer for a rural mechanic I once met (my car broke down) who explained why no one should be forced to live without a gun in a city full of n—ers. Grace's David Duke is a callow twerp who laughs at his own racist jokes, and the performance proves the perfect setup for footage of the man himself in Charlottesville. Lee doesn't twist people's words. These are their words.
BlacKkKlansman would have been richer if Lee had dramatized the real Stallworth's reservations about black militancy. But both sides, pace Trump, are not equal. Harry Belafonte plays an elderly activist who recounts for a group of black students the torture and murder by a Klan-affiliated group of a mentally disabled black man. The coda brings this goofy, upbeat story into the frightening, downbeat present. Maybe using Charlottesville footage is too easy, too much of a sucker punch, but Lee has spent his life in the shadow of The Birth of a Nation, and he'll never discount the potency of graphic melodrama.
*This article appears in the August 6, 2018, issue of New York Magazine. Subscribe Now!
BlacKkKlansman was nominated for six Oscars in 2019, including Best Picture, Best Director, Best Supporting Actor, Best Adapted Screenplay, Best Original Score, and Best Film Editing.