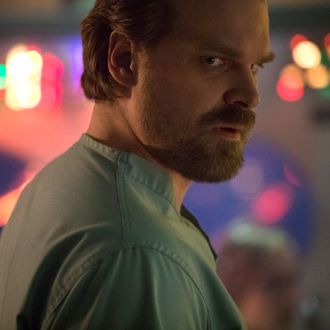 David Harbour.
Photo: Jackson Lee Davis/Netflix
We could chew your ear off about every '80s-based film and pop culture reference that inspired Netflix's Stranger Things throughout its two seasons, but if David Harbour — Hopper himself! — is to believed, the show's third season will lean a little more on comedy than what we've seen in the past. That's because, as revealed in a new Variety interview, the Chevy Chase comedy-action film Fletch served as a major inspiration for showunners Matt and Ross Duffer. "The Duffers are so specific each year with the movies," Harbour explained. "And Fletch is one movie we get to play around and have some fun with this season, which you wouldn't expect from Stranger Things and you wouldn't expect from the Spielberg universe and you certainly wouldn't expect from a darker season." Released in 1985, Fletch revolves around a reporter (Chase) who reluctantly agrees to kill a millionaire for a handsome sum of money — thinking the millionaire is suffering from terminal cancer. Spoiler alert, the millionaire is definitely not suffering from terminal cancer, and a mix of investigative and journalistic shenanigans ensue.
Interestingly, the addition of a new journalist character for Stranger Things 3 has already been confirmed. Jake Busey joined the cast as a Hawkins-based reporter, who has "questionable morals and a sick sense of humor." Cary Elwes is also confirmed as a Hawkins's "slick and sleazy" mayor. Swoon?