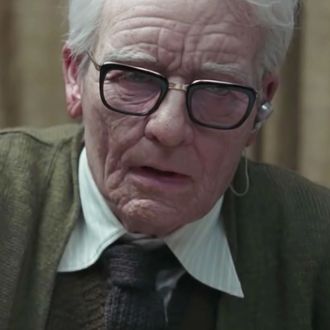 Lutz Ebersdorf.
Photo: Amazon Studios
No director has done more for Thirst Twitter™ than Luca Guadagnino, the only man who has not disappointed us yet in the year of our Lord 2018. Guadagnino introduced us to Timothée Chalamet and reintroduced to us to Armie Hammer with last year's Call Me by Your Name, a movie about love, sex, and peaches. With his next movie, the horror remake Suspiria, Guadagnino is poised to present the next boy to inspire Timmy-Armie levels of adoration: the 82-year-old newcomer Lutz Ebersdorf who, according to the director, lights up the screen as Suspiria's male lead, Dr. Jozef Klemperer.
The Klemperer character wasn't in Dario Argento's original Suspiria, and seems to be an ally to the Dakota Johnson character, who suspects witchy happenings at her Berlin dance school. "We wanted to have a fresh face. Someone who was born on screen with this movie," Guadagnino told Deadline about casting the mysterious first-time actor. Like his character in Suspiria, Ebersdorf is a Kleinian psychoanalyst. "We wanted someone who could embody the tragedy of the 20th Century somehow. His character wants to try to survive but also claw back what he has lost." Guadagnino has an eye for internet-boyfriend material — is Ebersdorf the next talk of the Tinseltown?