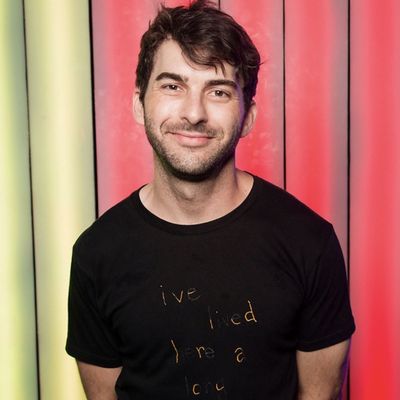 Brantley Brice.
Photo: Mindy Tucker/Courtesy of Brantley Brice
Brantley Brice (@brantleybrice) is a comedian, content creator, and writer. If you're in New York, come see him co-host the show Cereal Milk on September 21 at Friends and Lovers. If you're not, check out his parody Instagram account @works_at_actor or visit his website.
This week, Brantley talked to me about using Twitter like an open mike, talking about things from his real life, and being inspired by everyone's favorite, Joe Biden.
I used to manny for Edie and one time she was running out the door to go grab an award and needed someone to zip her up. Her assistant was not around and her two kids were too young at the time so I won. I remember thinking "Wow yeah okay as a gay man this … this means something … this is major." Pretty big credit as a homosexual. Right place right time I guess.
What do you get out of being on Twitter?
For me, Twitter is a 24-hour open mike where I can take a dump whenever I want.
Based on my appearance alone, people usually assume I'm straight which really hurts my feelings. Also I think there's something about coming out late that makes you want to wear thong underwear. There's a need to make up for lost time by having something up your ass 24/7.
How many of your tweets are based on real life and how many are purely fictional?
I'd say 84 percent of what I tweet is based in real life and 16 percent I wish was fictional.
There's at least ten people I can think of off the top of my head that I definitely wouldn't have hooked up with had I been diagnosed with ADHD sooner. I also wonder which direction my career might've gone: probably graduated from an Ivy League school and work on Wall Street instead of working as a maintenance man in a hostel behind Times Square without a college education.
But it doesn't matter because Joe Biden has taught us that success can come at any age.
What's the weirdest/coolest interaction that you've ever had on Twitter?
This is pretty nuts but some of my tweets have been favorited by stars such as Bonnie Hunt and Petey Pablo.
If all you need is coffee to jump-start your day, you're not paying attention.
How do you know what jokes work for Twitter vs. other mediums?
The truth is, I don't. I just know it feels so good to sum up a bit on Twitter and see that lil gray circle in the bottom right with so much life left! Also Facebook is dead, and Instagram is for dating. So if a joke isn't working on Twitter, it's garbage!
Karen Chee is a Brooklyn-based comedian who writes for The New Yorker, McSweeney's, and Shondaland, among other cool websites.