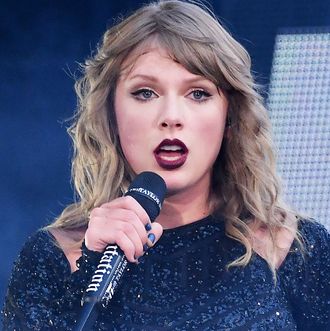 Photo: Gareth Cattermole/TAS18/Getty Images
A few months before last fall's #MeToo movement emboldened more women and men to come forward about their experiences with sexual misconduct, Taylor Swift was recounting hers in a courtroom. Swift was sued by radio host and DJ David Mueller after he claimed her assault complaint against him led to his being fired. "A year ago, I was not playing in a stadium in Tampa, I was in a courtroom in Denver, Colorado," the singer told the audience at her concert Tuesday night, according to People. "This is the day the jury sided in my favor and said that they believed me."
Mueller initially took Swift to court for defamation, claiming she falsely accused him of groping her at a 2013 meet-and-greet, an allegation he says led to him losing his job. The singer countersued, and testified about the incident in court.
Swift said onstage, "I just wanted to say I'm sorry to anyone who ever wasn't believed because I don't know what turn my life would have taken if somebody didn't believe me when I said something had happened to me. So I just wanted to say we have so much further to go, and I'm so grateful to you guys for being there for me for what was really a horrible part of my life."
In the end, a jury found Mueller had committed assault and battery against the singer. While his lawsuit was thrown out entirely, Swift received the full damages she sought from Mueller: a symbolic $1.
At the concert, Swift concluded, "You guys have seen me go through so many ups and downs in my life just due to the public nature of the way my life is, and I just wanted to say that I'm so happy to see you and to have you and know you through the ups and the downs in my life. Sorry, I just haven't really talked about it, and so I'm just not composed at all."