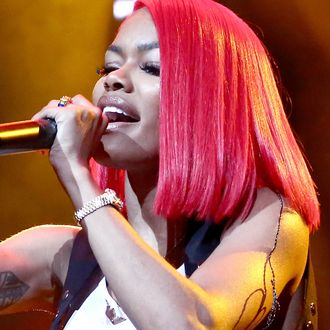 Teyana Taylor.
Photo: Ser Baffo/Getty Images for BET
Teyana Taylor is letting nothing stand in the way of her moment, not loose wigs and definitely not her tour-mate. The singer just kicked off a tour on August 3 with Jeremih, to promote her newest album K.T.S.E., which you may recall belongs to the canon of Kanye West's Wyoming Period. However on Wednesday afternoon Taylor announced she was quitting the tour, saying she'd been "extremely mistreated." "I've been extremely mistreated on this tour so on that note i will NO longer continue to stay on the #LaterThatNightTour because if I do ima end up knocking this nigga out," the singer tweeted. "I'm sorry to all who has already purchased tickets to see me I will make sure everyone gets refunded!"
Taylor continued to tweet about Jeremih's alleged behavior, tweeting, "Lazy, sneaky, jealous, conniving, selish (sic), lame ass nigga! Don't ever try to play me Petunia! They come to see me then 80% of the room leave after MY SET! work my ass off every city, every night! You've done nothing this whole tour but act like a DIVA in ya princess chair."
She elaborated even further on an Instagram Live story, which the Shade Room then reposted. In the video, she describes sound issues and video issues that she attributes to Jeremih's meddling, says he left water on the stage before her set, and accuses him of making a comment when he took the stage in Boston thanking Taylor for "opening up for me" even though the artists were co-headliners.
Taylor has promised to make it up to disappointed fans on Twitter, saying she will replace any non-refunded shows with free concerts. "I truly apologize to everyone who has purchased tickets to see & support me. However, I will NOT tolerate disrespect on ANY level especially as a woman. All money ain't good money. So w/ that being said, I will put on a free concert for every city that can't receive a refund."