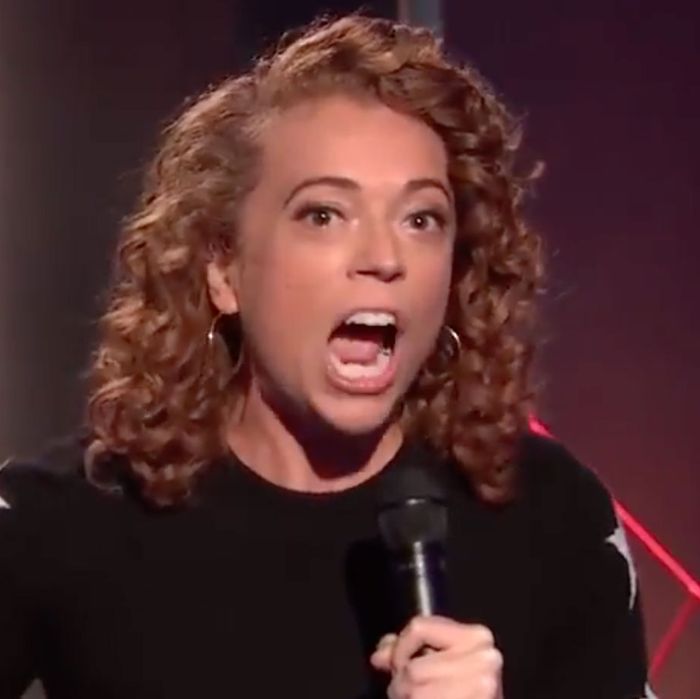 Michelle Wolf on
The Break
.
Photo: Netflix
I'm tired. Are you tired? Everyone on talk shows are so tired. The news is fatiguing, Trump is an unrelenting juggernaut of bullshit, and it's so dang hot all the time. We have had enough. Comedy can become the news and try to document every awful thing, or we can follow Michelle Wolf's example and talk about crow sex instead. Late-night hosts across platforms took time to highlight actual fun news stories this week, and The Break led the charge. The last episode of the show's ten-episode run devoted not one, but two monologues to the fact that crows have sex with their dead. Sitting at her Serious News Desk, Wolf said, "When it comes to Trump and comedy, everyone says the jokes write themselves, and I'm starting to think it's true. It's probably why all the jokes are so bad and hacky. Also, talking about him all the time is exactly what he wants." Rather than feed into the self-aggrandizement machine, Wolf launched monologue part deux and made puns about birds for five minutes.
Crow necrophilia isn't even the weirdest of the weird sex stories this week. Jimmy Kimmel Live! went all-in on Bigfoot porn.
Crows may be freaks, but they are at least real. Denver Riggleman not only associates with white supremacists but is allegedly a big fan of Sasquatchploitation. Kimmel went on to detail other fantasy porn genres such as Loch Ness Monster and mermaid erotica. Colbert also touched on people who touch themselves to Bigfoot, saying he didn't want to be accused of kink-shaming. "I believe love is love," he said, "and I love how hilarious this is." But celebrated author, pervert, and karate master Chuck Tingle correctly pointed out that the grossest thing about Riggleman is his fetish for white power, not Bigfoot.
Many late-night shows this week decided to round up a bunch of non-Trump stories rather than plumb the depths of animal and human sexual depravity. Amber Ruffin and Jenny Hagel brought "Jokes Seth Can't Tell" back to Late Night, while James Corden utilized emoji to tell his less reported stories.
We need this kind of variety in our variety shows. The world is already an unrelenting march toward totalitarianism. My TV should have clowns and funny noises to break up the sadness. Give me jokes about CBS/NBC intern rivalry, how men from Yorkshire dislike physical touch, and how white men can't dance. And just because the jokes aren't taking on the president doesn't mean they aren't political. Meyers attempted to dance during "Jokes Seth Can't Tell" and received a pity clap for trying. That pity clap, according to Meyers, is the sound of white privilege.
Even news-commentary shows like Last Week Tonight and Full Frontal can find targets that aren't Trump. Samantha Bee teamed up with Terry Crews to call out offensive and hacky prison-rape jokes.
And John Oliver got Thomas Middleditch to reprise his role as the voice of Facebook's conscience in an ad parodying its apology campaign. Facebook is a plenty powerful institution and worthy of late-night comedy critique. In fact, we should all be laying into Zuckerberg with almost as much fervor as we have for Trump. Like Trump, he is morally culpable for spreading fake news, he has defended Holocaust deniers, and his eating habits are utterly ludicrous. Have you seen the livestream of his barbecue?