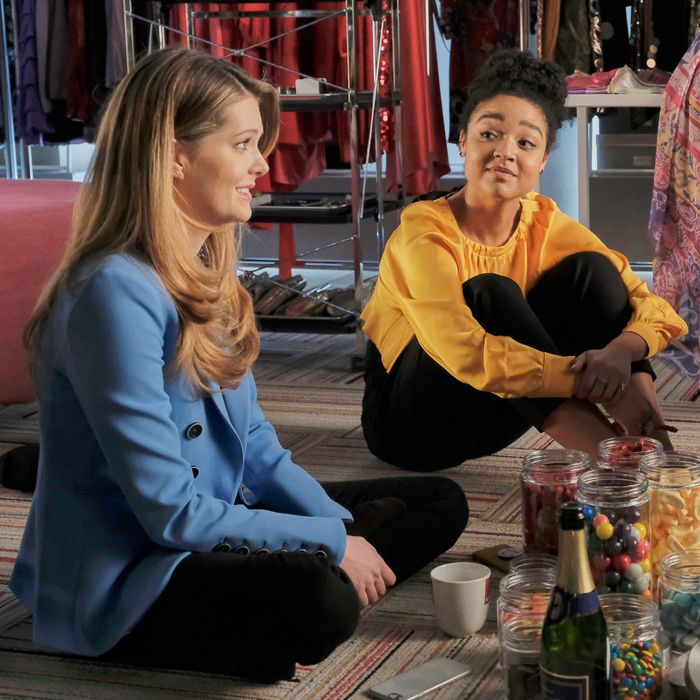 Sutton expensing $500 worth of cocaine. Kat having sex dreams about a woman who definitely isn't her girlfriend. Jane being, well, Jane. Regardless of the conundrums The Bold Type heroines face on a weekly basis, one constant remains through all of those office heart-to-hearts and bitch sessions: that fabulous Scarlet fashion closet. It's a closet so chic and so homey, the ladies instinctively eschew their workload and retreat into it whenever something big crosses their minds. As Sutton so concisely put it in a recent episode: "Fashion closet, now!!!" (Not to mention how closet is always empty whenever the trio hang in there. Go and suck it, Incite.)
Tasked with modifying the original configuration from the show's pilot, production designer Zoe Sakellaropoulo knew the closet would serve as a focal point for our Scarlet-ers, elevating it from the generic-leaning interior we saw in the Freeform show's first episode without going overboard. "It was always their private place to go to. The fashion closet has become their secret little world — in a sense, their private world," Sakellaropoulo told Vulture. "It's a place for them to sneak away and talk and gather." To better align with this vision, Sakellaropoulo changed the closet's overall aesthetic to something more "elegant" but also "lived-in," peppering it with pieces of furniture to mirror a living room. But as much as everyone loves a good fuchsia ottoman, the focus still had to be the clothing and accessories.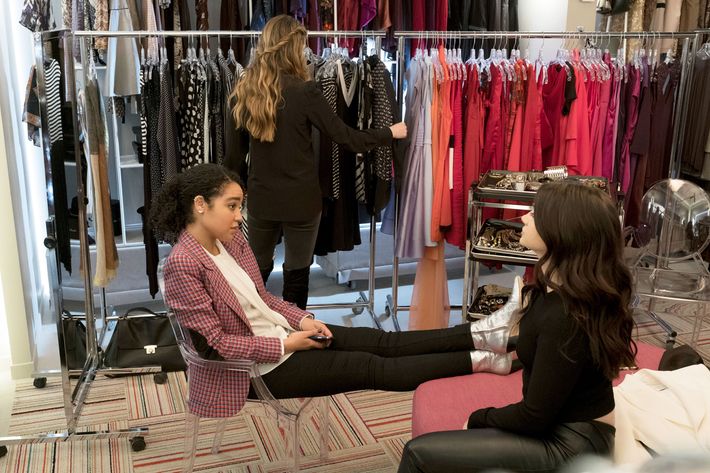 "We wanted to create the feeling that it was a real, working closet that had lots of clothing and no static. We keep moving things and adding things to make it look alive," she said, noting the dozens of color-coated racks, mannequins, and boxes on rotation for whatever a particular episode calls for. "The colors are all together, even though they can be mixed up every now and then. There's an order to the closet, so the disorder I try to not encourage, because at any working magazine they have a way of order and a way to catalogue their clothing." Sakellaropoulo even looked to Cosmopolitan — whose former editor-in-chief, Joanna Coles, inspired the series itself — when it came to closet organization: "I wanted to be as authentic I could."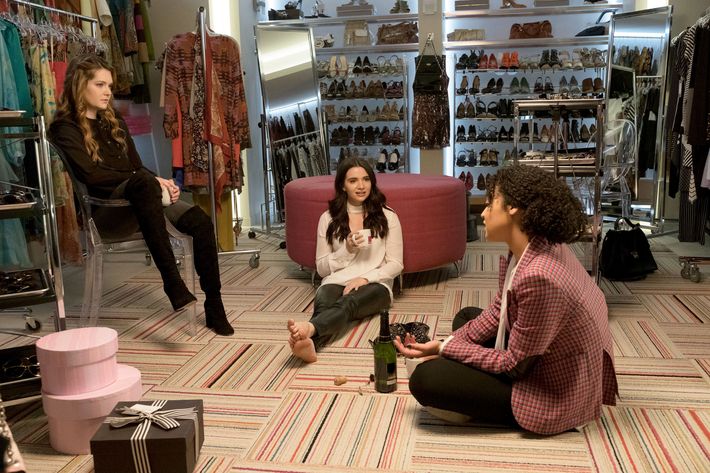 As for how the show manages to fill up the closet with the nicest garments this side of the Mississippi — plus hats, belts, shoes, and handbags — that's a bit tricker, owing to the dual challenge of a strict no-visible-branding rule enforced by Freeform and a "not huge" budget. Still, Sakellaropoulo says she was able to make do with less. "It's a mix of everything. We've bought things in vintage stores, we've bought things in boutiques. We've rented some pieces from designers, and we mix in a lot of second-hand items," she explained. "We don't have the budget to pay $1,000 for every item, so there are fillers as well. There might be certain dresses that don't look great, so we wedge them between two nice dresses. We use the same process with the shoes, too. Stack 'em around nicer pairs." Work worthy of a Unicorn Dreamtimi, truly.