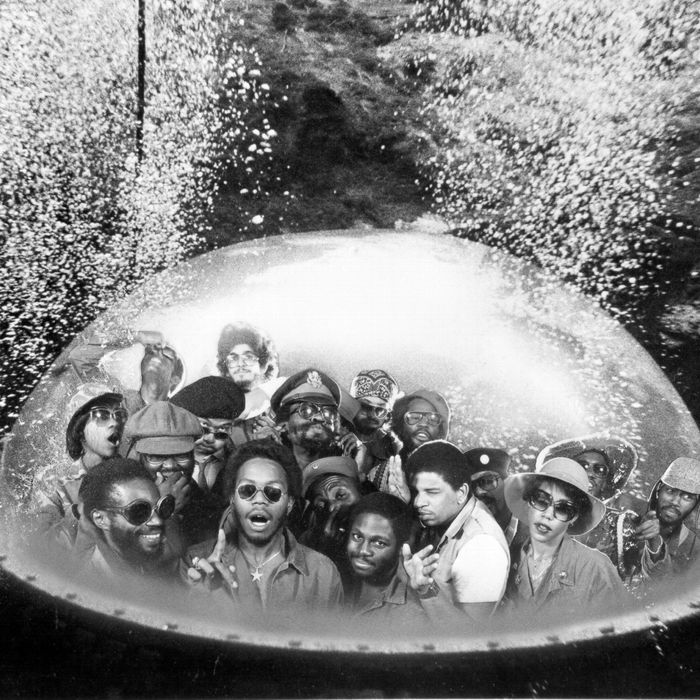 Photo: Michael Ochs Archives/Getty Images
Forty years ago, a spaceship touched down in New York City. As the roof to the extraterrestrial pod rose up, a group of men known as the Electric Light Orchestra ascended in the smoke. The band was touring off their smash double album Out of the Blue, but amazingly, their show wasn't the only one at Madison Square Garden that year to feature an alien invasion. At the end of Parliament-Funkadelic's 1977 gig, the legendary Mothership descended from the cosmos and Dr. Funkenstein, a.k.a. George Clinton, led his righteous collective in offering celestial salvation.
It was the age of Spaceship Rock. And it lives on today.
"There is nothing cooler than a band who uses spaceships on stage," says Jason Heller, author of Strange Stars, an authoritative look at the intersection of science fiction and music in the 1970s. "It's the ultimate in showmanship, and popular music's perpetual need to outdo itself probably made such a spectacle inevitable. Not only does it reinforce the mythic and completely fun idea of the rock star as a transcendent being, it drives home the underlying power of music: It transports us."
This week, ELO (officially, Jeff Lynne's ELO , a hedge against former bandmates and their assorted tribute acts) return to the Garden for the first time since 1978. For ELO fans, and there's a lot of them as the band has sold 50 million records worldwide, it's been a long time coming. But the early word is, totally worth it. Lynne has assembled a 13-piece band to bring ELO's violin-and-cello-inflected pop masterpieces like "Mr. Blue Sky," "Livin' Thing" and "Don't Bring Me Down" to the masses. The chance to finally see ELO live across the country holds special appeal for children of the '70s, too young for arena rock, but still captivated in middle-age-dom by the band's glowing blinking whirling logo. This tour, the musicians aren't rising up on hydraulic lifts, but the famous imagery still abounds. Look up in the sky, it's not a Simon, it's the ELO flying saucer.
"The logo on the 1976 album A New World Record is an homage to my dad, an engineer who designed the undercarriage for the Mosquito fighter plane, and then after World War II, went to work for Wurlitzer as an organ builder," says Kosh, the designer behind the covers of countless record collection staples like Abbey Road, Who's Next, and Get Yer Ya-Ya's Out! "It's a combination of the General Electric logo turned into ELO and the lights of a Wurlitzer 1015 jukebox."
For Out of the Blue, the 1977 album that spawned the massive tour with the five-ton 525,000-watt $300,000 spaceship, Kosh relied on audial and familial inspiration. He always listened to a few tracks, so as to not design a cover that had nothing to do with the music or the grooves. The songs nudged Kosh into the science-fiction realm. He came up with a concept of a space jet delivering food to the giant ELO flying saucer. Earlier, he'd hit on that piece of rock-and-roll history that came about thanks to child's play.
"We made stickers for A New World Record and I slapped one on a blue Frisbee," he says. "I threw it to my son, and while it was in the air, I thought, 'There's the new album cover right there.' We didn't necessarily set out to do something 'spacey,' but you pick a theme and off it goes. The ELO logo as a flying saucer was a device that really hit. I believe Jeff Lynne is still using a modified version of it today. "
While working on Out of the Blue, Kosh and illustrator Shusei Nagaoka knew they wanted it to be futuristic, in line with the cutting-edge quadraphonic ELO sound. They weren't looking back to 1950s touchstones like Forbidden Planet or It Came From Outer Space, with their cheap, lo-fi, yet lovable, special effects.
At 70, Jeff Lynne has achieved greatest-hits liftoff, while at 77, George Clinton is preparing to hang up his full-length furs. It's understandable, because unlike Lynne, Clinton has been the ultimate atomic road dog, touring year after year. Clinton's MSG days are behind him, perhaps in part because he doesn't have ELO's absence-hearts-fondness trifecta, but Dr. Funkenstein is still out there bringing love to the people with some iteration of the 100 musicians and singers who've called P-Funk home. Clinton announced he's retiring in May 2019, although the only announced date at the moment is this Sunday at the Summer Soul festival in Rochester. (Don't despair P-Funk aficionados, Clinton says the band will live on and he's pre-hologrammed himself for future Vegas funk.)
George Clinton's influence on soul, funk, and hip-hop can't be overstated. (His songs have been sampled more than 2,200 times.) To say nothing of the costumes and the showmanship. Frequent recording partner Prince inducted P-Funk into the Rock and Roll Hall of Fame in 1997 (with a story about "close friend" George instructing him to "pee" on a tape), and naturally mentioned the Mothership. Along with Clinton's colorful martian-y mane, it's the lasting P-Funk image, which is just about perfect. The Mothership may have resembled something constructed by Ed Wood, but it had a calling higher than the Earthly realm.
"We had put blacks in places where they had never been perceived to be," Clinton said in a 2017 interview with The Undefeated. "So the next one was to have blacks in outer space."
The Mothership is a cultural signpost, a defining 1970s nuts-and-bolts Afrofuturistic artifact made by hand, a thing to climb aboard, not a digital CGI effect vanishing in the ether. The Mothership — the second version from the 1990s at least — is historically bona fide. It's an anchor in the "Musical Crossroads" exhibit at the Smithsonian's African-American History & Culture Museum.
"We wanted a large iconic object that would carry a lot of weight in the exhibit. When we saw a blurb in the paper about the Mothership, we contacted George's manager and found out it was in his living room in Tallahassee," says Dr. Dwandalyn Reece, curator of music and performing arts at NMAAHC. "Reaction to it has been overwhelming. Some people who aren't aware of P-Funk view it as a curiosity, but people who know the ethos of Clinton's funk music, the liberation of traveling to other worlds where there's more humanity and unity, and of freedom, understand it's is a trope for the African-American experience."
Clinton was at the opening of the NMAAHC in 2016, hung around for a few days holding court and telling his alien tales to the rest of the world. Reece admits the Mothership isn't quite as captivating in its permanent home as it was coming down from the rafters illuminated in a fog of dry ice, but it's a kick that this seminal piece of Spaceship Rock art will live on long past its creator.
"We have pride in keeping George's legacy going, to share his story with people," says Reece. "I was astounded by the Mothership the first time I saw it, it was exactly what we needed to make a big statement."
Jeff Lynne and George Clinton were central figures in the heyday of Spaceship Rock. The music, of course, comes first, freed minds and telephone lines, but the interplanetary iconography remains ingrained in their respective legacies. They were not alone. It was a time when popular music and space went hand in hand. Strange Stars begins in the late '60s of 2001, a giant leap for mankind, and "Space Oddity," and by the mid-'70s — even before Star Wars — the universe exploded. As Heller notes in his book, there were four different robot-themed dance songs, and Boston's smash 1976 self-titled debut featured a guitar-rocket UFO, even though they were far from Bowie-esque in their sound and lyrical outlook.
"A lot of the use of outer-space imagery on album covers in the '70s was sheer commercialism, but I'd stop short of calling it crass commercialism. Even when a band like Boston famously and lucratively used spaceships in their artwork, it reflected the epic scope of their music, if not in subject," says Heller. "Artists like ELO and P-Funk brought more actual sci-fi content into their music, as the former's album Time and the latter's album Mothership Connection clearly show."
There's a nostalgia factor to the extraterrestrial era of ELO and P-Funk, but it's as much about outer space as it the music. The age of achieved fantasy of Neil Armstrong on the moon brought years of pop culture looking up to the stars and dreaming of what could be, but it seems to have passed us by, usurped by the 21st-century technologies at our fingertips. The early '80s fervor for the space shuttle was swept away by the reality of human fallibility, and it's already been more than seven years since the final launch. There is incredible work being done every day at the International Space Station, but it doesn't exactly capture our collective imagination like the Apollo missions. Hell, even the superhero v. space movie ratio is currently about 17-to-1.
Musically, there will always be artists like Janelle Monáe enraptured by the cosmos, but it's hard to imagine the time when multiple bands with actual working UFOs take the Garden by storm. Time will tell if the country rallies behind Space Force. The good news is there's still a chance to blast off with the pioneers whose futuristic tunes, Earthbound or otherwise, remain essential today.