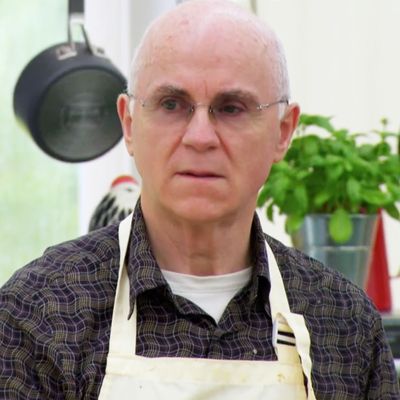 With just one week to go in the competition (can you believe it!), our four semi-finalists must face the gauntlet that is patisserie. This French-themed episode is off to a very French start with our signature challenge: three varieties of bite-size petit four, a dozen of each. These tempting little post-dinner treats have to be not just "small," Paul says, but also "exquisite," and also "perfect," which sounds reasonable.
Brendan explains that "absolute uniformity" is central to his baking style. "I suppose that suggests I've got some perfectionist tendencies … It can make me a bit difficult to live with, because I won't compromise in that sense," says our very own Reynolds Woodcock. My personal favorite of Brendan's bakes this challenge are his lime curd choux pastry cygnets, which yes, of course, are precious little handcrafted swans. "Will they be sitting on a blue buttercream sea?" Paul asks, not unshadily. Anyone who wishes to discourage Brendan's pursuit of lifelike pastry bird creations with teeny fondant coxcombs will have to go through me.
The other three bakers are trying their hands at macarons (which Bake-Off, interestingly, both spells and pronounces as "macaroons"): blackberry and peppermint for Danny, dark chocolate and cherry for John, and lime and raspberry with chili sugar (!) for James. He explains that you should "never ever" add hot water to chocolate, while proceeding to add hot water to chocolate. James, you see, has figured out that by whisking this tricky concoction over ice, he can effectively form a mousse that will serve as the filling for his hazelnut biscuit and chocolate brownie towers.
All around the tent, there's some pretty kooky multitasking going on. "It's rustic," announces James, splashing yellow liquid messily over the shells for his lemon and rhubarb tartlets. Meanwhile, John likens the ruby goo he slathers on his raspberry and white chocolate tartlets to "red mucus." Paul thinks almost everyone's petit fours are too big, which, I get it, they're supposed to be "petit," but this is a ridiculous complaint that I refuse to seriously consider.
To Mary, Brendan's très Parisien (très Parisienne? I don't know, you guys; I took Spanish) mini apricot and pistachio friands are a "sheer joy to eat." James earns high praise for his spicy macarons and especially for his towers, which Paul describes as "excellent," "good," and "excellent." On the weaker side are Danny — whose prettily purple peppermint-y macarons have a heat the judges don't dig — and John, whose lemon madeleines look to Mary like a "slab on the plate." Appetizing!
The technical challenge is a Fraisier cake, lovely layers of genoise sponge, strawberries, and crème pâtissière. (Ladies and gentlemen, please welcome to the stage: Crème Pat!) "Make the genoise sponge" and "make the crème pat" reads the not very helpful recipe this week.
The Frasier, strawberry shortcake's fancy-schmancy big-city cousin, must have a filling that holds its shape. If it's too warm, the crème pat will ooze right out. The bakers have to struggle a sheet of acetate into their tin as a lining to ensure smoothness. It gives me very stressful flashbacks of every time I made the mistake of buying the cheapest possible wrapping paper at CVS. (I always buy the cheapest possible wrapping paper at CVS. It is always a mistake.) James calls this the most difficult technical yet, but as far as I can tell, everyone kills it — well, almost everyone. Having failed to set, Danny's crème pat sploops right out, stray strawberries carried away in a pale dairy lava flow. The judges' final order is James, John, Brendan, then Danny in last.
The showstopper is a quintessentially French choux pastry gateau. Choux pastry is an intermediate between batter and dough, cooked twice: first on a stovetop, then in the oven.
Danny, Brendan, and John all make variations of the Gateau St. Honoré (named in honor of the patron saint of baking), a base of puff pastry with a choux pastry ring on top and a garnish of cream puffs. Any dish that has a garnish of cream puffs is a friend of mine. Danny is flavoring hers with rosewater and John is incorporating passion-fruit curd into his. Brendan respectfully dissents. "I think it's an impertinence to try to tinker with something that's so well established," he says. (Okay, but he did add some kirsch to his custard.) Ever the rebel, James has chosen to make a coffee, caramel, and hazelnut Paris-Brest, first created in 1891 in honor of the eponymous cycle race. This gateau is traditionally made in the shape of a bike wheel, but James is crafting his to resemble a full bike, handlebars and all. This should be interesting.
Like 99.9 percent of rosewater baked goods, Danny's bake proves to be, alas, too heavy on the rosewater. The judges laugh at the extraordinary sight of James's bike, a criss-crossed funnel cake chimera, but nevertheless hail it as delicious and well executed. The judges appreciate Brendan's gateau's striking multicolored stripes and decorative chocolate shards, even if it has a bit of a tough crunch. John's distinctive passion fruit and crispy choux leads Paul to declare his bake the very best-tasting of the whole showstopper.
James is crowned Star Baker on the strength of, as Sue says, "the world's most delicious handlebar." Sadly, Danny is going home. Who will save us in case of a medical emergency now?
John calls his mother: "You've got a little big boy who's in the final!" Speaking of, all three finalists are little big boys this season! At long last, a victory for men.