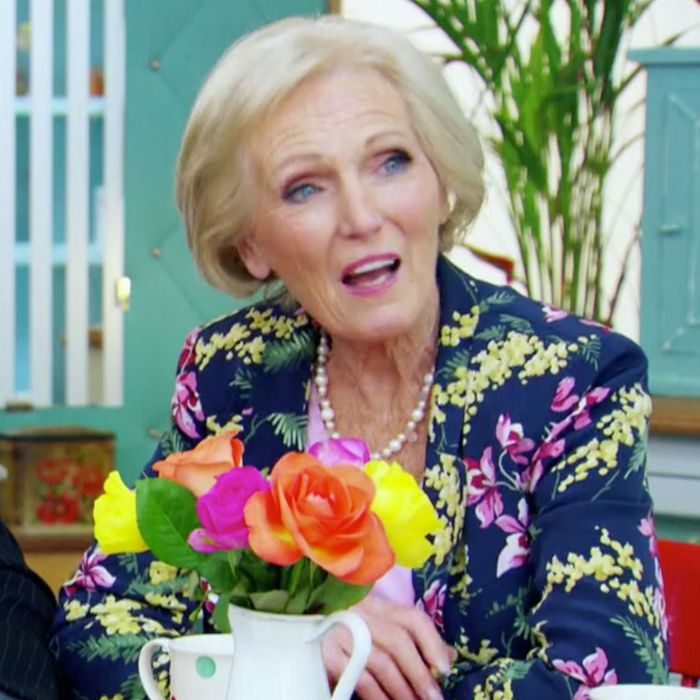 It's time for our three remaining bakers to vie for the most coveted cake stand in the realm: 9.75-fingered law student John (who just finished university the previous weekend, because this competition wasn't stressful enough); medical student James, the Doogie Howser of cake; and Brendan, a semi-retired recruitment consultant whose passion for a perfectly executed fondant bluebird coxcomb is matched only by his passion for Gloria Gaynor. "The musk of testosterone and icing sugar in the tent is very, very heady," observes Mel. All three of these men have turned in incredible bakes over the last nine weeks, but now, there can only be one. I wish this final had been Italian-pastry-themed, in which case I would have told you that there cannoli be one. Maybe next year.
Our very last signature challenge is a savory pithivier, a French decorative pie that is notable for being physically impossible to pronounce without sounding like Donald Duck. This bake calls for a dome of (traditionally sweet) filling enclosed with two disks of puff pastry, scored with decorative half-circles and finished with scalloped edges. James brought his Spanish pithivier (chorizo, chicken, and red pepper) when he met his girlfriend's grandparents for the first time, and that wasn't a disaster, so here goes nothing! Back home, we see James hitting the culinary books and typing "Sift flour? Any point?" into his Notes app. Sadly, this existential question goes unanswered.
I would under no circumstances kick John's Italian sausage and roasted vegetable pithivier (taleggio! lardons! caramelized onions!) out of bed, even if it meant sleeping in sheets permanently encased in an inch-thick layer of pork grease for the rest of my life. His mother, who is increasingly concerned about the future of John's intended law career as he continues to excel at baking, supportively notes, "He's never won anything before — the three-legged race at school, perhaps." Brendan's potato and pepper pithivier—which also features goat cheese and a truly astounding amount of garlic — is the only vegetarian entry. We learn that Brendan is Buddhist and that his partner Jason looks like Matthew Rhys's, maybe, second cousin? (Get it, Brendan.)
In the end, all the pithiviers are delicious, but while Brendan and John's crusts are beautifully rustic and satisfyingly flaky, James has committed the ultimate sin. Please, don't make me say it: He has a soggy bottom, a revelation that causes him to wince as if in physical pain.
The technical challenge calls for 25 (t-w-e-n-t-y five! why!) fondant fancies — each a square of lemon Victoria sponge topped with marzipan, apricot jam, and a dome of buttercream, to be ultimately coated in pink rosewater fondant.
The extra-sparse recipe doesn't specify the exact size of each fancy, so Brendan deploys a ruler and James deploys algebra. Coating the sponge chunks in fondant (do you plop them into the icing? do you dip them by hand? stab them with a fork, close your eyes, and say a silent prayer to Mary Berry?) is such a disaster that even fastidious Brendan's station is left looking like a war zone.
The judges are less than thrilled with the results. "Consider yourself chastised," Paul says to all three. Brendan and John tie for last; James, despite his "pungent" rose flavor and thin fondant, is the winner. Given that James effectively came in third in the signature, this season is really and truly coming down to the very last bake.
The showstopper challenge is to be inspired by each baker's "personal highlights" of the year, a What I Did on My Summer Vacation essay rendered in the edible marble composition notebook that is chiffon cake. The oil and egg-white-based batter (no butter!) makes this "baking's most notoriously fickle sponge."
Brendan has been working toward healing a three-decades-and-counting-long rift in his family, which will serve as the emotional basis for his "family reunion cake," an almond-coated raspberry chiffon cake with a heart-shaped topper and gingerbread men (excuse me, gingerbread people) arranged around its circumference. John's two-layered chiffon cake is a nod to a year filled with both joy and adversity: He's calling it Heaven (lemon and coconut meringue "cakelets" rolled in dried coconut on top) and Hell (a dark chocolate and orange layer on the bottom).
James, for some reason, is making five cakes, inspired by the U.K.'s momentous 2012. (Discussion question for the class: Would you rather see an international Bake-Off as an event in the Summer or Winter Olympics?) His "United Chiffon Cakes" will each be covered in mascarpone and honey icing. Four are to be individually flavored with Turkish delight (a nod to the English rose), pistachios, blueberries, and raspberries, but the fifth, decorated with a Union Jack, will bring all these components together.
James's unbridled baking ambition is what we've come to love most about him, but my concern about the scope of his showstopper bake turns into full-on dread when he knocks one of his batter-filled cake tins onto the floor. The baking gods are not shining on our sweet young whiskey enthusiast on this rainy day. James unhappily likens the texture of his finished Turkish delight to, yum, caulk. He decides to create the Saint George's Cross he envisioned using it for on one of his cakes out of raspberries instead, which is probably for the best, unless Paul needs help resealing his bathtub.
Meanwhile, John's heaven looks like a tower of white Hostess Sno-Balls, and if you don't automatically take that description to be a high compliment, then you are reading the wrong recaps. It's beautiful, stylish cake, complete with a shiny ganache mirror glaze care of a blow dryer. Paul scrapes the sponge with his fork and observes the way the crumbs fall. After an alarmingly long pause, he declares it "a perfect slice of cake." The judges also gush over Brendan's simple but elegant decoration, homemade raspberry jam, lovely layers, tasty gingerhumans, and cloudlike sponge. There is nothing to complain about here.
I'm afraid the same cannot be said for contestant number three. Paul is not pleased by the sight of James's massive tray of cakes — the assignment was one cake, not five disjointed ones. They agree to judge the central one, the Union Jack. "What am I going to say, James?" Paul asks him. The cake, alas, is "far too dry," and its unrefined finish isn't what they had in mind for the showstopper to end all showstoppers. "It's a shame, that," Paul says, and I want to cry for James.
This is of course an emotional moment for all three finalists (who share a big group hug), but I'm particularly touched by normally even-keeled Brendan, whose eyes well with tears when he discusses the possibility of winning and all the baking he's done throughout his life. The bakers carry their cakes from the tents to the summer fête happening outside. Of course, it is pouring. The finalists' families and their fallen competitors — I had the strangest, crème pat-filled dream, and you were there, Manisha, and you, Victoria, and you too, Stuart! — are all on hand to cheer them to the finish, not to mention to feast on their chiffon cakes.
Lo and behold, the winner is … John, who can't believe it! His mom covers her mouth with her hand, with a facial expression that's half proud, half oh shit. Great Britain may be down a lawyer, but it's up one excellent baker.