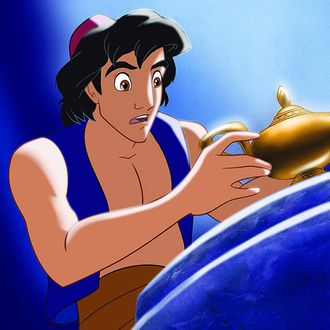 Some whole new songs?
Photo: Walt Disney Productions
Disney's live-action remake of Aladdin, a.k.a. Hot Jafar, is getting some new music that will have to work very hard to live up to the original Aladdin music, because that stuff is awesome. The Dear Evan Hansen, La La Land, and The Greatest Showman songwriting duo of Pasek and Paul told Variety they worked with Alan Menken on a new song for Jasmine, a duet for Aladdin and Jasmine that's "a sweet song" and a new verse of the original's "Arabian Nights." It makes sense that Jasmine is getting more music, since she doesn't get a whole lot to do, and according to Paul, Naomi Scott "is incredible" in the role. They didn't mention whether "Proud of Your Boy," which was cut from the original movie but is in the musical and empirically bangs, will appear in the live-action, but if it doesn't, we riot.