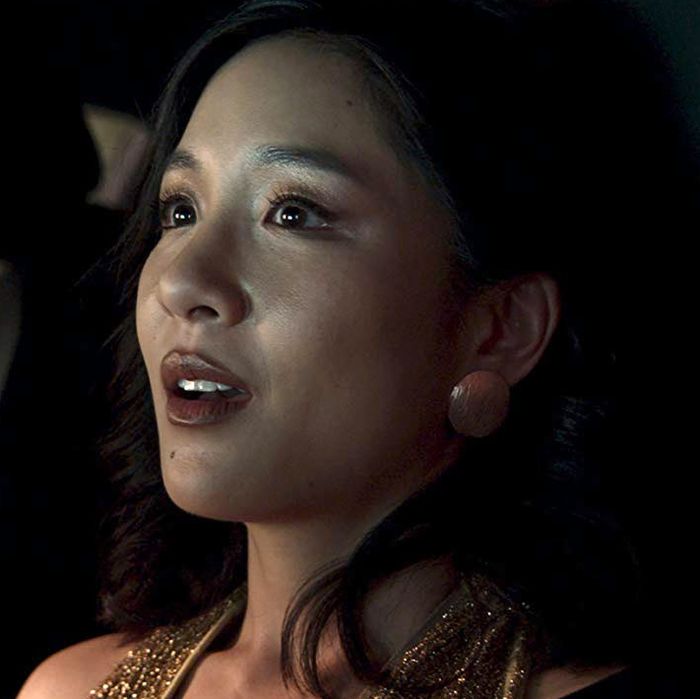 Awkwafina (left) and Constance Wu in
Crazy Rich Asians
Photo: Warner Bros.
In April 2013, Crazy Rich Asians hadn't yet hit bookstores. It wouldn't become the year's funny, fizzy beach read, reaching best-seller lists across the globe, for another few weeks. But Hollywood movie producers and studio executives had already begun clamoring for the romantic-comedy novel's adaptation rights — Wendi Deng, the film-producing then-wife of Rupert Murdoch, was the first person to approach author Kevin Kwan with a development deal, among a number of option offers that came in around that time. As Kwan remembers it, one interested producer proposed a specific change he felt would make the project more broadly commercial: Would Kwan consider changing the book's protagonist Rachel Chu from Chinese-American to white?
"Someone actually said that to one of my representatives," says Kwan. "I was like, 'Do we even have to respond?'"
Ahead of the movie's August 15 release date, it's safe to report that no characters were whitewashed in the making of Crazy Rich Asians. The $30 million romantic comedy stars Fresh Off the Boat co-star Constance Wu as Rachel, a resolutely middle-class NYU economics professor who travels to Singapore to meet the extended family of her hunky, Oxford-educated boyfriend Nick (newcomer Henry Golding). Once there, however, she discovers he's something like Singapore's most eligible bachelor, as well as heir to one of the island nation-state's most ginormous real-estate fortunes. Adding to her fish-out-of-water woes, a scrum of designer-clad, Mean Girls-esque socialites pull out their long knives to sabotage Rachel's relationship, while Nick's domineering, matriarchal mom, Eleanor (Michelle Yeoh), makes her disdain for the American interloper as clear as a soy-sauce stain.
But it's fair to say that drama, staged amid staggering displays of Southeast Asian conspicuous consumption, pales in comparison to the film's real-life backstory. Following three years in development, two bidding wars (one for CRA's adaptation rights, another in 2016 for its theatrical distribution), a casting dragnet that extended to four continents, and strenuous efforts at every level of filmmaking to maintain the book's cultural authenticity and specificity, Crazy Rich Asians arrives in theaters as the first Hollywood studio movie to feature a predominantly Asian cast in a contemporary setting since 1993's Asian-American ensemble drama The Joy Luck Club. Moreover, having turned down a "gigantic payday" from Netflix to distribute it through Warner Bros., thereby ensuring the widest possible theatrical audience for a cinematically under-represented group, Kwan and director Jon M. Chu (who ultimately decided where CRA would end up in the second bidding war) are gambling that the film's box-office success could fundamentally change the way the industry approaches onscreen diversity.
"It reflects self-worth and it reflects Asians coming to see this movie," says Chu. "That we are worth your time, your $15 to drive and park and struggle with buying tickets and crowds; to sit down in a dark room and say, 'Tell me a story.' We are worth that. Which is why we didn't necessarily want to do it on Netflix or a streaming service. Something in the museum trickles down to everything in the world. The cinema is the museum, it puts it in a glass box: 'This is special. You are special.' So we had a very big decision to make sure we pursued it the cinematic way."
But at the outset, it was hardly a foregone conclusion an adaptation would make it to the screen with its Asianness intact. A former creative consultant who produced coffee-table books for the likes of Oprah Winfrey and Kate Spade, the Singapore-born, Texas-raised Kwan flew from New York to Los Angeles in June 2013 for what he describes as "this beauty-contest kind of day" — he and his agents met studio executives and producers and fielded adaptation offers. Although studio suitors like Fox and Lionsgate had come to the table, in the end Kwan went with someone outside the studio system: Nina Jacobson.
The former president of Disney subsidiary Buena Vista Pictures, and her partner Brad Simpson of the production company Color Force, dazzled Kwan with their "complete passion" for the project. Their pitch: develop the property independently as a means of keeping creative control, then seek studio distribution down the road. It helped that Jacobson had enjoyed huge success with two previous literary adaptations: the Diary of a Wimpy Kid films and multibillion- dollar-grossing Hunger Games franchise. Turns out Kwan wasn't out for a quick cash score; he sold Color Force the option for $1 (with built-in compensation packages if the film got made) and the right to stay involved on development throughout production. "Kevin realized that if he put this into the studio system, immediately there would be a lot of well-meaning people making compromises that would take you away from the book," says Simpson.
"Getting something in development and even getting some upfront money is an easy way to not ever see your movie get made. We actually thought originally we might make a movie independently and not necessarily make it at a studio; we might make it with equity financing. We also felt like the best thing for this would be to have it all together as a yes-or-no proposition. And then get this thing made in that form, knowing it's an all-Asian cast," says Jacobson.
For its financing partner, Color Force teamed up with the newly formed Ivanhoe Pictures, a Los Angeles–based production company with branches in Hong Kong and Singapore that specializes in "Asian-focused content" aimed primarily at China's enormous cinematic marketplace. Ivanhoe would bankroll CRA's development and act as a local fixer in Singapore when cameras finally rolled. "For us, the book fell in our lap kind of like, 'This is why we're doing the company,'" says Ivanhoe president John Penotti. "Unlike the Hollywood second-guessing, 'Oh my God, will this work? We don't know. It's all Asian,' it was exactly the opposite for us: 'That's exactly why it will work.'"
Over the course of development, Peter Chiarelli (The Proposal, Now You See Me 2) was brought in as screenwriter and helped distill the novel's jumble of subplots and roundelay of primary characters into a more movie-manageable story. "Pete's pitch, which you really see in the movie, was this triangle between Rachel, Eleanor, and Nick," says Jacobson. "The resolution of the relationship between a girl and this very intimidating, fierce mother-in-law would be as important as the love story in many respects. That was where we cracked the script and felt the conflict was most fully realized."
In 2016, Chu — a Palo Alto–born journeyman Hollywood hand who graduated from directing music-and-dance-related fare such as Step Up 2: The Streets and Justin Bieber: Never Say Never to studio genre films like G.I. Joe: Retaliation and Now You See Me 2 — was looking for his next project. "I really wanted to tackle something that dealt with my cultural identity being Asian and American, something I never really touched before because it's sort of scary to me," says Chu, 38. "The whitewashing movement was all over Twitter and I'm reading things from Constance, Daniel Dae Kim, Alan Yang and really agreeing: 'Why haven't we had a romance of Asian leads in a movie? Why haven't we had a full Asian cast in a movie?' I suddenly looked myself in the mirror and thought, 'Oh shit. I am Hollywood. I'm in this business and I've got enough relationships that if I want to push one through, I get one.'"
After his mother and sister emailed him asking, "Why aren't you doing the Crazy Rich Asians movie?" Chu contacted his agents and requested the script — coincidentally, on the same day Jacobson and Simpson sent it to him. Perhaps even more fatefully, Chu gets an oblique mention in the book — a byproduct of Kwan's friendship with Chu's cousin Vivian, who used to tell the author about her "family back in Cupertino" (which also had the net result of Rachel Chu being written as a Cupertino native). "It's where Nick is defending Rachel's family to Eleanor and says, 'Yes, but you know they have to work for their money, but they work really hard. They even have a cousin in Hollywood who directs movies,'" says Chu. "Kevin was like, 'That's you!' I was like, 'There is something weird about this movie, that I'm supposed to do it.'"
To land the gig, Chu produced a sizzle reel of deeply personal images of his family, who hail from Taiwan and China, and period Shanghainese music that would inform the film. "From that first conversation and presentation, there was this passion that was so heartfelt," says Jacobson. "It was so personal to him but also so visual and rich and fun with great visual joyfulness and exuberance. Right away, he was so clearly our guy."
Soon after Chu's attachment to Crazy Rich Asians was announced, Wu auditioned for the female lead, but her shooting schedule on Fresh Off the Boat conflicted with the film's shooting dates, taking her out of the running. Nevertheless, a month later, the actress took the unusual step of personally reaching out to the director with an email explaining her connection to Rachel. "Dates are dates, and if those are immovable, I understand," Wu wrote. "But I would put all of my heart, hope, humor and courage into the role. What this could do means so much to me. It's why I advocate so much for young Asian-American girls so they might not spend their life feeling small or being commanded to feel grateful to even be at the table." (Chu was so deeply persuaded, he pushed production back four months to accommodate her schedule.)
"It's a very forward thing that a lot of actors wouldn't do," says Simpson. "You're supposed to let your agent do it. But I think Constance learned that you need to ask for the things you want — especially if you're a person of color. And she was really willing to put herself out there in a way that would make most actors feel really uncomfortable. Because you're gonna get a personal rejection back if you write a letter like that."
Malaysian-born screenwriter Adele Lim was brought in to punch up the script's cultural specificity, more fully fleshing out Michelle Yeoh's Eleanor, steering the character away from becoming a "mustache-twirling villain." And never losing sight of the future film's potential to impact Asian representation onscreen, care was taken to avoid cliche. "There was a part in the book where Rachel Chu talks about how she doesn't date Asian guys and we had that in the script originally," Chu says. "Constance brought that up. 'You know what? I feel uncomfortable bashing Asian guys in this.' The more I thought about it, the more I was like, 'You're right.' And we had to change it very quickly. It's so easy to be lazy and be like, 'No, no, it's fine. Just shoot it.' And then you get caught in what you're putting in the world."
In October 2016, the project was ready to seek out a distributor. Five studio suitors made serious bids, but the final decision boiled down to two competitors: Netflix offered complete artistic freedom, seven-figure minimum paydays upfront for every stakeholder, and a guarantee that all of Kwan's Crazy Rich Asian books — China Rich Girlfriend and Rich People Problems rounding out the trilogy — would get the green light (according to the Hollywood Reporter). Warner Bros.' offer was less rich, but ensured the movie would reach the big screen and carried the cosign of CEO Kevin Tsujihara, the only Asian-American to ever head a major Hollywood studio. Color Force left the decision to Kwan and Chu, who ultimately felt Warner Bros.' theatrical rollout would give the project a cultural weight that the streaming service could not match.
With the project green-lit, the last crucial piece of business was casting the right Nick. It was not an uncomplicated issue, considering the character's unique specs: a dashing hunk who guys want to be and women want to be with, a Singaporean stud with a posh, English-educated accent and to-the-manor-born elegance. The producers began casting calls across Asia, Australia, the U.K., and North America, auditioning no small number of American- and Asian-born stars who couldn't nail the particulars of the accent.
Finally, an accountant in the production's Malaysian office suggested Henry Golding, a BBC travel correspondent whom she had seen at an awards event five years earlier and had never forgotten. Chu watched all of his segments on YouTube and called him in for a screen test — interrupting the presenter's honeymoon in the process. Never mind that Golding, a former hairdresser and model who is of British-Malaysian descent and lived in Singapore, had never acted before. "He was like looking at Cary Grant," says Chu. "Our motto was always 'JFK Jr. in New York.' He's this blood of royal blood. And Henry had absolutely all of that stuff plus the accent on top of it."
One of Crazy Rich Asians' most quietly transgressive qualities is its showcasing and celebration of Asian male masculinity — a deliberate riposte to decades of Hollywood image creation of Asian dudes as nerdy and asexual. "I said to Jon, 'We need to have a couple of scenes where the guys are the eye candy,'" says Kwan. "'We need to flip the paradigm.' The only paradigm there's been is the sexy Asian woman or the Asian temptress. The guy's always neutered. It's time that we can show a contemporary Asian man that doesn't have any baggage, being who he is. Get that shirt off, Henry!"
For the actors, filming proved to be a singular experience that closely bonded them — months after wrapping production, the castmates still stay in touch via a WhatsApp group chat. British-Chinese former fashion model Gemma Chan (AMC's Humans, Paramount's Jack Ryan: Shadow Recruit) portrays Nick's impossibly rich and beautiful cousin Astrid Leong-Teo; for her, the shoot offered a kind of racial solidarity that's unique in her career. "What was really special is that I'm so used to going to work and not only being the only Asian face on set, but also the only person of color," Chan says. "Looking around at all these talented Asians who come from all over the world and all over the diaspora, we recognized how special it was that we were all getting to work together."
Ken Jeong (creator of ABC's Dr. Ken, best known for his over-the-top role as Leslie Chow in the Hangover trilogy) is among the best-known actors in the cast. But he accepted the relatively minor role as Goy Wye Mun, the father of Rachel's college best friend (played by Awkwafina), and traveled to Kuala Lumpur and Singapore to film for less than a week, not because he needed the work — he simply wanted to be part of the fabric of Crazy Rich Asians and says he would have taken any part, no matter how small. "There are certain jobs in your career that are commercial jobs and there are some that are passion jobs. This one is a passion job," says Jeong. "It's just something I wanted to be part of. It's about wanting to be part of something monumental. Something that's bigger than me. I'm so giddy I'm part of this, I can't even tell you."
The creative quorum behind Crazy Rich Asians is fully aware that the future Hollywood bankability of an entire racial group will likely rise or fall with the film's box-office performance. But having shepherded it to the screen with the book's intrinsic Asianness intact, Kwan, Chu, Simpson, and Jacobson are also aware that the movie arrives more like a cultural watershed than show business as normal.
"It's a classic Hollywood studio movie with an all-Asian cast. It feels like the big cultural event. We set out to put this movie out into the world in a way that would reach the most people," says Jacobson. "I remember thinking at the time about what it will be like for a little girl driving to school with her mom or dad and seeing a big poster for this. There's just something there — the chance to see yourself onscreen and say, 'That's the company that made Harry Potter and Wonder Woman.' To be right there alongside those releases felt really significant and exciting. Like, the realization of our aspirations for this."