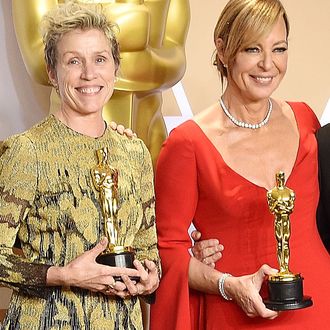 Photo: David Crotty/Patrick McMullan via Getty Image
Changes are coming to the Oscars, and it's all our fault. You see, we've been neglecting to watch movie stars win trophies in big enough numbers, and it's messing up the live TV-ad buy ABC is stuck trying to sell until 2028. Disney-ABC executives apparently had a "come to Jesus" meeting with Academy members after this year's show to walk them through just how bad things were: Viewership among 18-to-49-year-olds fell 47 percent from 2014, and among 18-to-34-year-olds it fell 56 percent. And while plenty of awards shows have seen ratings decline, Variety reports that none suffered nearly this badly. And since ABC is the only broadcast network without an NFL deal, the Oscars is practically their only shot at Super Bowl–style ratings.
The network is reportedly relieved that the Academy is finally implementing changes they've long pushed for, including moving the ceremony up and adding a new category called "Outstanding Achievement in Popular Film," which will seek to award movies most people actually saw, understood fully, and enjoyed, which couldn't hurt.