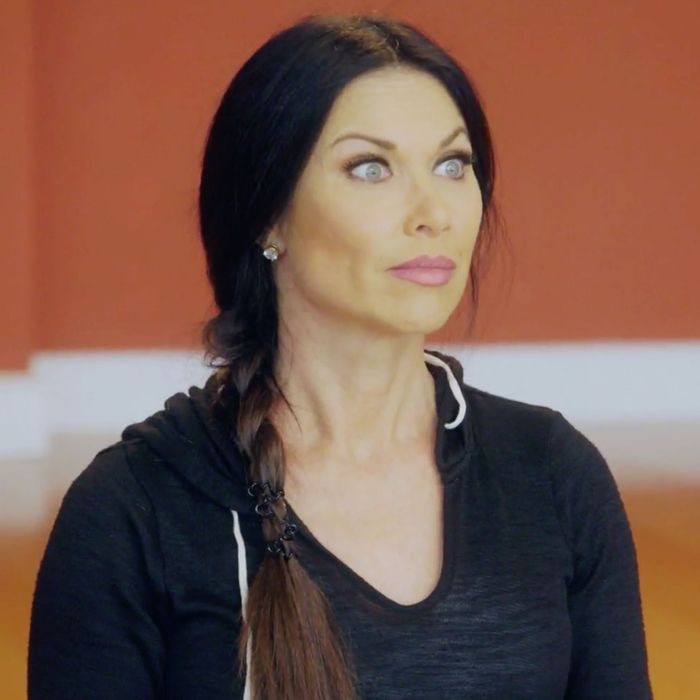 Last night I dreamt I went to The Round-Up again — where in my swirling, fevered vision, hands became knives, and one of those knives became Mark's all-too-discussed penis. Anyhoo, welcome back to Dallas, y'all! Let's begin with a genuinely wonderful development: Brandi and Brian have just adopted a 2-month-old baby boy, Bruin. Congrats! After what we learned about her struggle with fertility last year, this is genuinely really sweet to see.
I am begrudgingly coming to terms with the fact that Brandi and Stephanie, my endgame RHOD OTP, may never give me so much as a Thelma and Louise pre-death smooch, so I'll content myself with the fact that Bruin would never have come into Brandi's life without Stephanie. She texted her pal "out of nowhere" about a baby available for adoption, who she heard about via a friend who owns an adoption agency and definitely not on the dark web. "A dog? Or human?" was Brandi's response, which is perfect. Shaky cell phone footage of Brandi holding Bruin — who has red hair and green eyes, just like her — for the first time doesn't not unmake me non-cry, okay? This was fate. And best of all, she hasn't told the other women (except, duh, Stephanie) about the new baby yet, meaning Brandi has an insane, actual-human conversational bomb to drop whenever it suits her.
Sparkledog — Kameron's dog food company that sells pink kibble that is actually primarily brown kibble and that also may or may not induce some very glamorous canine diarrhea — is, amazingly, still a company, for which our very blondest cast member is currently trying to find a distributor. (Sidebar: Kameron mentions in passing that, before she married Court, she'd planned on attending design school in New York — excuse me, what if it was FIT? Just how many Housewives have an association with FIT? Can you imagine Kameron befriending Ramona and Sonja at an alumni mixer? If only.)
D'Andra and Jeremy are holding a fourth-anniversary party at a friend's schmancy mansion in where else but Highland Park, the one specific place in Dallas I have heard of (other than, I guess, the sixth floor of the Texas School Book Depository), thanks to this television program. A four-year blowout does seem a little arbitrary, but Jeremy and D'Andra seem very happy, and there isn't the slightest whiff of the smell of fear and grapefruit that I associate with a certain televised 17-year vow renewal.
You may recall that Dee Simmons (second only to Adora Crellin in the category of southern matriarchs who take withholding and make it fashion) finally allowed her fingers to be excruciatingly peeled one by one off the metaphorical keys to her company at the end of last season. Obviously, of course, she has since changed her mind, and also is no longer speaking to D'Andra, of course, obviously. Yet obv-cours-iously Dee wouldn't think of missing her daughter's anniversary party. It will be great, D'Andra says, and also like a "roller coaster … ripping [her] soul apart." I too enjoy amusement parks! Brandi, however, won't be in attendance, harboring a new grudge against D'Andra for (a) saying she has "squinty eyes" and (b) accusing her of abusing Adderall, for which Brandi says she has a prescription.
Speaking of grudges, LeeAnne "I Sold My Life Rights and They Eventually Became the Film Franchise You Know As The Grudge" Locken is ready to seek healing for her "anger issues."
You might say she's on the warpath for peace, so, I guess, the peacepath? D'Andra joins her fitter, happier, more productive, tentatively less knives-y friend for a mindfulness-meditation session, led by a man with sideburns that I can best describe as a bold choice and the even bolder (real!) name of David Sunshine. There is no doubt in my mind that David Sunshine should go into business organizing Housewife-bait wellness retreats with Boca's own Sexz Chef.
"I've learned recently that there's a place in your mind called the amygdala," LeeAnne lectures David Sunshine. "And if you are abused or tortured as a child, it grows exponentially. So my amygdala takes any, any threat and just won't tolerate it." According to LeeAnne, the Dallas–Fort Worth metroplex's preeminent neuroscientist, monks can even shrink their amygdalae through meditation. I'm not sure what watching RHOD does the size of my personal amygdala, but at the very least, I'd say it definitely gives it a nice vibrating motel-room-bed massage. We have to move on now, but first please allow me to type the words "David Sunshine" for what will probably the last time in my too-short life: David Sunshine. Thank you for your patience.
LeeAnne ended last season on terrible terms with essentially everyone (including, I'm prepared to assume, like half of the behind-the-camera crew) except D'Andra. First on her apology hit list is Cary, who reluctantly agrees to a diner peace summit. At first, Cary seems unwilling to make amends, and to be fair, the woman did threaten to strangle her, so I get it. But they find tentative common ground when Cary explains that she's not going to falsely sugarcoat things when she's actually upset anymore — the very personality trait of hers that LeeAnne found maddening in the first place. Is it possible? Could these two be … bonding? They even ceremonially lay down their "swords," a.k.a. the knives their places were set with, though if I know LeeAnne Locken, she's got a backup blade strapped to her ankle anyway.
Cary, by the way, has cast aside her recent aspirations of stay-at-home-motherhood (which Mark strongly disapproved of) to run a brand-new laser center that she and Dr. Husband just opened. In related news, please remember to submit your bracket for our extremely competitive Worst Men of Dallas Tournament by next week's episode. The clear underdog is certifiable nice dude Rich, who is rocking an unexpectedly handsome eye patch these days as a result of permanently damaged vision. He and LeeAnne have been engaged for a year now, but have yet to set a date, an oversight that is making her increasingly antsy. Why don't they just go ahead and get married? To this I say: Hmm.
Dee shows up to D'Andra's party with a lovely gift, a big smile, and a terrible attitude. "No one can believe that D'Andra is so happily married, because D'Andra had a few experiences," she informs her date, a man no one bothers to identify or introduce, "Trust me." At some point between Dee telling her date (again: who is this person?) that she's been engaged 14 times (that's 0.7 metric Danielle Staubs!) and publicly instructing D'Andra on the proper way to thank her guests, it occurs to me that she might have been — as Thomas Ravenel, the human personification of burping up a little bit of bile, would put it — "overserved."
It seems that more chaos is in store when Stephanie discovers she's been seated right next to LeeAnne, but shockingly, this could-have-been skirmish goes even better than LeeAnne's coffee with Cary. "Here's to one day you and I making asses of ourselves together," LeeAnne toasts to Stephanie. Maybe she's misjudged her, Stephanie thinks! Maybe Stephanie is a little drunk and just in a really good mood, I think! Still: Are we to expect that everyone is going to get along swimmingly this season?
Of course they aren't. It's at this point that someone gets hold of a microphone and announces that LeeAnne and Rich will be getting married tonight. Based on LeeAnne and, ahem, especially Rich's expressions, they emphatically will not be. To be continued!