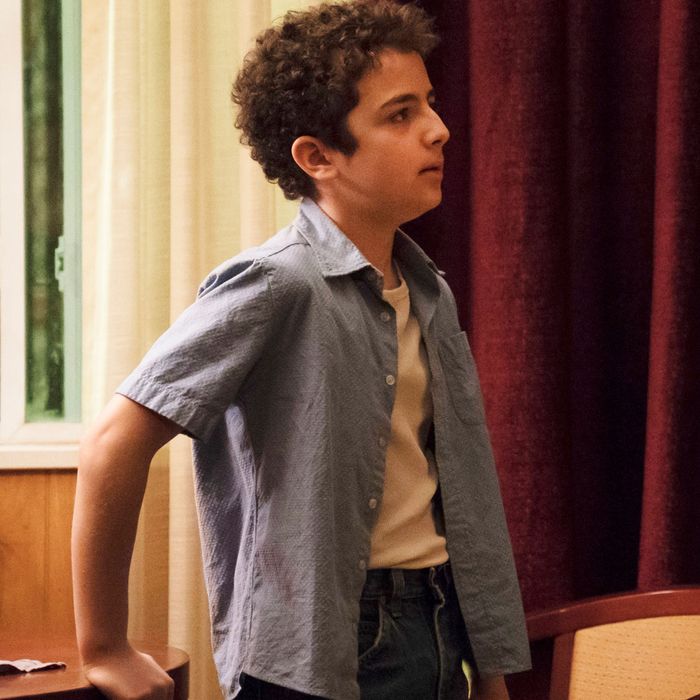 Photo: USA Network/Peter Kramer/USA Network
Essentials for family vacation: mode of transport (check), desired destination (check), all members of family unit (check). So far, the Lowrys — if that is in fact their shared surname — have a leg up on, say, the McCallisters of Home Alone fame. But they forgot a couple of key items that would typically make a road trip to Niagara Falls complete: clothes and toiletries for the (presumably) married couple's preteen son, and in the wife's (we think) case, any kind of identification so that police can know who she is if she turns up dead in a motel room with rocks covering her ritually closed eyelids.
This is when Dorchester, New York, detective Harry Ambrose and his colleague, Keller Police Department detective Heather Novack (who, we also learn, is the lesbian daughter of his childhood friend Jack, played by Tracy Letts), realize something's not quite right with their suspect's perfect confession. To this point in The Sinner's season-two premiere, which picks up shortly after Harry's wild ride vindicating accused murderess Cora Tannetti (Jessica Biel, staying behind the camera for this second installment in the anthology), things had been fairly plain, if disturbing: 13-year-old Julian (an impressive Elisha Henig, fresh off a memorable turn in Mr. Robot) poisoned his bickering parents to death by offering them a steaming hot mug of deadly jimson weed passed off as licorice tea, laid out their bodies in some ceremonial fashion and then ran off barefoot into the woods and pissed himself.
But once Harry and Heather (H and H forever), and to a lesser extent Heather's resentful junior Officer Brickowski, a.k.a. Brick, put it together that this was no ordinary nuclear trio off to sightsee on the Canadian border — and that their Pennsylvania plates belie the fact that they were actually coming down from further north — it's on.
If you're not acquainted with The Sinner and don't want to backtrack, here's what it appears is important to know from season one: Harry's separated from his wife Fay, occasionally sees his grandson Eli, and has a dark history with fetishistic sexual liaisons and other personal pastimes that are perfectly legal but leave him a little worse for wear. Also, weird shit goes down in upstate New York. Some handy exposition, helped by hints of flashbacks, deepens Harry's backstory to illustrate that his mom was severely troubled and possibly burned down their house, and that he's super-leery about staying too long in his hometown of Keller — despite Heather's smoke signal for help with the Lowry case — because it's as good as haunted with unsettled conflicts that stretch back as far as 19th-century Evangelical hollering and early Mormon ideology. Phew.
And yes, The Sinner messes with your head like a good horror movie by introducing stock characters and conflicts that cover over cruel intentions and strange associations. It's like Get Out happening on Hap and Leonard in the Hudson Valley, and it's irresistible.
The questions crackle in "Part I," and it's dreadful to wonder what exactly happened between Harry and Jack that, 15 years after Jack's wife's funeral — the last time Harry was in Keller — they could nearly come to blows over whether Harry should pay for his meal at Jack's restaurant, the Cobble Stone. And whose side is Brick on, and can he be trusted? Are those visions Julian endures of a stalking, hooded figure from a recurring nightmare in which he's the victim, or a foreshadowing of his alter ego, Shadow Julian, coming out to play?
Vera (Carrie Coon, who also happens to be Letts's wife in real life, in a nice casting coup) might have something to say about all that. We meet her in Julian's recent memories, as he drifts off into introspection while being bullied by other kids at his temporary foster home. Julian is scribbling artfully and intently on white paper on the floor while Vera, even-keeled but cold and clear, encourages her young patient (again, we think) to conjure and confront his shadow self and accept and even embrace the bad deeds he's committed while under a certain kind of spell. While Harry and Heather chase down leads before filing charges, Vera storms the Keller jail, insisting to see Julian and asserting that she's his mother. And like that, Vera becomes a question herself.
To review, we have two dead adults in a motel room two-plus hours away from their destination of Niagara Falls; one young boy who may or may not be their son but who definitely poisoned them but may, like Cora in the previous story, not be entirely responsible for his actions; one grizzled detective begrudgingly investigating said crime and forced to awaken, possibly, his own shadow self by shacking up in the town that made him; a green detective eager for Harry's help but maybe unaware that he and her dad have some unfinished business (we can guess Harry had some kind of fling with Heather's mom, but who knows?); and an enigmatic woman who could be Julian's mother, therapist, enabler, or some kind of spiritual disciple of The Brood's Dr. Raglan. Are you not entertained?!
Season one wrapped up in cockamamie fashion, but there's reason to keep the faith this show has learned from its growing pains and given its new story substance from beginning to end. The more seasoned cast, who certainly weren't obliged to take the roles after reading the scripts, testifies to that, but The Sinner was on solid ground to start. Now it's just a matter of figuring out what's beneath that soil.
Apart From All That
• What kind of kid watches the NASDAQ ticker raptly?
• For whatever it's worth, IMDb lists Julian's last name as Walker and his mother's (or at least the woman he kills who we assume is his mother) as McTeer.
• The murder happened on June 8, 2018, for those keeping track.
• That song Julian and "mom" sing is Burl Ives's "Down in the Valley."
• Nothing like a classic shower-curtain-ripped-from-its-rings finale for poor Adam.
• What does Jeanie the waitress know? Or Gene the neighbor?
• Is that a knowing gag that Harry might know the Hendersons?
• Speaking of Hap and Leonard (and Hell on Wheels), glad to see Dohn Norwood back as Harry's partner.
• Interesting that there was some muttering on the radio about the Lehigh Valley, and Adam was from Allentown.
• Putnam and Garrison were nice Hudson Valley–area shoutouts.
• That Keller PD chief is fishy. As is that lone sedan in the lot when Julian got his "tea."
• Explosions, eh?
• Adam and "mom" were into analytical psychology and astrology, and Julian claims "they had to go back to the beginning." Hmmm.