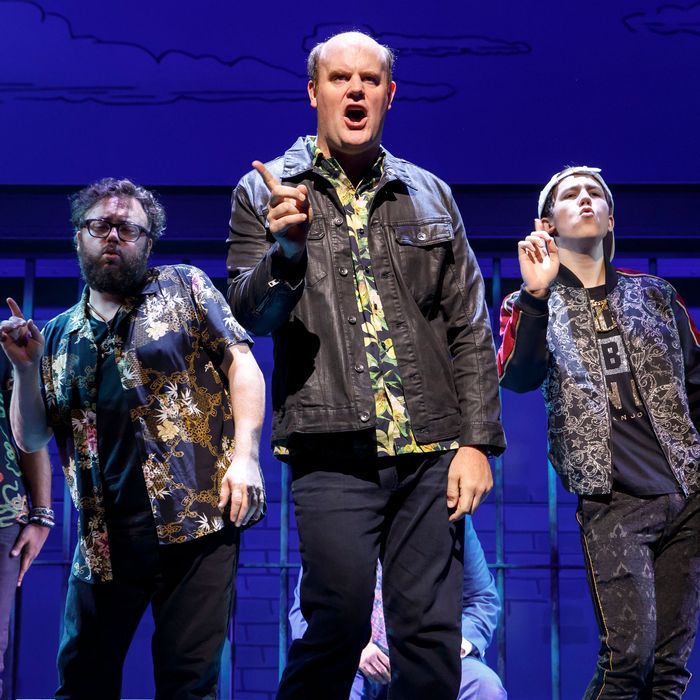 From
Gettin' the Band Back Together,
at the Belasco.
Photo: Joan Marcus
Before Gettin' the Band Back Together kicked off, the show's producer bounded down the aisle and up the steps to the stage to do a little hyping. He wanted to know how we were all doing that night and — like seemingly every enthusiastic public speaker in my life, starting in the elementary school cafeteria — he wasn't satisfied with our response. "You can do better than that!" he shouted, smiling very hard, "You're not here to see The Iceman Cometh!" The crowd appeased him, and I sank a little in my seat. Has anyone, anywhere, ever actually enjoyed the "I can't heeeear you" school of audience participation? The last time I got it from a producer — not, say, by an off-duty cop with a stuffed lion warning me not to do drugs — was in Pigeon Forge, Tennessee, at a truly jaw-dropping experience called The Miracle. It's closed now, but when I visited it years ago, its producer, who wore a bolo tie and snakeskin boots, told us it was "America's largest faith-based family entertainment," and I believed him — I mean, there were camel rides in the parking lot. He also encouraged us to head down the road to check out one of his other theatrical establishments, a dinner-and-musical-revue joint called the Black Bear Jamboree.
I know I should be sticking to Sayreville, New Jersey, the setting of the perpetual nostalgia machine now chugging away at the Belasco, but my mind keeps wandering to that strip of highway in the Smoky Mountains, where the guy with the bolo tie was confidently selling ribs on one block and the Resurrection on another. I think it's the selling that gets to me. Fun for fun's sake is fine, but I don't like being a target market, and Gettin' the Band Back Together is marketing one of my least favorite kinds of fun: the sentimental myth of the "do-over" (which is, incidentally and unironically, the title of the show's climactic song) — the idea that the best days of our lives occurred before our senior proms, and if we could just get back to the big-dreaming, hard-rocking, adorably rule-breaking teenage rebels we used to be, well, maybe we could all be heroes after all.
That's the basic thrust of the tale of Mitch Papadopoulos (Mitchell Jarvis, who's channeling a young Dan Aykroyd, and not just because he's trying to get a band back together). We meet him just as he's turned 40 and lost his job as a stockbroker, facts that are supposed to make us feel bad for him. Now he's got to move back in with his mom, to that eternal punch line in state form — Jersey! In an opening number with that very title, the ensemble members kick and gyrate and screech at one other from behind the wheels of a bunch of cartoonish 2-D cars (Derek McLane's set is a collection of gradient-less, Charles Schulz–y backgrounds that up the show's "Don't take it too seriously" factor). The dancers are dressed as a parade of tired stereotypes, most of them heavily bronzed. Costume designer Emily Rebholz supplies the requisite tracksuits, leopard print, and gold chains, and throws a few other tropes in there for good measure — the Asian grandma with a perm and a penchant for hitting people with whatever bag she's carrying; the swishy drama teacher with a scarf and a beret. Here they all are, mocking and celebrating their home turf, which is "like New York but you can pay your rent."
It's cheap stuff, unfortunately no less stale for its having been generated in what is, for Broadway at least, a unique way. Gettin' the Band Back Together was created by a group of actors and writers — they're credited as the Grundleshotz — who improvised scenarios based on their own experiences and built a musical around the resulting material (a cool idea with some significant forebears: A Chorus Line was built using a similar process). Mark Allen (not a Grundleshot himself) wrote the music and lyrics, and Ken Davenport (the producer who wanted to know if we were having fun yet) co-wrote the book with this collaborative team, whose name just … deserves another minute of your time. Despite Davenport's pre-show insistence that a "truly original musical" is a rare and special thing these days on Broadway, there's nothing particularly original about Gettin' the Band Back Together. Its writers seem to be laboring under the misconception that because something actually happened to you, it's not a cliché. The play they've put together, from its plot to its sense of humor, feels like the theatrical equivalent of one of those movies that metastasizes out of a mis-chosen SNL sketch — less Wayne's World and more Deuce Bigalow: Male Gigolo.
So, adhering to the rules of easy comedy and the promise of his show's title, newly unemployed Mitch has a pretty clear path ahead of him back home in Sayreville. It involves his high-school buddies (none of whom has left town, unless dying counts, because one of them did that), his high-school sweetheart, his high-school rival, and his mom. Surely the most important people in every man's life! The rival, Tygen Billows (a muscly Brandon Williams, bravely strutting and growling his way through the boos he gets from the audience), is orange of skin and frosted of hair — a wannabe metal god with a pleather-clad entourage, a passel of daddy issues, and a 20-year-old grudge. Back in high school, Mitch's band, Juggernaut, won the battle of the bands over Tygen's band, Mouthfeel. Though Tygen has collected the trophy every year since (who knows why Sayreville continues to host an annual battle of the bands that evidently involves middle-aged men as well as high-schoolers … Oh wait: Bon Jovi), he still resents Mitch and longs to settle once and for all "who really is the best band in Western Eastern Central Middlesex County."
In the meantime, Tygen's also become a local real estate tycoon, and just as Mitch rolls back into town, foreclosure signs start popping up in the yards of those he knows and loves, including his own unreasonably fit-and-trim mom (Marilu Henner, who's got enviable amounts of energy, if of a slightly robotic variety). What's a 40-year-old ex-Wall Street bro who apparently has no savings to do? Round up his comrades-in-Juggernaut, obviously, and challenge the evil fake-baked landlord to a winner-take-all rock-and-roll rematch — "all" in this case being the townsfolk's threatened leases, plus a two-decade-old gold plastic loving cup.
So the stage is set for two-and-a-half hours of mediocre running gags (Tygen can't pronounce "Papadopoulos" and has a habit of walking in away in the middle of attempted epigrams), upbeat if not particularly memorable rock anthems, and the standard mix of dude-on-dude shenanigans and dude-on-lady sentiment. Mitch's nerdy, bearded pal Bart Vickers (a manic Jay Klaitz) supplies the shenanigans — he's got the hots for Mitch's mom — and his high-school ex Dani (Kelli Barrett, singing nicely in a dud of a part) has to endure most of the sentiment. A quarter-century or so after their teenage romance, he's got a dad bod and she's got perfect hair and washboard abs (she's a waitress who dreams of opening her own fitness studio), so of course they're meant for each other. That is, as soon as she stops dating Tygen — because, even though Dani gets a plaintive number about how much she values authenticity ("I just want real … I just want around," she sings, making relatively low expectations sound downright romantic), this Belle seemingly isn't sharp enough to see through the ludicrous local Gaston's dimwitted cartoonishness. Dani's a smart, independent woman raising a smart, independent daughter, the play tells us. It also tells us she's dating a man who refers to his independently flex-able pecs as "Billows' pillows." Cool.
It's not that Gettin' the Band Back Together is utterly devoid of charm. Paul Whitty is amusing and in excellent voice as Juggernaut's drummer, Sully Sullivan, a gentle giant of a cop who'd rather throw his lot in with the local community theater than get promoted to detective, and Sawyer Nunes gets some fun set pieces as Ricky Bling, the new addition to Mitch's band — a 16-year-old motormouth who makes up for his Snapchat addiction and dopey attempts at a street-savvy hip-hop persona with some actual god-given guitar chops. But even these good-natured, high-energy performances have a halo of avoidance around them: The story's animating frustrations seem anodyne next to the real ones in the suburbs these days, even with those looming foreclosures. This is a world that never makes Sully feel threatening or Ricky seem appropriative, and by sidestepping these tensions, the show's writers have instead created a strange new tension in their absence. They're happy for Juggernaut's least assertive member, Robbie Patel (Manu Narayan), to be of Indian descent — and Sayreville and its surrounding communities do indeed have large Indian populations — and as such he comes along with a heavily accented dermatologist father who wants to set him up in an arranged marriage. (But don't worry, he'll find love with a sexy Canadian blonde with the Bond Girl-in-training name Tawney Truebody, who runs a chain of vegan yogurt stores and loves Indian food.) Granted, this isn't a show that sets out to lead us across tough political terrain, but in so widely navigating around any real issue, its escapism starts to feel a little craven.
But this is the universe of Gettin' the Band Back Together: one where you can go home again, one where you are the rock-and-roll god you always thought you were, and one where, to quote Kurt Vonnegut, the destructive myth that "it is very easy for any American to make money" is cheerfully upheld. The show's denouement — and the salvation of Mitch, his mom, and his buddies — involves a big check delivered out of the blue, in the ultimate deus ex rockina. It's one big American fantasy — Hey, you too might recapture your youthful glory and randomly become a millionaire! — being marketed to folks who couldn't afford to see Springsteen on Broadway and came to this instead. And if the cheers that surrounded me are any measure, plenty are happily buying in. It's this sense of transaction — of big licks and easy nostalgia on tap, being offered at discount prices and drunk in mass quantities — that makes Gettin' the Band Back Together feel sour. It may be original, but it's nothing we haven't been sold before.
Gettin' the Band Back Together is at the Belasco Theatre.
*A version of this article appears in the August 20, 2018, issue of New York Magazine. Subscribe Now!