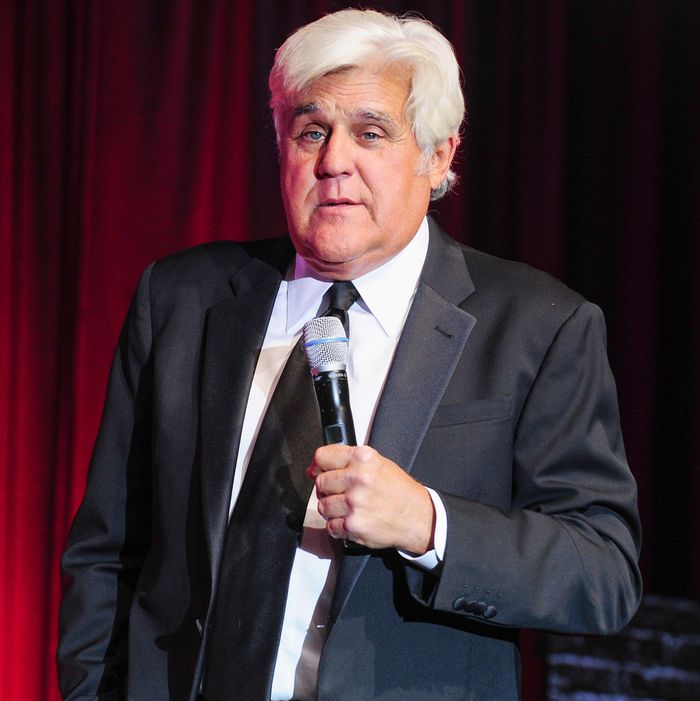 Jay Leno attends and performs at Toronto Congress Centre on February 10, 2018.
Photo: GP Images/WireImage
The comedy podcast universe is ever expanding, not unlike the universe universe. We're here to make it a bit smaller, a bit more manageable. There are a lot of great shows and each has a lot of great episodes, so we want to highlight the exceptional, the noteworthy. Each week our crack team of podcast enthusiasts and specialists and especially enthusiastic people will pick their favorites. We hope to have your ears permanently plugged with the best in aural comedy.
WTF - Jay Leno
Pablo: It's the question every longtime WTF fan will ask themselves before pressing play: Does Jay Leno succeed in humanizing himself, à la the Dane Cook episode, or does he come off as the total asshole we presume him to be, like Carlos Mencia? The enigmatic answer is … yes. After the requisite recounting of Leno's early years, Marc Maron lets Leno opine for most of the episode on his many controversies with fellow comics. Leno tells Maron about teaching and befriending a 14-year-old Bill Hicks, who was just as angry and talented as a teen. But when Leno later told Hicks that neither NBC or CBS would broadcast him if he took on Christianity — David Letterman would apologize 16 years later on behalf of CBS when he aired the cut routine — he locked onto the Doritos-selling Tonight Show host as a capitalist parasite.
On the topic of Letterman, which is retread ground, Leno defends NBC executives for picking him over Dave based on his five-plus years as a dependably mainstream guest host. But when it comes to the Conan question, Leno's answers falter. While he's made amends with Jimmy Kimmel, the talk-show host still sounds uneasy discussing Conan's Tonight Show fiasco in any personal terms; to him, it was strictly business and he doesn't know why anyone views it any other way. It's a cop-out and I think deep down inside, he knows it. We watch late-night TV, often in afternoon via a computer these days, because we form a personal connection to our preferred host. But that bond can be warped when we conflate artists and the content they create. It's why David Letterman, a man who used his power and position to sleep with an untold number of young employees, was given a $12 million Netflix deal to host glorified college-speaking arrangements. And it partly explains how Leno, a guy whose love for telling corny monologue jokes blinded him to the feelings of his network colleague, was reduced to a denim-wearing punch line who secretly donates chunks of famously untouched Tonight Show salary to the Campaign for Afghan Women and Girls. So does Leno acquit himself? It's hard to say. Like the best WTF episodes, Maron focuses on shining a light on the humanity within difficult people. It's not a place for binary questions like "Leno or Letterman?"
Listen: Spotify | Apple | Website
Scriptnotes - The One With Mindy Kaling
Anna: Mindy Kaling (The Mindy Project, The Office, Champions, movies with Oprah) joins this typically film-centric podcast to talk TV. With host John August (Big Fish) sans host Craig Mazin this week, Kaling shares her path to becoming a respected writer-actor-showrunner, and why luck had no part in that. As Kaling notes, "This is the nitty-gritty stuff … I always gloss over because it feels so logistical, but I know this is interesting for young people who are trying to make it." If you're anything like Scriptnotes's audience of aspiring writers, you'll agree. She details step-by-step processes of submitting to the New York Fringe Festival, moving to L.A., getting staffed on The Office, and exactly what happens in her writers rooms. From why she changed her last name to why she bought an Arrested Development script from a guy on Broome Street (who now sells a script she wrote), what's ultimately most powerful is her championing pure ambition and hard work. Kaling discusses simultaneously showrunning and starring in a show, from taking network notes to realizing she's now a distinctive voice in TV. Take notes, because don't we all want to casually email Shonda Rhimes one day?
Listen: Spotify | Apple | Website
Yo, Is This Racist? - Language Evolves w/Levar Burton
Elizabeth: Hosts Tawny Newsome and Andrew Ti are joined by the legendary LeVar Burton this week to talk podcasting, public shaming, and much more. They start by answering a listener question about using the word "ghetto" and debate the difference between it and the word "redneck." Some threats are exchanged when Burton gives away the secret: If you have a doubt about whether or not to say something, don't say it. The second (probably high) caller asks for advice about whether to step in when people make fun of his co-worker's accent. For the final question, they talk about white authors writing black characters and how it can be done correctly. (Hint: Don't use the term "strong-willed.") Ti wraps things up by asking Burton and Newsome for their opinions on the speed of progress in the industry.
Listen: Spotify | Apple | Website
The Need to Fail - Natasha Rothwell
Mark: Natasha Rothwell is killing it. Despite jumping from Netflix's The Characters to playing fan favorite Kelli on Insecure to her recent casting in Wonder Woman 1984, she has a surprising amount to talk about on a podcast about failure. Like about her experience at Saturday Night Live, where she auditioned for the cast, was hired as a writer, and was not renewed for a second season. As always, host Don Fanelli does an excellent job of driving the conversation toward accessible, realistic advice for anyone aspiring to be a writer, actor, or just a generally decent human being. Rothwell has a plenty of Instagram-worthy words of wisdom to share about impostor syndrome, politics, and fostering your unique voice. Asking for advice can be difficult for some, but her perspective on seeking help is applicable to anyone in any industry. These two have built a genuine rapport from years of sharing the stage with the UCB TourCo and Maude Night, and it shows. In a few years, we'll look back at this episode and wonder how Natasha Rothwell even found the time to record a podcast at all.
Listen: Spotify | Apple | Website
The Best Show – Which Celebrity Would You Want to Be Handcuffed to As You Ran Through the Bayou Trying to Evade the Authorities? Frank Cunningham! Gary the Squirrel! More!
Noah: It was clear from the moment that Tom Scharpling announced the episode's topic on Tuesday afternoon that he was in a lovely mood and that this would be a weird, wild Best Show. The tone gets goofy right away when Tom won't stop replaying a 50-second clip of Michigan head coach Jim Harbaugh repeating "drink as much melk [sic] as your little belly will hold" to a child at a Q&A. A caller gives Tom the bright idea to start selling personalized video shout-outs from AP Mike filmed on his iPhone for $30 a pop in an instant-classic riff against the phenomenon of celebrities selling the same for upward of a grand. Plus, after remaining on high alert for most of 2018 but coming up short every time, Tom finally, thrillingly catches a long-running prank caller who ends every story with the twist that he has e-cigarettes for legs, affectionately known as E-Cigs for Legs Guy, in the act! The bayou topic brings out some fun ideas to thread one highlight to the next — like Scarlett Johansson, Chumlee, and Damian Abraham from Fucked Up, the latter of whom could hotbox the whole swamp by blowing his weed smoke through the propeller. Tom truly delivers all the laughs your little belly can hold.
Listen: Spotify | Apple | Website
Sawbones - CBD Oil
Kathryn: As a legitimate doctor and an internet comedian, respectively, Sydnee McElroy and her husband, Justin, are at the front lines of covering emerging research for stoner comedians. If you're a stoner comedian and you've considered using CBD oil, don't! Cannabidiol doesn't get you high (that's tetrahydrocannabinol). But if you've noticed the reiki masters giving away tinctures for free at your sound bath studio and you're wondering if it's legitimate medicine or just another vape juice, check out this ep of Sawbones. Derived from the hemp plant and sold as gels, gummies, oils, supplements, and extracts, CBD oil may help alleviate pain, quell nausea, or stimulate appetite, and it might chill you out a little. There's some medium-good evidence that it may help treat some forms of epilepsy. But we don't actually know much about how it works, and it's being touted for everything from migraines to depression and anxiety to cancer. Patients who may be at the end of their ropes are vulnerable to such unsubstantiated claims, so for medical use, it's a fraught issue. For recreational use, whether you eat it, smoke it, or massage it into your dog (she has social anxiety, okay?), try to keep it in perspective.

Listen: Spotify | Apple | Website
Death, Sex & Money - Alzheimer's and the World's Saddest Comedy Club
Tom: Learning how to deal with and openly discuss one's grief can be challenging. Starting a podcast about grief — with the goal of making it funny — is a completely separate challenge altogether. Death, Sex & Money, a podcast dedicated to open and honest conversations about taboo topics, debuted a new audio project from comedian Chris Garcia on the very subject. In using Death, Sex & Money as a platform, Garcia discusses his experience with grief following the loss of his father, Andre, to Alzheimer's in 2017. This new project, humbly described as a "work in progress," already packs a strong emotional one-two punch of laughter and tears. While interviewing his mother, Ana, she and Chris reflect on the hard but ultimately happy life Andre lived. To balance out the heaviness, Garcia uses clips from his stand-up as an interstitial between harrowing tales from his father's life. In rounding out the episode, Garcia welcomes comedian Karen Kilgariff (My Favorite Murder) to discuss her late mother's battle with Alzheimer's. Through the tears, Garcia and Kilgariff are able to find the humor in their grief, thus leaving listeners with a sense of optimism by the end.
Listen: Spotify | Apple | Website
Inside of You - Topher Grace
Marc: Michael Rosenbaum (Smallville, Guardians of the Galaxy 2) is hitting his stride as an interviewer with a dozen episodes of his Inside of You podcast under his belt. This week's guest is another one of his friends from Hollywood, Topher Grace (That '70s Show, BlacKkKlansman), and we get well over an hour of fun and amazing conversation and information about this star who pretty much literally came out of nowhere. The term "overnight success" is heavy overused in the business of show, but Grace's only acting work before landing the role of Eric Forman was in a high-school play in Connecticut. When he got a call from the show's producers as he was settling into his freshman year at USC, he had no idea why they were giving him details of a TV show they were working on. And as the conversation unspools, Rosenbaum comes to realize that his guest is perhaps one of the most well-adjusted celebrities in town. Grace, a new father, shares stories of various projects, interactions with interesting co-stars like Robert De Niro (when shooting The Big Wedding together, Grace reveled in being able to spend nights in his boyhood bunk bed in his parents' house), and revealing a pretty decent Michael J. Fox impression. He also asks the host for advice about when he and his wife should consider stopping dropping F-bombs around their toddler. Rosenbaum, single and childless, hasn't a clue.
Listen: Spotify | Apple | Website
Other Podcasts We're Listening To:
Womp It Up! — Ask Jess & Lennon
Listen: Spotify | Apple | Website
Las Culturistas – "Red Dwarf" w/ Dulce Sloan
Listen: Spotify | Apple | Website
Alison Rosen Is Your New Best Friend - Greg Fitzsimmons Needs a Good Cry
Listen: Spotify | Apple | Website
Hound Tall - The Grateful Dead
Listen: Spotify | Apple | Website
Nerd Poker - Cosmic Crunk
Listen: Spotify | Apple | Website
Pen Pals - RE: Staying Informed & Toxic Relationships
Listen: Spotify | Apple | Website
Horny 4 Horror - Talkin' With…THE SHINING TWINS (Lauren Lapkus & Mary Holland)!!!
Listen: Spotify | Apple | Website
Hysteria - U Bum
Listen: Spotify | Apple | Website
The Dave Chang Show - Nick Kroll, Part 1: The Origin Story
Listen: Spotify | Apple | Website
Got a comedy podcast recommendation? Drop us a line at comedypodcasts@vulture.com.
This week's reviewers: Pablo Goldstein, Kathryn Doyle, Marc Hershon, Elizabeth Stamp, Mark Kramer, Noah Jacobs, Anna Marr, and Tom Rainey.