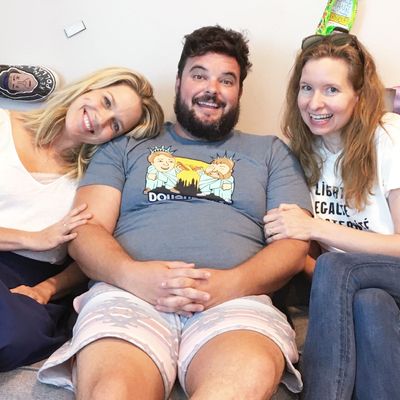 Womp It Up!
Photo: Earwolf
The comedy podcast universe is ever expanding, not unlike the universe universe. We're here to make it a bit smaller, a bit more manageable. There are a lot of great shows and each has a lot of great episodes, so we want to highlight the exceptional, the noteworthy. Each week our crack team of podcast enthusiasts and specialists and especially enthusiastic people will pick their favorites. We hope to have your ears permanently plugged with the best in aural comedy.
Womp It Up! - Spotlight On: Chris Gainz (with Jon Gabrus)
Elizabeth: Instagram fitness model and high-school junior Chris Gainz (Jon Gabrus) joins Marissa Wompler (Jessica St. Clair) and Charlotte Listler (Lennon Parham) in the Marina Del Ray Public High School library to talk about his training routine, which involves taking gas-station creatine, eating massive amounts of cod, a cocktail of white wine and white-wine vinegar, and weekly Nair dips. He talks about how he came to live with his stepmom and stepdad and his burgeoning personal-training business. Wompler channels Eminem and Cardi B, while Listler gives an angry rendition of the "What's Cheesing You" theme as tension develops between teacher and student. In "Listler's Love Lockdown," they give heartfelt advice to a listener who feels disconnected from the gay community and a woman struggling with infertility. It's an episode all about acceptance and poor dieting habits.
Listen: Spotify | Apple | Website
improv4humans - Andy Daly, Betsy Sodaro
Mark: Matt Besser and friends are still churning out improv gold more than 350 episodes into improv4humans. This week's stellar improv3humans, "Post-Post Malone," features podcast and improv stalwarts Andy Daly and Betsy Sodaro. The magic word happens to be "magic," with a cold open about the outdated sexism of magicians and a follow-up about Netflix's curiously titled Magic for Humans. Within each scene, Andy Daly flashes hints of several trademark characters that will bring joy to fans of his appearances on Comedy Bang Bang or the Andy Daly Podcast Pilot Project. Stay tuned for improv about "independent invention," prayer at lunch, and acid casualties. Besser also plugs his new Stitcher Premium project, My Dead Wife the Robot Car, dropping August 29 and starring Sodaro, which leads to an examination of reincarnation that's sure to inspire listeners to question their entire outlook on the afterlife.
Listen: Spotify | Apple | Website
The Kevin Pollak Chat Show – Tony Shalhoub
Kathryn: It is common knowledge that all the Tonys in Tony! Toni! Toné! refer to universally beloved Tony Shalhoub. The Emmy-, Golden Globe–, and (yes) Tony-winning actor has had a capital c "Career," from Wings to Monk, Big Night, Galaxy Quest, and The Marvelous Mrs. Maisel, which returns for season two this winter. He's somehow remained a delightful guy, as evidenced by this chat with his Maisel co-star Kevin Pollak. Pollak and Shalhoub have the same remarkable chemistry as their characters, Moishe and Abe, and their conversation ranges from Tony's charming anecdotes about growing up as the ninth of ten children of a Lebanese immigrant in Green Bay, Wisconsin, to portraying the definitive Baby Jesus in his sister's high-school play, to being cast in later productions for his swarthy good looks. Tony also addresses the most pressing political issue of the day: his five-year-old Goldendoodle, "Scoop" Shalhoub.

Listen: Spotify | Apple | Website
The Dumbbells - No Cardio (w/ D'Arcy Carden)
Anna: Warning: This episode makes exercising seem joyful. The always charming D'Arcy Carden (The Good Place, Broad City) joins UCB comedians Eugene Cordero and Ryan Stanger to share her workout and diet regimen … with no cardio! Carden's Soulstice trainer character on Broad City seems like nothing compared to her brutal water polo days — serene above the water, violent below. She practiced "gamesmanship" and egg-beater-ed her heart out to a college scholarship, which she turned down to study theater. Carden and the Bells discuss how working out is part of "the work" as an actor and how it's helpful in big life transitions. Carden details her exercise habits from college to New York City and finally L.A., where she was motivated to get healthy. When she gushes about her favorite workouts (Yoga Booty Ballet, Pilates, 30-minute weight lifting in a garage) and sustainable diet (an 80-20 paleo deal), it makes leading a healthy life seem possible and enjoyable. In fact, she's here with advice for female listeners who are intimidated by lifting weights. Carden is all about "living your life in a healthy way — but living your life." But what about that cardio?? Listen for the Bells' final answer! Now, who wants to sponsor my ClassPass?
Listen: Spotify | Apple | Website
Dumb People Town - Patton Oswalt - Swing It Wherever You Want
Marc: It seems an easy thing, being a guest on a podcast that takes potshots at stupid people, and for comedian Patton Oswalt, who doesn't suffer fools gladly, Dumb People Town is a perfect fit. As soon as the show begins, hosts Randy Sklar, Daniel Van Kirk, and Jason Sklar can hardly wait to dive into the trio of news stories with Oswalt. This episode is such a rich and filling three-course meal that it takes them almost five minutes just to move past the headline of the first story. ("Let's just start riffin' right now," says Oswalt when he hears the story is out of Florida, which seems to be dumb people world headquarters.) Starting with the tale of a drunk man swinging a boat anchor at others over a dispute about badly grilled chicken, on through the story of a man trying to talk his way out of a drunk-driving ticket because he "was only drinking while at stop signs," and on to the closer about a man who set a world record for slicing watermelons in half on his own stomach, Oswalt laughs delightedly as the antics are unveiled. The hosts, who are by now old hands at funning the dumb, are clearly enjoying the experience of having first-time guest Oswalt matching them riff for riff.

Listen: Spotify | Apple | Website
Apodcalypse - Super Villains (w/ Mike Lawrence & Mike Abrusci)
Tom: Given the state of world affairs, preparing for the apocalypse doesn't seem like the worst idea. If you're like me — someone who lives in constant fear about the end of days — then Katie Hannigan's Apodcalypse is for you. Apodcalypse brings together Hannigan and her bunker buddy Gabby Bryan to discuss survival techniques for the many Armageddon-type scenarios that plague our daily existence. This week, Hannigan welcomes comedians Mike Lawrence and Mike Abrusci to discuss the dangers of supervillains. With Lawrence being considered an unofficial expert on all things comic books, his knowledge about fictional foes is a great addition to this conversation. After developing a list of real-life supervillains — we're looking at you, Donald Trump and Mark Zuckerberg — the bunker babies talk about which superpowers they'd most want to have. In addition to throwing shade at the X-Men adversary Magneto, Hannigan gives an in-depth look into why she finds Mr. Freeze sexy. To see why everyone considers Jesus Christ the biggest supervillain of them all, climb on down into the Apodcalypse fallout shelter.
Other Podcasts We're Listening To:
Why Won't You Date Me? - Why'd You Stop Dating Me? w/ Nick Snow
Listen: Spotify | Apple | Website
How to Be a Person - How to Stay at a Hotel w/ Anna Drezen
Listen: Spotify | Apple | Website
Black Men Can't Jump in Hollywood - Crazy Rich Asians ft. Ellie Lee, Katharine Lerner, Bowen Yang
Listen: Spotify | Apple | Website
Fact Up - Folklore
Listen: Apple | Website
The Bugle - Space Force
Listen: Apple | Website
Unspooled - Singin' in the Rain
Listen: Spotify | Apple | Website
Pen Pals with Daniel & Rory - Eating & Finding a Partner
Listen: Spotify | Apple | Website
Hilarious World of Depression - Thom Tran Is a Regular Standup Comic Except for the Part About Being Shot in the Head in Iraq
Listen: Spotify | Apple | Website
Got a comedy podcast recommendation? Drop us a line at comedypodcasts@vulture.com.
This week's reviewers: Kathryn Doyle, Marc Hershon,  Elizabeth Stamp, Mark Kramer, Anna Marr, and Tom Rainey.