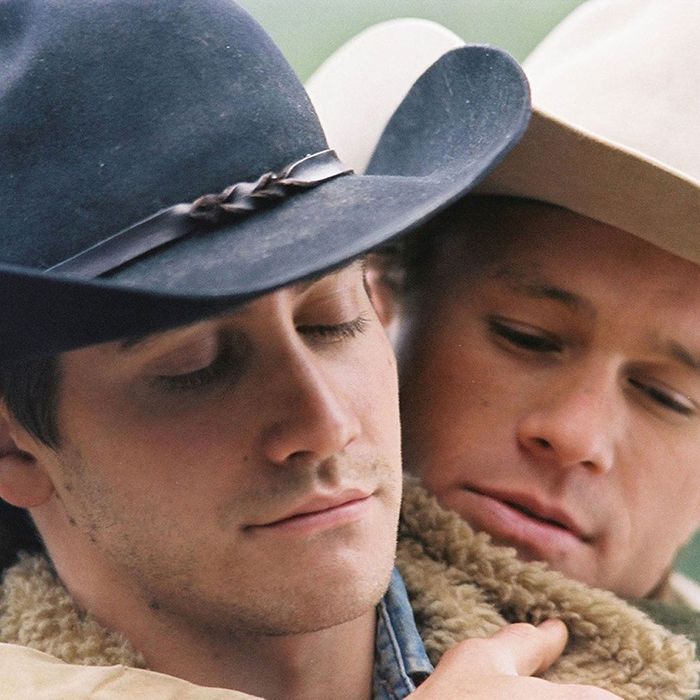 Brokeback Mountain.
Photo: Focus Features
The comedy podcast universe is ever expanding, not unlike the universe universe. We're here to make it a bit smaller, a bit more manageable. There are a lot of great shows and each has a lot of great episodes, so we want to highlight the exceptional, the noteworthy. Each week our crack team of podcast enthusiasts and specialists and especially enthusiastic people will pick their favorites. We hope to have your ears permanently plugged with the best in aural comedy.
Blank Check - Brokeback Mountain w/ Las Culturistas
Kathryn: Las Culturistas as guests on Blank Check? It's the crossover event of the season. And when the topic of discussion is 2005's Brokeback Mountain, at or very near director Ang Lee's creative apex, a showcase for two career-making performances by Hollywood legends (Anne Hathaway and Michelle Williams), and the high-water mark of the "Brokepod Mountcast" mini-series, you know the mics are gonna get blown out. All four podcasters can go toe-to-toe on the history of the Oscars, nominated films, hosts, and set design — it's rare to have one, much less two, Blank Check guests who can match Griffin for remembering insane details from awards ceremonies ten years ago. And at last we get an answer to the question we've all been asking: Does David have beautiful eyes?
Listen: Apple | Spotify | Website
Gettin' Better With Ron Funches - The Babies Don't Need Milk
Anna: Smart and kind people, actor-comedian-writer and father Ron Funches (Trolls, Powerless, Undateable, and an upcoming Comedy Central special) is looking at you! As his first episode last week declared, this podcast isn't about wrestling, politics, or stand-up. He's examining his constant journey to better himself and talking with folks he admires about how they've progressed and where they came from. This week welcomes Funches's first guest, his mother! First, Funches shares his week and daily schedule, emphasizing structure in an artist's life and treating his comedy as a business empire. When his mom joins, the pair's dynamic is joyfully infectious. Funny, open, and honest, she comes armed with catchphrases and a palpable love for LeBron. She shares stories from her days as a social worker in Chicago, early goals of working in radio and TV, and thoughts on sacrifice and confidence. Hear how she's gettin' better with her diet and workout routine, plus what's on her vision board today (her own podcast?!). I guarantee you'll be rooting for her goal: to keep as healthy as possible so she "can enjoy the fruits of [his] and [his] sister's labor." You're about to download your favorite new optimistic podcast!
Listen: Spotify | Apple | Website
Why Won't You Date Me - Wes From Nailed It Is Here!
Pablo: If you're a fan of Netflix's cooking show Nailed It — where awful amateur bakers compete in making elaborately difficult cakes — you knew this episode was coming. For those who don't find delight in extreme culinary failure, Wes is the show's hunky assistant director whose inability to bring props in on time makes him the incessant target of Nicole Byer's ire. It's, of course, a bit, but when the star of a TV show takes a liking to your DGA Viking good looks, you pretend to be incompetent at your job and you pretend hard. But would Wes swipe right on Nicole? Wes says yes, if he wasn't married. But this episode is less about Nicole's dating life and more about the behind the scenes of Nailed It, making it a must-listen for devotees of the show. Just don't expect Netflix to ever let its editors make a 30-minute supercut of Nicole's R-rated banter with her guest judges.
Listen: Spotify | Apple | Website
Why Mommy Drinks - Richard Jefferson
Mark: After his appearance on Roast Battle this week, the comedy world may have prematurely named Blake Griffin the NBA's funniest player. Eighteen-year league veteran, multi-time world champion, and Olympic (bronze) medalist Richard Jefferson joins exuberant hosts Betsy Stover and Amanda Allan this week on the premier drunken-parenting podcast, Why Mommy Drinks. Each of their children gave their parents plenty to drink about this week, from going commando in school to spitting on the bus. It's a discussion sure to make listeners grateful their parents don't have a podcast. Midway through, we're treated to a casual 420 joke made by a real-life NBA player — for basketball fans, a thrill equivalent to hearing your teacher say a curse word. Fans of Jefferson's own show with fellow baller Channing Frye, Road Trippin: Richard vs. Channing, won't be surprised at how well he keeps up with both hilarious and buzzed hosts. Even childless dorks like me will get something out of the very useful #MomHacks and #DadHacks. Raising a human being has never sounded so fun.
Listen: Spotify | Apple | Website
Off Book: The Improvised Musical – Men in Black 4 (w/ Tawny Newsome)
Tom: So, you love hit musicals but can't afford to go to Broadway? Worry not, Vulture readers! In Off Book: The Improvised Musical, hosts Jess McKenna and Zach Reino bring listeners a new (free!) musical each week. In the latest Off Book, Jess and Zach welcome Tawny Newsome (Yo, Is This Racist?) to tackle the biggest question humanity has ever faced: What would it look like if Dwayne "the Rock" Johnson starred in a musical reboot of Men in Black? I hope you're listening, big-time movie execs. That sounds like a box-office smash hit to me! Although still in previews, this cast delivers show-stopping numbers like "Three Things (You Love Hot Springs)," "Put The Rock in Men in Black," and "Everything's a Simulation." Much like Inception, the plot to this musical is layered and will leave you questioning the very fabric of reality. If we learned anything from Russell Crowe's Javert in Les Misérables, it's that a bad antagonist can ruin a show. Luckily for us, Men in Black 4 delivers two admirable foes: Amazon CEO Jeff Bezos and his brainless alter ego Steve Bezos. To see why Jess, Zach, and Tawny think HBO's Westworld is a sequel to Wild, Wild, West, tune in to Off Book.
Listen: Spotify | Apple | Website
Box Angeles - George Basil
Marc: What does an aspiring actor in Hollywood do while waiting for that big break to come along? Start a podcast. Which is exactly what Mike "Box" Elder has done. And has been doing for quite a while — he's got over 240 episode under his mic and is still going strong. And his method for cracking the show-biz code is kind of genius — he interviews actors, comedians, musicians, and other entertainment people with a slant to finding out how they cracked the code. His apartment is his studio, where he plies them with microbrewed beer and seems to be taking copious notes as his visitors unspool the trails they alternately followed and blazed on their way to wherever they happen to be at that moment. Elder's later show-business sherpa is George Basil, who concurrently holding down two recurring roles — on Crashing (HBO) where he plays the guy Pete Holmes's wife cheated on him with, and Wrecked (TBS) where he plays one of the airheaded plane-crash survivors stranded on a middle-of-nowhere island. Basil is endlessly entertaining (thanks to an improv background and a tremendous sense of self) but his trek from his beginnings to where he is today was so haphazard and capricious that host Elder may not come away with a whole lot of usable hints on how to do it himself. Other than, perhaps, three words of Basil wisdom: "Always just try."
Getting Curious With Jonathan Van Ness - Why Are There So Many Questions? with Justin Theroux
Elizabeth: Jonathan Van Ness and Justin Thoreaux's friendship started in the quintessential 2018 way: Thoreaux slid into Van Ness's Instagram DMs on Easter Sunday. The new friends sit down at Vulture Festival, and rather than doing a deep dive on a topic like most episodes of Getting Curious, they just get to know each other better. They go through Thoreaux's life from growing up in Washington, D.C., to his progressive boarding school to his time living in China. They spend some time talking about his first studio role: the smoking cowboy in Romy & Michelle's High School Reunion. They commiserate over past bullies and Van Ness admits to his glee at surpassing the people who tried to take advantage of him (even though it could endanger his position as America's sweetheart.) Van Ness's Queer Eye co-stars Antoni Porowski and Tan France join for the Q&A portion to talk about Justin's tattoos, finding pockets of joy, and the best career advice they've ever received.
Listen: Spotify | Apple | Website
Other Podcasts We're Listening To:
The Need to Fail - Aaron Jackson
Listen: Spotify | Apple | Website
The Good Place: The Podcast - William Jackson Harper, Actor | Dr. Todd May, Philosophy Adviser
Listen: Spotify | Apple | Website
Podcast: The Ride - Jaws with Justin Michael
Listen: Spotify | Apple | Website
Raised by TV – IMDB Journey w/ Paul F. Tompkins
Listen: Spotify | Apple | Website
Who You Were - Chris Gethard
Listen: Spotify | Apple | Website
Got a comedy podcast recommendation? Drop us a line at comedypodcasts@vulture.com.
This week's reviewers: Pablo Goldstein, Kathryn Doyle, Marc Hershon, Mark Kramer, Anna Marr, and Tom Rainey.