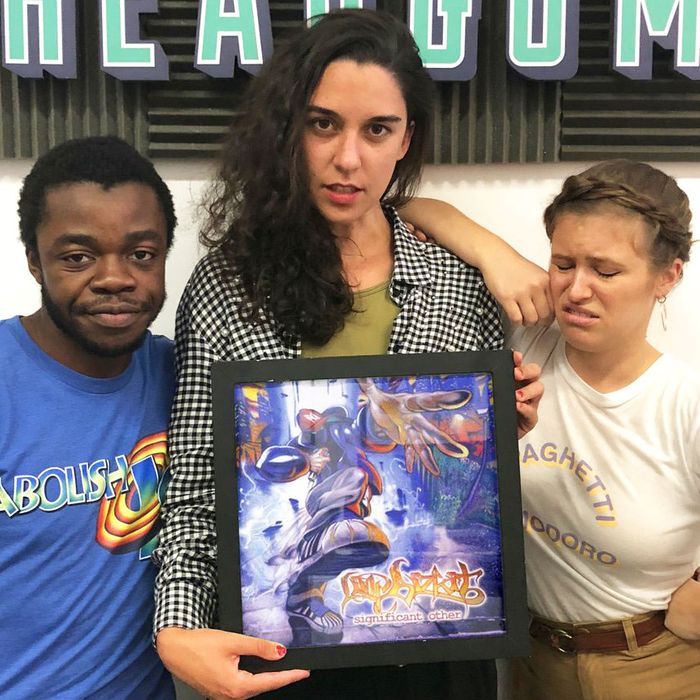 Photo: Twitter/Punch Up The Jam
The comedy podcast universe is ever expanding, not unlike the universe universe. We're here to make it a bit smaller, a bit more manageable. There are a lot of great shows and each has a lot of great episodes, so we want to highlight the exceptional, the noteworthy. Each week our crack team of podcast enthusiasts and specialists and especially enthusiastic people will pick their favorites. We hope to have your ears permanently plugged with the best in aural comedy.
Punch Up the Jam - Nookie (w/Jamie Loftus)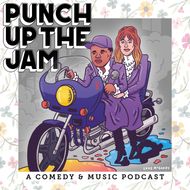 Mark: Limp Bizkit's suckitude is undeniable. It doesn't take a 70-minute podcast to reach this conclusion, but Punch Up the Jam hosts Demi Adejuyigbe, Miel Bredouw, and guest Jamie Loftus (Bechdel Cast) present a hilarious case. Though any of Limp Bizkit's oeuvre would be ripe for dissection, they choose to suffer through 1999's anthem for toxic masculinity, "Nookie." Bob Dylan meets Coolio meets incel culture in this cacophony of horseshit every single one of us all once knew and loved as teenagers. It's guaranteed that nobody in history has put as much time and effort into researching and breaking down "Nookie" as these three do, and that includes lead singer Fred Durst and guitarist Wes Borland — two people who, as Punch Up the Jam points out, were clearly going through some tender relationship issues before writing this angsty revisionist love letter. But, as the patriarchy dictates, those feelings are buried beneath confusing jazz riffs and ad-libs that will haunt your nightmares. Don't worry, Miel and her brother Henry Bardot deliver a patented punch-up closer to the gentle folk ballad "Nookie" should have been. If there's one thing to take away from this episode, it's that Fred Durst was definitely a virgin when he wrote this song.
Listen: Spotify | Apple | Website
Two Blank Girls - Creepy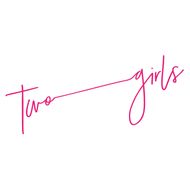 Pablo: In the first season of Two Bulk Girls, hosts Jenna Jones and Annitsa Sprynczynatyk attempted to learn more about themselves through the purchase and consumption of one giant bulk item from Costco a week. This season, the girls have replaced the bulk with blanks, specifically a new adjective each week, to examine the world around them. On their latest episode, they delve into the world of creepiness, focusing mainly on the creepy world of dating. Since they both date men, it unsurprisingly touches on their many experiences with the male gender, especially those decidedly not-in-high-school men who tried to date them while they were in high school. But since this is technically an episode of Two Creepy Girls, the hosts also divulge several super-embarrassing stories about themselves. Facebook messaging a pre–Parks and Recreation Ben Schwartz to say he's cute is pretty bad, but as many journeyman NBA players have proved both on the court and in leaked DMs, sometimes you just need to shoot your shot. Comparatively, it is way better than crushing on your first tattoo artist so strongly that you book a second tattoo appointment solely as an excuse to talk with him again. I don't think that second tattoo was his name, but we won't know for sure unless they release an episode of Two Tatted Girls.
Pop Rocket - "Who Is America?" w/"UnREAL" Creator Sarah Gertrude Shapiro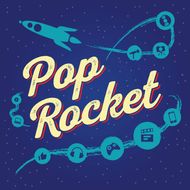 Kathryn:  A stacked Friday version of Pop Rocket examines the "strong" men of our cultural moment. Guest Sarah Gertrude Shapiro, field producer on The Bachelor turned co-creator and producer of the Lifetime drama UnREAL, joins hosts Guy Branum, Karen Tongson, and Margaret Wappler. First they pay tribute to the late Jonathan Gold, Pulitzer Prize–winning titan of food criticism. As a cultural tastemaker, Gold set out to review dishes and restaurants where real people eat and convinced Angelenos to be a little less afraid of their neighbors in the process. Next up is literal strongman the Rock. Does Dwayne's single-handed rescue of the mid-budget comedy outweigh his support of the Bush administration to earn the Pop Rocket seal of approval? The ruling might surprise you. Lastly, the hosts dive deep on comedic heavyweight/brutalist prankster Sacha Baron Cohen and his new Showtime show, Who Is America? Their discussion takes much the same tack as your own inner monologue while watching the show: Is present-day political "gotcha" comedy smug and bloodless? Should we take pleasure in catching people with their pants down in 2018 now that some people are comfortable living with their pants down at all times? Or is it always funny to show someone's ass? There's no consensus, but former Bachelor producer Shapiro offers perhaps the most incisive description of the American experience today: "We create these monsters, and then we mock them for being monsters."
Listen: Spotify | Apple | Website
High & Mighty - Prime w/Christine Blackburn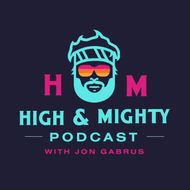 Tom: For a show that could easily coast on the humor of host Jon Gabrus alone, it's always nice to see topics on High & Mighty seesaw between the silly and serious. This week our favorite fuccboi welcomes Christine Blackburn (Story Worthy) to talk about what it means to be in the prime of your life. Early on, Blackburn points out that there is no one definition or time period that constitutes when your prime is. In discussing how age, fitness, and finance can contribute to your prime, Blackburn challenges the notion that these nuances have to serve as the main puzzle pieces to happiness. In using her time as a flight attendant, for example, Blackburn says she didn't feel the inner peace she was searching for, despite having youth, money, and the ability to travel. Given Gabrus started a podcast around the very notion of celebrating the good old days, even he shows signs of excitement that his best days, and true prime, have yet to come. If all this hippie-dippie talk doesn't do it for you, tune in to hear why Gabrus thinks he would make the perfect spokesperson for Boar's Head Premium Meats.
Listen: Spotify | Apple | Website
My Neighbors Are Dead - Pet Sematary with Janet Varney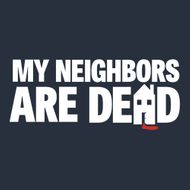 Marc: Adam Peacock's podcast feels a little like a play where the lead actor comes out before the show, out of character, and chats with the audience before ducking behind the curtain to reemerge fully in character to give their performance. Except with My Neighbors Are Dead, the performances are usually ghoulish, weird, and funny. The latest guest to start out in front of the footlights is Janet Varney (The JV Club, Stan Against Evil, The Legend of Korra). She scratches the host's itch about the recently completed edition of San Diego's Comic-Con, which he has never visited but at which Varney has been a frequent presence. And she fills listeners in on her latest projects, including some interesting spoiler-free tidbits about the third season of IFC's Stan Against Evil and a list of guest performers in a new project that she's producing herself. Then it's time for Varney to say good-bye to make way for Crimson, a creepy, Goth-y teen from Maine and her story of what went terribly wrong when she started burying some recently departed pets and relatives in a nearby graveyard. As poorly as everything has turned out, it doesn't stop Crimson from mulling over ways to arrange her own burial in the cemetery.
Listen: Spotify | Apple | Website
MTowne: Where Murder Happens - The Rum of All Parts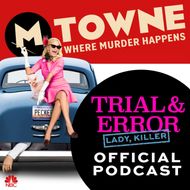 Elizabeth: NBC has gotten into the podcast game with shows that give a behind-the-scenes look at hits like The Good Place, Late Night With Seth Meyers, and American Ninja Warrior. But for their latest podcast, the network went with a new format, creating a podcast that doesn't comment on its companion show but rather is actually a part of it. MTowne: Where Murder Happens follows the second season of the sitcom Trial & Error and its new murder case. Hosted by the character of podcast producer Nina Rudolph (Amanda Payton), MTowne expands on the universe of the show and delves deeper into some of the quirkier aspects of the town of East Peck, such as its lady laws and multiple time zones. (There are even ads for local businesses.) The latest episode explores the town's love of rum and its secret rumholes while adding context to the background of defendant Lavinia Peck-Foster (Kristin Chenoweth), who is accused of killing her clock-magnate husband. The podcast is a fun send-up of shows like Serial and S-Town, and as a viewer, it's interesting to see how the show and podcast intertwine so perfectly.
Listen: Spotify | Apple | Website
The Bechdel Cast - Wet Hot American Summer with Allison Raskin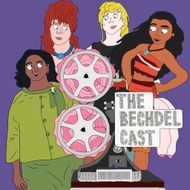 Anna: Summer isn't over yet! Hosts Jamie Loftus and Caitlin Durante bring guest Allison Raskin (Gossip) back to camp for a look at how the raunchy, broad 2001 comedy Wet Hot American Summer represents women. Actually, this cult favorite, set on the last day of camp in 1981, is a tad more progressive than you'd think. But does it pass the Bechdel test? (It needs two named female characters speaking to each other about something other than a man.) With an ensemble of adults playing sexually charged teens, there's a lot to dissect: Janeane Garofalo's well-liked Beth as the respected head of the camp; Marguerite Moreau's sexually empowered Katie subverting the "nice guys deserve pretty girls" trope; Amy Poehler's Susie as the only female character not tied to a romantic relationship; and Paul Rudd's aggro-playboy Andy commenting on toxic masculinity — especially as played in a 32-year-old's body. (Daily reminder: Paul Rudd was born in 1969.) Throughout, our hosts share their deep love for the only queer sex scene, which was also the only genuine one, not played for laughs. Overall, any progressive praise is relative to 2001. This cast is extremely white. Grab your bug spray for The Bechdel Cast's final verdict.
Listen: Spotify | Apple | Website
Other Podcasts We're Listening To:
Keep It - Can't Fight the Moonves (w/Marti Noxon)
Listen: Spotify | Apple | Website
Why Won't You Date Me? - Sabrina Jalees
Listen: Spotify | Apple | Website
Quick Question - Hard Topics With Joy Lenz
Listen: Apple | Website
WTF - Luzer Twersky
Listen: Spotify | Apple | Website
Absolute Worst Podcast - Murderers & S****y Sisters
Listen: Apple | Website
New Player Has Joined - Diddy Kong Racing - Dani Fernandez (Flying Under The Radar)
Listen: Spotify | Apple | Website
Got a comedy podcast recommendation? Drop us a line at comedypodcasts@vulture.com.
This week's reviewers: Pablo Goldstein, Kathryn Doyle, Marc Hershon, Elizabeth Stamp, Mark Kramer, Tom Rainey, and Anna Marr.