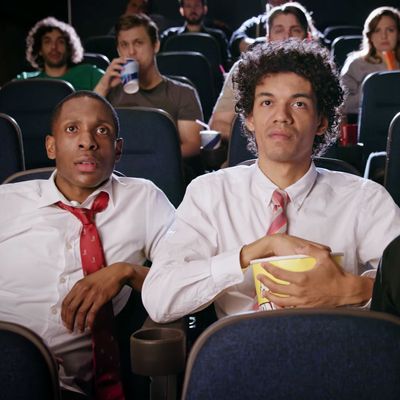 Jerah Milligan, Jonathan Braylock, and James III of
Black Man Can't Jump in Hollywood.
Photo: YouTube/Seriously.TV
The comedy podcast universe is ever expanding, not unlike the universe universe. We're here to make it a bit smaller, a bit more manageable. There are a lot of great shows and each has a lot of great episodes, so we want to highlight the exceptional, the noteworthy. Each week our crack team of podcast enthusiasts and specialists and especially enthusiastic people will pick their favorites. We hope to have your ears permanently plugged with the best in aural comedy.
Black Men Can't Jump in Hollywood — BlacKkKlansman
Kathryn: It's an extremely political episode of the "nonpolitical podcast" as BMCJIH tackles BlacKkKlansman, Spike Lee, and a true story that's hard to talk about. And for two-and-a-half hours, they do talk about it (that's 15 minutes longer than the movie itself). Jerah calls it a masterpiece infused with passion that kids need to see and describes viewing it as the only black man in a sold-out theater. James calls it a perfect critical bookend, with Do the Right Thing, for Spike Lee's career, but wonders if laughing at Alec Baldwin's Colonel Sanders-esque white supremacist distracts from how terrible white supremacy is. Jonathan left the theater depressed, and impressed that the potentially feel-good story didn't feel good. Then all three dive deep on the history of the project (Jordan Peele found the true story and told Spike Lee, who didn't believe him) and on lead actor John David Washington, who is known for playing football, acting in HBO's Ballers, and being Denzel Washington's oldest child. The BMCJIH guys all care a lot about this movie and have exhausted all the additional information available about it — listening to this episode is a digest of all the long reads you have open in a tab but might never get around to. They talk film history and Harry Belafonte, and mispronounce (rightfully so) the names of several blonde Fox News anchors. Be prepared for a heavy episode! But there's also time for fun: James finds out about the upcoming Sonic the Hedgehog movie and truly freaks out.
Listen: Spotify | Apple | Website
Seek Treatment With Cat & Pat — Gym for Your Personality (w/ Patti Harrison)
Leigh: If you're an active and alert citizen of the internet, you've no doubt seen several articles and lists lately telling you to pay attention to Catherine Cohen's comedy (I personally have lost track of how many people I've made watch her videos). If not, you've luckily found yourself in another such list right now, so pay attention. Seek Treatment With Cat & Pat is a new podcast she hosts alongside the hilarious Pat Regan. Self-described on an earlier episode as the sister podcast to Las Culturistas, Cat and Pat invite a non-boring guest each week to talk about "boys, sex, fucking, dating, and love." This week, they're joined by the very non-boring Patti Harrison, and together the three tackle some of the pressing issues of today. Like Pink's discography, Jude Law and Michael Cera's hotness, the groundbreaking act of being a tall woman, how Instagram knows who you have a crush on, and singing the 7th Heaven theme song. With segments like "Who Were You/Who Are You/Who Do You Want to Be," "Crush of the Week," and "Are You Mad at Me," listening has all the joys of having a conversation with your own friends without the hassle of going somewhere to hang out with your own friends. A relative newborn in the podcast universe, this week's episode is only the fourth to be released, so there's no reason you can't easily devour the entire back catalogue. Because you're going to want to.
Listen: Spotify | iTunes | Website
Nobody Listens to Paula Poundstone — Infested!
Marc: Not so long ago, comedian Paula Poundstone was hosting Live From the Poundstone Institute, a podcast where she brought in guests to help make her and her listeners smart on a variety of topics. I'm not sure how that previous show did, but hopefully its popularity wasn't the inspiration for her new show, Nobody Listens to Paula Poundstone. The format here is very similar, wherein guest experts on a couple of topics drop into her show in front of a live audience to be pelted with questions (interspersed liberally with gags, puns, and other assorted wordplay) by Poundstone and her co-host, Adam Felber. In line with this episode's title, Poundstone's guests tromp in to help solve some of life's petty annoyances. The first is a social psychologist explaining what tricks advertisers use to get us to buy stuff we don't want — and other psycho-marketing Jedi mind tricks, like how the color red makes people hungry. Then a pest-control expert addresses the host's fly infestation problem at home, as well as the proper etiquette for dealing with food that a fly has landed on. On a show like Comedy Bang Bang, Dr. Gina Pingatore and Jordan Leach from UnBugMe Pest Control would be characters played by comedians. Here, though, they're just plain folks. What's also fun is that there is a different live musician on every episode trying out different theme music. This time around it's a solo cello player. The show's funny, it's weird … it's Paula.
Podcast: The Ride — Twister … Ride It Out With Matt Rogers
Mark: So, one-half of Las Culturistas guests on a theme-park podcast, and you thought he was going to talk Disney? I don't think so, hunny (see Christopher Robin, in theaters today). Universal Studios stan Matt Rogers visits this week's Podcast: The Ride, a show hosted by three childless men in their 30s who are still concerned that one of their mothers thinks they use the Lord's name in vain too much. Rogers quickly proves to be one of the most knowledgeable guests in Podcast: The Ride history, as he spills the T on everything from the future of Terminator 2: 3-D to the bizarre Fall Out Boy–Incredible Hulk collab. Strap in for a breakneck tour of Universal Studios that breathlessly ends in front of Orlando's Twister … Ride It Out. Riders will learn all they could have ever wanted and more about an attraction based on 1996's second-most-popular movie at the box office that also no longer exists. There are some very funny corkscrew turns and loops along the way, specifically about Helen Hunt and Revenge of the Mummy: The Ride, but don't chicken out like a certain No Launch Queen and listen to Podcast: The Ride yourself.
Listen: Spotify | Apple | Website
Modern Love — Single Woman Seeking Manwich | With Awkwafina
Anna: You know how the saying goes: If you've spent time on a dating app, you've been turned down by a sandwich. No? Well, one truth we can agree on is that dating is typically either awful or painfully funny. This reality — and the aforementioned digital sandwich — led Sarah Moses to write her Modern Love essay, "Single Woman Seeking Manwich." Modern Love presents a weekly audio version of essays from the ultrapopular New York Times column of the same name, read by well-known actors, personalities, and comedians. While many of these personal accounts are powerful and heartbreaking (divorce, crises of faith, loss), oftentimes they're straight-up comical. Actor and rapper Awkwafina (Crazy Rich Asians, Ocean's 8) delivers this essay with dry wit, snark, and heart, nailing the self-deprecating humor that sets Moses's string of online dating encounters apart from the countless others that editor Daniel Jones receives. Her representative collection of cringeworthy anecdotes is coupled with admissions of loneliness, envy, hope, and persistence. As always, host Meghna Chakrabarti (WBUR) catches up with the author, plus column editor Daniel Jones and Awkwafina. These are short, so download last week's biting episode "When Mothers Bully Back" with Ellie Kemper, too.
Listen: Spotify | Apple | Website
All Fantasy Everything — Canadians
Pablo: On this week's episode of All Fantasy Everything, comedian, talk-show host, writer, and history major Guy Branum joins Ian Karmel & Co. to draft the most polite, courteous, and civil of North Americans: Canadians. And while I can't wait to read the memoir, My Life As a Goddess, which Branum is on to promote, based on his winning draft strategy I also hope that he one day writes a biography on Canada's greatest historical figures. There's nothing wrong with the co-hosts' picks, but they stick to the usual celebrity Canucks: Wayne Gretzky, Celine Dion, Drake, etc. Branum, on the other hand, gives a history lesson on some of the Great White North's most influential figures of the 20th century. His No. 1 pick is Prime Minister Pierre Trudeau, who set a high bar for his son, Justin, by establishing their Charter of Rights and Freedom and by saving the country from being split by Quebec separatists. For his third pick, Branum selected Viola Desmond, Canada's Rosa Parks, who is largely unknown here in the States. And for his final pick, he tells the story of politician Tommy Douglas, who simultaneously solved Canada's lack of nationwide single-payer health care and flag — they didn't have their own flag until the 1960s! – while also grandfathering Kiefer Sutherland. You should probably be familiar with Guy Branum by now, but if you're not, this is a great introduction to a comic who can easily switch between topics like postwar democratic socialism to the number of Academy Awards that have been used as sex toys.
Listen: Spotify | Apple | Website
Armchair Expert — Seth Rogen
Tom: Much like MTV's Punk'd, Armchair Expert serves as a great platform to show the more vulnerable sides of our favorite celebrities. Unlike Punk'd, Dax Shepard is now able to show these vulnerabilities through insightful interviews, rather than by stealing Frankie Muniz's custom-made Porsche — sorry, Frankie! This week, Shepard does a deep dive with everyone's favorite stoner role model, Seth Rogen. Although only acquaintances, Shepard's loose interview style makes it feel as though he and Rogen are old friends catching up. From talking about Rogen's time at a socialist summer camp to whether or not he plans to have children one day, Shepard leaves no stone unturned. Given Rogen is an A-list celebrity, it's nice to hear him speak candidly about the Sony hacks as well as where he thinks his confidence stems from (Hint: It involves years of martial-arts training). In talking about creative partnerships, Rogen gives listeners an in-depth look into his collaborative friendship with Evan Goldberg (Superbad, Pineapple Express). Armchair Expert is quickly making its way into my weekly podcast routine and is one that should not be missed.
Listen: Spotify | Apple | Website
Other Podcasts We're Listening To:
Doughboys — Pink's Hot Dogs With Alana Johnston
Listen: Spotify | Apple | Website
Las Culturistas With Matt Rogers and Bowen Yang — The Omarosa Fan Club (w/Ayo Edebiri)
Listen: Spotify | Apple | Website
You're Making It Worse — Gabe Liedman
Listen: Apple | Website
Alison Rosen Is Your New Best Friend — Sara Schaefer Is Sick of Social Media
Listen: Spotify | Apple | Website
Raised by TV — Saved by the Bell (w/ April Richardson and Derek Barry)
Listen: Spotify | Apple | Website
WTF With Marc Maron — Jimmy O. Yang
Listen: Spotify | Apple | Website
Action Boyz — If Looks Could Kill
Listen: Website
The Dave Chang Show — Nick Kroll, Part 2: Growing Beyond
Listen: Spotify | Apple | Website
Will You Accept This Rose? — "Peanie-Boo!" w/ Erin Foley & Lauren Lapkus
Listen: Spotify | Apple | Website
Comedians of Wrestling — Dolph Ziggler in Studio!
Listen: Spotify | Apple | Website
Got a comedy podcast recommendation? Drop us a line at comedypodcasts@vulture.com.
This week's reviewers: Pablo Goldstein, Kathryn Doyle, Marc Hershon, Leigh Cesiro, Mark Kramer, Anna Marr, and Tom Rainey.