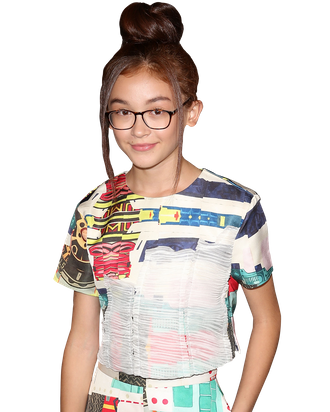 Eleven-year-old Katherine Song Covey is a movie sibling like Black Panther's Shuri (Letitia Wright) or Phantom Thread's Cyril (Lesley Manville): You want her exasperated eye rolls in the back of every scene, nudging the movie's main characters to keep up with their wisdom. in To All the Boys I've Loved Before, when enterprising Kitty — part supergenius, part comic relief — thinks her sister could be doing more to put herself out there and make more friends, she takes matters into her own hands: she mails the love letters Lara Jean secretly wrote for five of her crushes and hopes that at least one of them could end in a relationship for her big sis. As Lara Jean navigates her real feelings for her phony boyfriend Peter Kavinsky (Noah Centineo), Kitty delivers the priceless one-liners that remind her confused older sister to not take everything so seriously.
In real life, Anna Cathcart, the 15-year-old who plays Kitty, loves the character, but says she'd never mail out her own sister's love letters. Cathcart says she's proudest of how the movie explores the inner lives of an Asian-American family in a way that feels authentic. "I thought this project and film was supercool and different, especially because having an Asian-American lead is really cool," she says. "It was based on a popular book with a really big fan base and it made me smile when I was reading the script." Cathcart told Vulture about the Covey sister group text, her favorite Kitty joke, and why she'd choose Josh over Peter.
I want to start with talking about Kitty's costumes: One of my favorite parts about this character is that she's wearing that nameplate necklace that says "Feminist" and all of her clothes have this girl-power vibe. Can you tell me about that?
Yes I love it, I thought that was so cool. The feminist necklace she wears in every single scene, with every single outfit. At the very end of the shoot they let me keep it, which was superspecial, and I thought it was awesome because it was so iconic to Kitty. She definitely expresses herself through fashion. She puts on whatever she wants depending on her mood.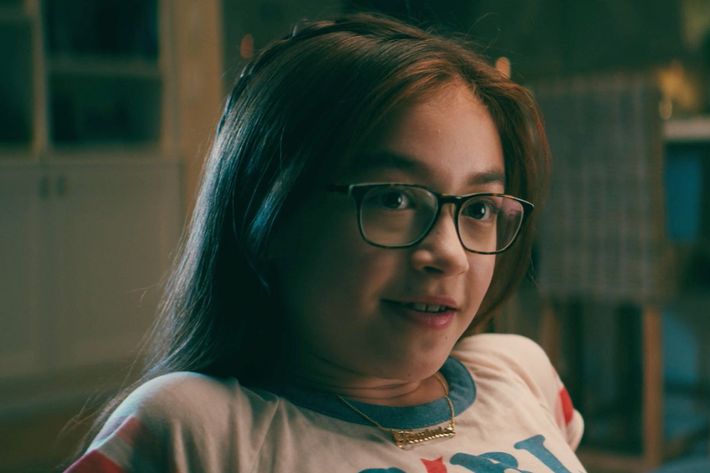 What was your audition like?
I had a few auditions, but my last audition scene was actually the one where I was with Lara Jean watching Golden Girls, and I was talking to her about having a boyfriend. I became friends with the director and everyone afterwards, and they were telling me what they thought of me after that last audition. When I was in the room, they said, "Just get comfortable and read the lines," so I sat cross-legged on my chair and apparently that made all the difference. They told me afterwards that once I sat like that, they knew I would be perfect for Kitty, that I could take directions and everything. I didn't know something so subtle could make such a difference.
Can you tell me what the on-set dynamic was? Especially with Lana Condor and Janel Parrish, who play your sisters.
It was amazing, I wish we could go back and do it all over again tomorrow. It was such a fun time, like a whole nother family. The first day we filmed, me and Lana and Janel were acting like we had already known each other for years. We were so close and so comfortable with each other and always making each other giggle. It was great. We became like real-life sisters and would always hang out on and off set. We still keep in contact. We have our Covey sister group chat, and we are always texting. I love them so much.
What do you send in the group chat?
We talk about everything. We are always making each other laugh and we are always making jokes and stuff. Me and Lana, especially these last two weeks, when we see other  famous people watching our movie or talking about it, saying, "Oh this movie is so cute," we will just freak out. We get so excited about the reaction from all the fans and all the memes.
Who's the famous person that you were really surprised watched To All the Boys?
Yesterday Millie Bobby Brown posted about it on her Story and I like screamed. I was freaking out because I love Millie Bobby. Hailey Baldwin as well — she posted it on her story, and me and Lana were texting back for half an hour being like, "What?"
When did you first see the movie all put together?
I saw the movie a few months before it came out. I saw it in L.A. when I was there for something else. We emailed the director because I was dying to see it. I got to watch a private little screening with my mom. I was so beyond excited and when it ended, like, I need to watch that again. I have seen it like four times maybe already. Me and my sister watched the movie at the premiere, and then we came home and literally watched it on Netflix that night.
I read that your sister read the books. Did she give you any pointers on Kitty, or any feedback as a fan?
Yeah, my big sister. She has read all three of the books so many times, over and over and over again. She was beyond excited to watch it, and very excited to meet [To All the Boys author] Jenny [Han] as well. I read the books too, but I read them later. [My sister] would tell me what happened with the other characters, or the differences between the book and the movie.
So we know that Kitty is the popular girl in her grade, but were there any other details that you imagined about the character?
I think Kitty has a lot of friends but is also really independent. She is very confident and sure of herself, which is a supercool quality to have. She is also very lovable and very close to her family. She is very smart for her age, she is very witty.
Do people assume that you're similar to Kitty in ways that you actually aren't?
Well, I feel like the biggest similarity between me and Kitty is probably how close she is with her sisters and family. I am really close with my older sister. Kitty with Lara Jean is kinda how I interact with my sisters, like having movie marathons at home and hanging out with them on the weekend. But she is probably more out there and more confident than me.
Kitty has a lot of really funny one-liners. Which one was your favorite?
I loved her lines too, they always made me laugh. I liked the one where she says, "And my name, thanks for asking, is Katherine Song Covey, Kitty to my friends. You can call me Katherine." I love that part. And then Noah [Centineo, who plays her sister's boyfriend Peter Kavinsky] being like, "She's feisty." I thought that was really funny. And then he drinks the yogurt drink. That scene is really cute. Also when I'm talking to my dad about "Moon Day." I thought that was funny, too.
Was there someone that you wish Kitty had more scenes with?
Yeah. I never had any scenes with Chris or Lucas, and I got close to Madeleine [Arthur] who plays Chris. I wish that we had some scenes together. I really hope we can do a sequel and that I can work with everyone again.
Both Lana and Jenny have told me how happy they are that this movie shows an interracial family relating normally. How did that resonate with you?
I think that is supercool because they don't play off our background or the culture or heritage or anything. The Coveys are just like an ordinary American family living their lives, and things happen. It's not like, Oh they are Asian and they do this. They don't talk about it or anything, we are just a regular family which is cool. I think it is really important for everybody to see someone that looks like them onscreen no matter who they are or what they look like, to have someone represent them.
If you had to choose between Peter Kavinsky and Josh, who would you choose, and why?
Well, when I read the book I was definitely team Josh because he is such a nice guy and he has been friends with the sisters forever, and he comes over for dinner and he is just so nice. I feel so bad for him after Margo leaves and everything. He needs a happy ending too, so I was definitely team Josh.
But Peter is so nice and so great, too. At first I thought Peter was too much of the cool guy, the jock that everybody knows and loves, but who's a player. But that's just his first impression. He is really nice and sweet. They are both good, but I still think Josh needs a happy ending. I was so upset when it ended and he didn't have Margo, he didn't have Lara Jean, and he didn't really resolve anything with Margo.
At the New York City screening a few weeks ago, Lana said something about how the Covey sisters all have such great hair, but that a producer suggested you dye your hair and you said no. Could you tell me more about that decision?
I have like natural red-brown hair, and I've always had it and I have never dyed my hair before. Me and my family don't really want to dye it because we are worried it won't go back, and we don't really feel like we need to change me or change my hair.
So during the process of figuring out if I should take the role, they offered and asked if it would be okay if I dyed my hair a little darker to match Lana's more.  I was worried I might lose this role if I said no. But [my family and I] said no, that we would actually rather that not be the case. Eventually [the producers] decided that they still wanted me. They made Janel's hair a little bit lighter, I think, so I matched Janel. That's basically how it worked out.
I love that. Choosing to not dye your hair is a very Kitty move.
Yeah, definitely.
This interview has been edited and condensed.