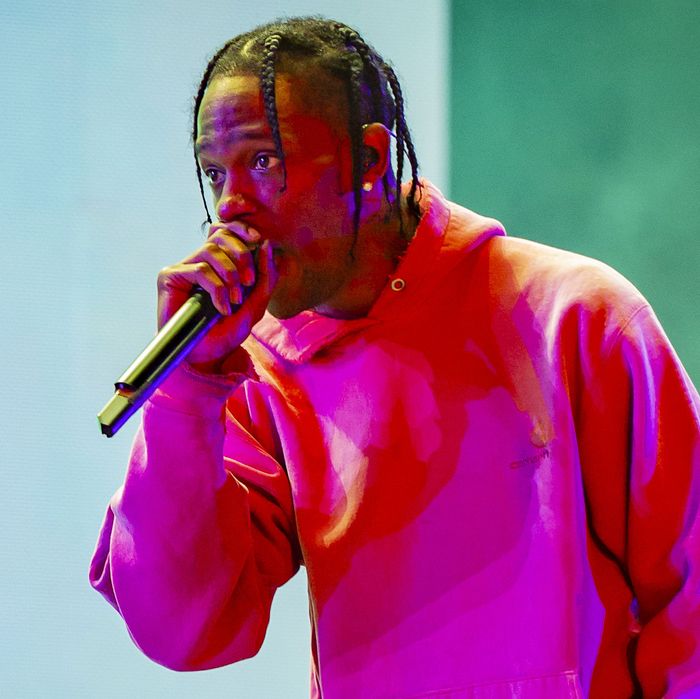 Photo: Mark Horton/Getty Images
What does rap music do for you? Does it make you feel cool? Does it make you feel understood? Does it make you cry? Does it make you want to change the world? Historically, we've asked the best of the form to meet all of these tasks, and celebrated emotionally intelligent, narratively dense works like Public Enemy's Fear of a Black Planet and Outkast's Aquemini as high-water marks of what can be accomplished with rap as an art form. The pulse of the medium is changing, though, and different art requires different thinking. A sizable quadrant of the emergent popular rap music of this decade has placed greater value in spontaneity and stream-of-consciousness as frameworks for verses and choruses than the deeply considered, deeply intentional line-writing of great rap music of decades past, a side effect, no doubt, of a decade of Jay-Z and Lil Wayne telling anyone who'll listen that they don't "write" their raps, and of strip clubs rising to the task of taste arbitration once negotiated by terrestrial radio.
Rap that speaks most poignantly to the body is not a new phenomenon — see: Too $hort in the '80s, N.W.A in the '90s, or Lil Jon in the '00s — but rap that views physical pleasures as pathways to deeper comfort with and understanding of oneself, rather than stress-relieving diversions, is surely a function of a listening audience dabbling with more and different drugs. In the past, rhymes about smoking blunts and drinking liquor were about taking a temporary vacation from yourself. "They don't know about your stress-filled day / Baby on the way, mad bills to pay," Biggie rhymed in "Everyday Struggle" in 1994. "That's why you drink Tanqueray, so you can reminisce / And wish you wasn't living so devilish." Twenty years on, Future's "Mask Off" ("Percocet, molly, percocet"), "The Percocet and Stripper Joint" ("I just need a whole lot of drugs in my system"), and "Hate the Real Me" ("I'm trying to get high as I can") present prescription drug use and the attendant sensations of release and euphoria as the end in itself. These aren't songs about reprieve from yourself and your struggles; they're about carving out a new self.
The veterans knew the high wouldn't last. At the end of the night, you crept home to lick your wounds, and then staggered back to your responsibilities. The new drug rap asks why sobriety deserves to be the default setting. It's a worrying thought process in a worrying time. The Center for Disease Control and Prevention has reported drastic increases in drug overdose deaths across 2015 and 2016, and the growing epidemic has touched the hip-hop community too many times to count. Twenty-year-old old Pennsylvania rapper Lil Peep passed away last fall after ingesting a lethal mix of Xanax and fentanyl. The Chicago rapper Fredo Santana's untimely death this winter followed a battery of health issues believed to be rooted in the long-term recreational codeine use he discussed candidly in his music. The Virginia rapper Lil Tracy had a heart attack last month at 22 years of age that he attributed in a recent Instagram Live stream to a night where he mixed cocaine, alcohol, and a heavy accidental dose of "weed lean," cannabis-infused syrup growing in popularity thanks to ease of access and the absence of the pungent smoke trail that complicates smoking marijuana out in the open. Chance the Rapper, Meek Mill, and Kanye West have also opened up about pill addictions that nearly destroyed their careers.
The glorification of these drugs among a younger set of hip-hop artists like Lil Pump, whose new song "Drug Addicts" comes with a video where the 17-year-old juggles codeine syrup bottles alongside Charlie Sheen in a lurid hospital scene, has stoked an existing schism between older fans who grew up with an understanding of partying and rap about partying as a diversionary tactic, and newer artists and audiences who lean into substance abuse as a coping mechanism to combat anxiety and depression. Few rappers working now typify this shift more than Travis Scott, architect of experiential odysseys like "Drugs You Should Try It," "Wasted," and "Maria I'm Drunk." The dirty details of a racy night are the central thrust of Travis's music in a way that few in his station of hip-hop's mainstream dare. The Weeknd explores drug use as it relates to the ebb and flow between loneliness and companionship, as a means of magnifying a physical connection or biding through the absence of that connectedness. Future frames the percs as escape from the demons of his past. Travis records, by contrast, make you the fly on the wall in a scene you couldn't access, like a friend graciously FaceTiming you into key moments of concerts you couldn't afford — either through cash or emotional labor — to attend. It's party rap for the FOMO generation. Its deepest concerns are exquisite taste, the woolly depths of altered states, the pleasures of the flesh, and the visceral hollowness at the other side of it all. Travis is raging against the dying of the high.
This month's new Astroworld is Travis Scott's best record because it goes for broke as a VR tour of killer party nights while honoring the rapper's hometown of Houston and surveying popular trends on the charts. It advances on the gains of 2016's Birds in the Trap Sing Brian McKnight by asking more of Travis than orchestrating vibes, than barking and buzzing in between appearances from guests with better mic skills. Astroworld is a southern record with a post-regional pulse in the same way that 50 Cent records attempted to commute the experience of growing up in inner city New York through the prism of a West Coast producer's beats and guest appearances from southern and midwestern friends. Astro's solipsistic and self-absorbed, but not in the way that Drake records navel-gaze about extremely specific memories in search of deeper universal truths about the human condition. Travis Scott is not out to teach lessons about life, though he's willing to express something resembling frailty in cuts like "Stop Trying to Be God" and "Coffee Bean," and broiling lust for Kylie Jenner, the mother of his newborn daughter, in "Skeletons" and "NC-17." Really, Travis Scott is out to make you feel cool and wild by proxy. Is it a noble enterprise? No. Drug albums don't have to aspire to nobility. They just have to sound great in headphones.
It figures that the guy to make the year's plushest drug-rap album (sorry, Rocky) would be from Houston. From tortured folkies like Townes Van Zandt, a Fort Worth native who frequented Houston's famed singer-songwriter hot spot Old Quarter, to rap greats like DJ Screw and Big Moe, Houston music has always reveled in — and on too many an occasion, suffered powerfully under — the influence of narcotics. Screw music, named after DJ Screw's predilection for remixing popular rap and R&B tracks of his day by slowing them to effect the feel of a codeine high, is the undergirding of Astroworld, from the Goodie Mob–on–lean production of "5% Tint" (which is also a nod to the Swishahouse era smash "Still Tippin'") to the more literal tribute "R.I.P. Screw." Outside of the Tay Keith and Drake collaboration "Sicko Mode," the pace of the album rarely elevates above a crawl. Like a tram ride through the doomed Texas amusement park that gives the album its name, Astroworld is a trickle of otherworldly sensory experiences. The commitment to re-creating the blurry textural obsessions of altered states sets it in the lineage of hyperreal drug songs of the '60s and '70s. Run the pupil-dilating wonder of Astro's "Stargazing" and "Who? What!" alongside "holy shit, I'm high" gems like the Jefferson Airplane's "White Rabbit" and the Electric Prunes' "I Had Too Much to Dream (Last Night)," and you see similarities in methodology.
The difference between Astroworld and the pantheon of great records about mind-altering substances that precede it is that Travis doesn't often have more to say than how fucked-up he's getting. His writing is still very matter-of-fact, and while his grasp on flow and melody grows with each project, it doesn't translate to enough depth. As per usual, the guests do the heavy lifting in that respect. In the early one-two shot of "Carousel" and "Sicko Mode," Drake and Frank Ocean achieve more dazzling wordplay than much of the record ultimately musters, Houston local Don Toliver's "Can't Say" spot notwithstanding. The Weeknd's "Wake Up" chorus is more vibrant, melodic, and sensual than the verses in between. Like Diddy or Jermaine Dupri or DJ Khaled or lately, Kanye West, it feels like Travis Scott's enduring talent is knowing who to put in a room. Curators like these wisely buttress their own shortcomings as performers by employing other rappers, singers, and producers whose strengths they can't hack. In the Rodeo era, this habit made Travis records uneven palettes of great guest spots and middling showings from the marquee talent. Astroworld works hard to close that gap, and if Travis never manages to be as commanding a presence as Young Thug, Future, or Drake — at album three, it's fair to wonder — he'll still make airtight party-and-bullshit records.
The worry that records like Astroworld — where prescription medications are thruways to fun times, not doorways to perception — are irresponsibly contributing to a damaging culture of addiction whose pitfalls are palpable and often fatal is hard to shake. And it's hard to defend all the talk of drank and Xans when the artist is often just counting them among the personal effects of the rich and famous, personal effects not everyone can afford, like expensive cars and jewelry. What would responsible drug rap look like? Are this decade's good times careening to a mortifying end, the way the psychedelic free-love '60s folded up because the hippies' model of personal freedom might've led to the Manson family and Altamont tragedies? Is that what this year is about? What happens when the party ends?