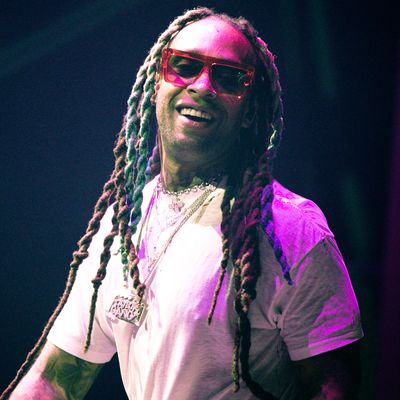 Photo: Gabriel Olsen/Getty Images
Every artist has their secret weapon: For Cardi B, it's her songwriter Pardison Fontaine; Taylor Swift has Jack Antonoff; Drake has 40; Jack White and Ryan Adams have the concept of analog sound; meanwhile, group thinkers like Travis Scott and Kanye West pull inspiration from whomever happens to be in the studio with them at any given moment. These are muses, creative partners, behind-the-scenes session players whose credit — if they're credited at all — for shaping the sounds of your favorite artists often goes unnoticed. But as both extreme fans and casual listeners alike have gotten back in the habit of analyzing modern-day liner notes — thanks to sites like Genius and services like Tidal making them more transparent and widely available — certain threads are starting to show. Charli XCX now comes up in the conversation of pop's next great hitmaker as her name appears on more and more songs. This summer, though, one particular common denominator in hip-hop emerged among all the season's biggest releases: Ty Dolla $ign.
Like Charli, Ty is something of a music polymath: He sings and raps his own hypersexual party music — think solo hits like "Paranoid," "Or Nah," and "Blasé" — even as he moonlights as a songwriter, producer, and featured artist. This summer, the 33-year-old L.A. native racked up guest spots on other people's songs at hyper speed, becoming the glue that held several artists' projects together. In June, Ty lent his voice (and his writing skills) to a large portion of the five Kanye West–produced albums that were released that month. But even before Ty gave those records his magic touch, his relaxed California rasp was a fixture on the charts. In early June, Post Malone's "Psycho" featuring — you guessed it — Ty Dolla $ign rose to No. 1 on Billboard's Hot 100, becoming Ty's first-ever No. 1. Normally, Ty is the go-to hook master, but on "Psycho," where Malone plays a dual role as rapper-singer, Ty's contribution is a rapped full verse. It's the same formula that last got him chart success, when he featured on Fifth Harmony's "Work From Home." (Ty finessed a relationship out of that collaboration, too; he's now dating 5H's Lauren Jauregui.)
Ty Dolla $ign shined during Kanye Month. Though he's rarely listed as a feature on any of the songs, eagle-eyed fans will notice the name Tyrone Griffin Jr. — Ty's real name — all over the album credits. On Kanye's album Ye, he mostly ad-libs things like "fuck it up," "pipe her up," and "pussy so good" on "All Mine." He returns again on "Violent Crimes" and "Wouldn't Leave" to sing their gospel choruses, completing the holy modern male R&B trinity on the latter with PartyNextDoor and Jeremih. (Their vocals are blended together with a literal choir.) For Kanye's project with Kid Cudi, Kids See Ghosts, Ty was brought in as a pastor-type voice, sing-speaking on "Freeee (Ghost Town Pt. 2)." When Ty isn't getting biblical, though, he's better suited to NSFW material. On Teyana Taylor's "3Way" he sings about exactly what that song title suggests. On Drake's carnal Scorpion B-side cut "After Dark," he gets an extended sexualized verse to complement his ad-libs. You'll also hear him on "Jaded," background ad-libbing and repeating Drake's words at the end of clauses. And to cap off June's winning streak, Ty co-wrote (and sings background) on Beyoncé and Jay-Z's "BOSS," and guested on Christina Aguilera's single "Accelerate."
If it's Ty's aim to model his multi-hypenate career off of, say, The-Dream, he's approaching it from a more collaborative, experimental perspective. He's seen success as a solo artist, particularly with his Beach House mixtape series, but thrives when he's part of a hive mind. Later this month, he'll release a joint album with Jeremih (perfectly titled MihTy), has plans to do the exact same with Teyana Taylor, and has been angling for his own collaborative album with Kanye West. Even if none of these projects come to fruition, Ty's recent track record already points to him being the most valuable (and versatile) player of the entire summer.