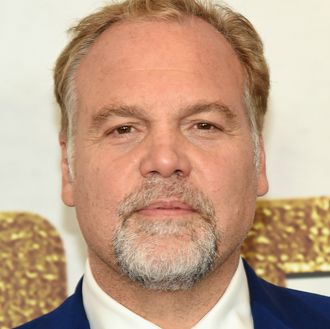 D'Onofrio.
Photo: Jamie McCarthy/Getty Images
Because he has impressive mental fortitude and/or a lot of time on his hands, Vincent D'Onofrio ventured into social media waters on Saturday to pose a question: should he, as a performer, take on the role of a racist (based on a real person he declines to name) at this particular moment in time, or nah? "I am going to ask a question to everyone that cares to answer it," the Daredevil actor tweeted. "I have an opinion which I will not reveal. Is Now the right time (considering the world in which live right now) for me to play a real to life characte who is irredeemable racist in a dramatic series?"
Wading through the numerous responses asserting that if he has to ask, he isn't an actor (a claim that is pretty demonstrably not true), D'Onofrio kept responding throughout the weekend to fans and fellow performers like Ron Perlman and Gotham's Donal Logue, many of whom felt an insightful, nuanced portrayal would help shed light on the subject. On the other hand, as D'Onofrio put it to Perlman, "Right now in our country racism is rising. Its becoming normalized. Thats dangerous. Maybe art or no art we must b responsible?"
Either way, keep your eyes peeled for your "Vincent D'Onofrio casting news" Google Alert for his decision, because he says he's making it soon. Tweeted the actor, "I'm going to have to make my decision in a few days. You all have been extremely helpful. More then I could imagine. Peace." You can read a few of his exchanges below, but for the full breadth of his replies, you've got to head on over to Twitter.