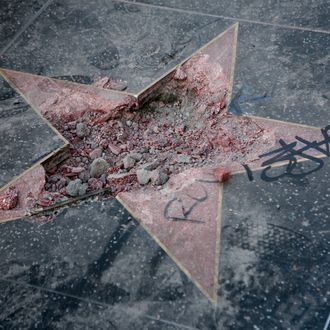 Photo: Gabriel Olsen/Getty Images
After Donald Trump's Hollywood Walk of Fame star was smashed by a pickaxe-wielding vandal on July 25, allegedly by a man named Austin Mikel Clay, officials grappled with a way to prevent the president's star from simply being destroyed again after its replacement. (The star was similarly damaged in October 2016 by James Lambert Otis, who subsequently pleaded no contest to felony vandalism.) Well, the West Hollywood City Council has come up with a unique solution: get rid of it entirely. According to West Hollywood mayor John Duran, the council "unanimously" voted to remove Trump's star permanently. "West Hollywood City council unanimously passes resolution asking the Hollywood Chamber of Commerce to remove the Donald Trump star on Hollywood Walk of Fame," he tweeted Monday night.
However, the city council isn't the last word on star removal. Their vote was merely a recommendation, one that the Los Angeles City Council and Hollywood Chamber of Commerce might not be too eager to co-sign. For example, the Hollywood Chamber of Commerce has previously said it does not remove stars from the walkway at all, an issue that also arose when Billy Cosby was accused of sexual harassment and assault by dozens of women.
"The Hollywood Walk of Fame is an institution celebrating the positive contributions of the inductees," Hollywood Chamber of Commerce president Leron Gubler said in a statement to Entertainment Weekly after the star's most recent destruction, reiterating a statement he had previously made following the 2016 incident. "When people are unhappy with one of our honorees, we would hope that they would project their anger in more positive ways than to vandalize a California State landmark. Our democracy is based on respect for the law. People can make a difference by voting and not destroying public property."