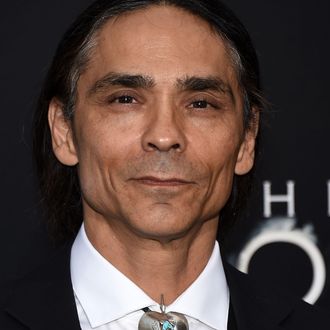 Zahn McClarnon.
Photo: Amanda Edwards/WireImage
Variety is reporting that Zahn McClarnon, who most recently played the Native American host Akecheta on HBO's Westworld, may be joining the cast of Dr. Sleep. The film is an adaptation of Stephen King's 2013 sequel to The Shining, and will also star Ewan McGregor and Rebecca Ferguson, who was last seen in Mission: Impossible — Fallout.
Dr. Sleep tells the story of an adult Danny Torrance, played by McGregor, who is quite understandably tormented by his childhood trauma. After overcoming alcoholism, his shining abilities return and he decides to use them to help people dying at a hospice. It's there that he connects with a young girl who needs his help, and well, a bunch of very scary things happen. McClarnon would play the role of Crow Daddy, the "right-hand man" of Ferguson's character Rose the Hat. Warner Bros. is set to release the film on January 24, 2020, so you might as well go ahead and book an appointment with a therapist now.