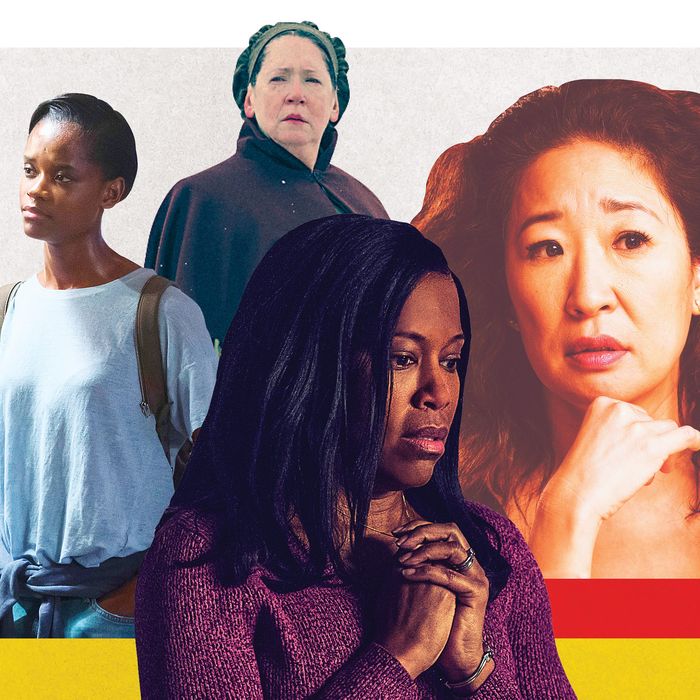 Photo: Stevie Remsberg/Vulture
Trying to predict the winners of any given awards show is an inexact science, and that's particularly true of the Emmys. While slightly more than 7,000 people decided this year's Oscar winners, the TV Academy's membership rolls have swollen to more than 23,000 potential voting members, up sharply from an estimated 16,000 to 19,000 just two years ago. There are also no fewer than 30 different "peer groups" which help determine various races, ranging from actors and animators to PR people and, yes, even TV executives. The same folks who determine which shows live or die also get a say in choosing Emmy winners and losers. So Vulture decided to find out what they're thinking about this year's key races, and how their opinions compare with the conventional wisdom of this year's TV awards season. Their responses may not help you win your office Emmy pool, but they do offer a fascinating peek inside the minds of TV's creative gatekeepers.
Lead Actress in a Drama
The nominees: Sandra Oh (Killing Eve), Tatiana Maslany (Orphan Black), Keri Russell (The Americans), Claire Foy (The Crown), Elisabeth Moss (The Handmaid's Tale), Evan Rachel Wood (Westworld)
Elisabeth Moss won this award for her Handmaid's Tale performance last year, but if our panelists — and recent history — are any indication, it's unlikely she'll score a repeat victory. Only one exec singled out Moss as top pick, perhaps reflecting TV Academy voters' recent reluctance to go with repeat winners in this category. Since 2000, only two women have scored back-to-back wins for best actress in a leading role: Homeland's Claire Danes (2012 and 2013) and Damages star Glenn Close (2008 and 2009). Given that history, perhaps it's no shock that fully half of our anonymous voters were most enthusiastic about Sandra Oh's riveting portrayal of British intelligence agent Eve Polastri in BBC America's Killing Eve. "Sandra's performance is nuanced, powerful, funny, and a breakout in a show that could feel more traditional," one voter said, while another went even further in assigning Oh credit. "The show doesn't work without her," the exec said. "The entire premise hinges on her performance, and she's simply that good to make it work." Our voters also said Oh "created a complex, and insecure character with strength," that she was a "refreshing surprise," and she delivered a performance with "so many levels. Sandra Oh blew me away and should get the Emmy."
Oh's main competition among panelists is Keri Russell, whose third (and final) nomination for The Americans may finally yield a win. Playing Russian spy Elizabeth Jennings, Russell "reached new levels of complicated darkness this year," one exec said. "She had heartbreaking moments throughout the season, and her delicate, hopeful, ultimately crushing duet with her daughter was exquisitely performed." Another exec was similarly impressed with Russell's range, saying the actress "could go from heartbreaking to hot to cold" within the space of a single episode. One voter had a very simple reason for casting her ballot for Russell: "She deserves it."
While most our panel chose either Oh or Russell, there were a few dissenters. One Claire Foy stan couldn't say enough good things about the star of The Crown. "She is elegant, subtle, controlled, and crafted," the exec said. "She holds the center of the drama, the family, the story. She shows vulnerability plus nerves of steel." And while only one of our voters singled out incumbent winner Moss, they offered high praise for the actress. "The rawness she displays onscreen is remarkable," the exec said. "Even without words, you can see every emotion on her face." Although Moss might not have scored well in our survey, she remains the favorite of Las Vegas oddsmakers and is currently the top choice over at Gold Derby.
Lead Actress in a Comedy
The nominees: Pamela Adlon (Better Things), Tracee Ellis Ross (Black-ish), Lily Tomlin (Grace and Frankie), Issa Rae (Insecure), Allison Janney (Mom), Rachel Brosnahan (The Marvelous Mrs. Maisel)
If you pay attention to Gold Derby, this category seems like a slam-dunk for Rachel Brosnahan of Amazon's delightful The Marvelous Mrs. Maisel. A couple of our panelists agree, with one calling Brosnahan "a refreshing voice with a fun and unique vibe" and another saying, "She had me at scene one!" Another exec wants Brosnahan to tie with Insecure's Issa Rae, a newcomer in the category: "Both actresses bring so much dimension and life to their characters. I could watch both all day long."
But the majority of our panelists went with Pamela Adlon, who is nominated for the second time for her work on FX's Better Things — a show she also created, produces, directs, and writes. (None of them mentioned Adlon's stunning dance in the finale, but we forgive them.) "Pamela Adlon's performance is the truest perspective on the rigors of motherhood that I have ever seen onscreen, short of Ingmar Bergman," said one exec. "Her inglorious depiction of motherhood is one of the most authentic and true depictions as seen on TV in years," said another. "She makes you laugh and cry and feel in the shortest amounts of time," said another.
Lead Actress in a Limited Series or Movie
The nominees: Sarah Paulson (American Horror Story: Cult), Michelle Dockery (Godless), Edie Falco (Law & Order True Crime: The Menendez Murders), Regina King (Seven Seconds), Jessica Biel (The Sinner), Laura Dern (The Tale)
A year after Laura Dern won an Emmy for her supporting role in HBO's Big Little Lies, the star of The Tale is predicted by Gold Derby to win her second trophy. (She's been nominated seven times). But Dern is in a Who's Who category of acting talent — competing against Emmy powerhouses like Sarah Paulson, Michelle Dockery, Regina King, and Edie Falco — which is reflected in choices our panelists made. Dern's turn as a woman who discovers she was sexually abused as a child was one exec's picks: "Who else would have the guts and the chops to take on this role? What a year she's having." But one voter noted King's "effortless" performance on Netflix's Seven Seconds; another noted Dockery's "masterful" performance on Netflix's Godless; and meanwhile, a fan of Paulson's didn't see anyone else beating her: "Put Sarah Paulson in any kind of moving image and she deserves an award. The woman is a pure talent and can do no wrong. There is no competition." Jessica Biel, the star and executive producer of The Sinner, also received one vote for her "surprisingly breakout performance."
Supporting Actress in a Drama
The nominees: Lena Headey (Game of Thrones), Millie Bobby Brown (Stranger Things), Vanessa Kirby (The Crown), Alexis Bledel (The Handmaid's Tale), Ann Dowd (The Handmaid's Tale), Yvonne Strahovski (The Handmaid's Tale), Thandie Newton (Westworld)
There's a reason three actresses from The Handmaid's Tale are competing in this category. Their tour de force performances made the show's dark second season both hard to watch and hard to resist. Although most Gold Derby experts and our own panel have selected last year's winner Ann Dowd again, co-star Yvonne Strahovski is getting plenty of support for her work as the conflicted commander's wife. One executive called Dowd "an exquisite actor who you can't take your eyes off of." Another thinks she is so riveting as Aunt Lydia you can't help buy what she's selling: "Not very often you get to see a complex female villain who draws you so far in with their performance you start to question if they have a point!" Admirers of Strahovski's work note her ability to make viewers feel sympathy for an unsympathetic character. Although it seems clear one of Gilead's women will reign supreme, one of our panelists chose Lena Headey, who plays Cersei on Game of Thrones, because she "rose to new levels of frigid pain this season — how could a character this horrid frequently make you laugh and occasionally stir your pity?"
Supporting Actress in a Comedy
The nominees: Zazie Beetz (Atlanta), Betty Gilpin (GLOW), Laurie Metcalf (Roseanne), Aidy Bryant (Saturday Night Live), Leslie Jones (Saturday Night Live), Kate McKinnon (Saturday Night Live), Alex Borstein (The Marvelous Mrs. Maisel), Megan Mullally (Will & Grace)
SNL might not have won as much critical acclaim or set as many Nielsen records last season as it had the previous two years, but fully half of our panelists are ready to make it a threepeat for Kate McKinnon. "It's unbelievable how many characters this actress can play," one said. "She has made us believe that there's nothing she can't do." Another exec called McKinnon "by far the best comedic talent in our business" and said the endlessly versatile actress "blows everyone else out of the water," while one exec marveled at McKinnon's skill at "capturing, without apparent effort, the entire political Zeitgeist." Still, at least one voter resented the TV Academy's decision to allow actors on sketch comedies like SNL to square off against those who play one character on a series. "They should not be competing in the same category," she said. "One builds a character and performance over multiple episodes and the others are playing multiple characters in an episode for one scene at a time. It is apples and oranges. The categories need to be separate."
As for the rest of the category, our admittedly unscientific panel was also enamored of Betty Gilpin. Even though her GLOW performance is considered a long shot to snag a win, three of our voters picked her as their top choice. "She had some really heartbreaking and hilarious scenes, and the range she shows in the episode where she's dealing with her divorce really stuck with me," one panelist said. However, Emmy forecasters at Gold Derby seem to think Alex Borstein (The Marvelous Mrs. Maisel) or Laurie Metcalf (Roseanne) are most likely to upset McKinnon, and Borstein did have one exec passionately casting a ballot on her behalf. "She is bringing to life a totally hilarious character [and] deserves to be recognized as a true brilliant character actress," the exec said.
Shockingly, however, none of our panelists picked Metcalf, even with her three previous Emmy wins and recent Oscar nomination for Lady Bird. The other Emmy vet in this category, Megan Mullally, did snag one vote from our group. "I watched a taping of Will & Grace and I was so impressed with Megan," the exec said. "You just can't wait to see how she's going to deliver a line."
Supporting Actress in a Limited Series or Movie
The nominees: Adina Porter (American Horror Story: Cult), Letitia Wright (Black Mirror), Merritt Wever (Godless), Sara Bareilles (Jesus Christ Superstar Live in Concert), Penélope Cruz (The Assassination of Gianni Versace: American Crime Story), Judith Light (The Assassination of Gianni Versace: American Crime Story)
Vegas oddsmakers and the Gold Derby experts say Penélope Cruz is the odds-on favorite to take home this Emmy, but not a single exec on our panel said they'll be casting a vote for her role in Versace. (Did we mention this survey isn't a representative sample of TV Academy voters?) But that could simply reflect the fact that no less than four execs didn't offer a vote in this category, conceding they hadn't seen enough of the performances to offer an informed choice. Of the six who did answer, half said they would vote for Black Mirror's Letitia Wright. "One of the more exciting new actors on the rise," one exec raved. "She evolved throughout her episode from girl next door on a road trip, to Machiavellian mastermind — and never missed a beat." While Cruz didn't get any industry love from our execs, her Versace castmate Judith Light did get a shout-out from one panelist, who said her "portrayal of a grieving widow refusing to come to terms with her husband's sexuality is quite simply unparalleled." Singer Sara Bareilles also got a mention from one panelist, who said the pop star's "angelic voice in Jesus Christ Superstar was the medicine we all needed this year."
* For this survey, Vuture offered anonymity to panelists. Our group of ten decision-makers then agreed to be completely candid about their picks in 16 different races, revealing not just who they thought should win but why. Without getting specific about the identities of the participants, we chose TV execs from diverse backgrounds and a cross-section of programming outlets and studios. Also worth noting: While TV execs are able to cast ballots for the big series competitions, they don't get an official say in performance categories such as writing, acting, or choreography.