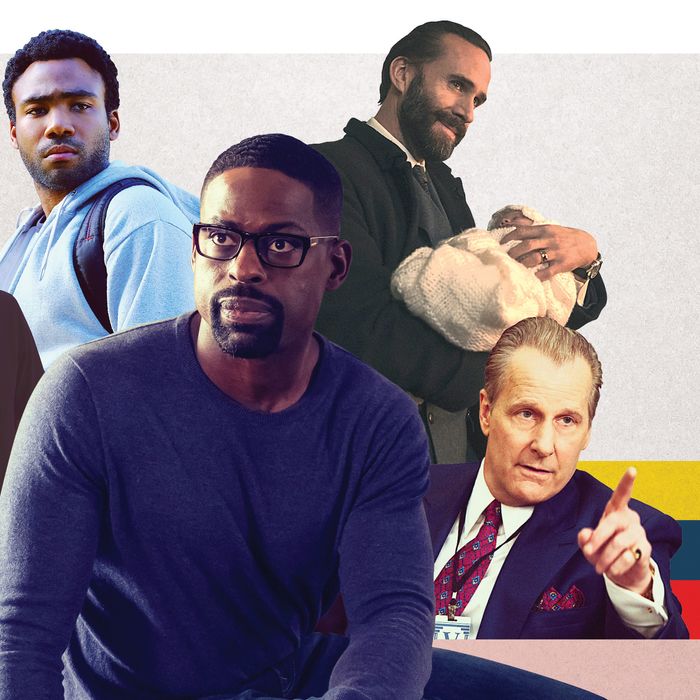 Photo: Stevie Remsberg/Vulture
Trying to predict the winners of any given awards show is an inexact science, and that's particularly true of the Emmys. While slightly more than 7,000 people decided this year's Oscar winners, the TV Academy's membership rolls have swollen to more than 23,000 potential voting members, up sharply from an estimated 16,000 to 19,000 just two years ago. There are also no fewer than 30 different "peer groups" which help determine various races, ranging from actors and animators to PR people and, yes, even TV executives. The same folks who determine which shows live or die also get a say in choosing Emmy winners and losers. So Vulture decided to find out what they're thinking about this year's key races, and how their opinions compare with the conventional wisdom of this year's TV awards season. Their responses may not help you win your office Emmy pool, but they do offer a fascinating peek inside the minds of TV's creative gatekeepers.
Lead Actor in a Drama
The nominees: Jason Bateman (Ozark), Matthew Rhys (The Americans), Milo Ventimiglia (This Is Us), Sterling K. Brown (This Is Us), Ed Harris (Westworld), Jeffrey Wright (Westworld)
Do we really have to pick between Philip Jennings and Randall Pearson? In one of the closest Emmy races of the year, the gap between last year's winner Sterling K. Brown and three-time nominee Matthew Rhys is closing. "No one did deeper or more thoughtful work on television this year than Matthew Rhys," says one exec. "The tragedy of his doomed friendship with Noah Emmerich was memorably potent. Every decision he made felt like it was wrenched out of his spine." Another admired "the stillness in [Rhys's] performance," while a third noted that it's the last time to recognize his singular achievements on the '80s spy drama. But those who choose Brown for a second consecutive win admire how he manages to stand out in the Peak TV era: "He is beauty on whichever screen he shows up on," one executive said. "He only gets better every season, and in a world of 500 scripted shows, he's a standout," said another.
But a few of our panelists were torn between Brown and co-star Milo Ventimiglia, who was also nominated last year. In a season of This Is Us where viewers saw how Jack died and what that tragedy did to his family, a couple of our execs said that he and Brown, who play father and son, should split the prize. "This is a cast that feels like they enjoy what they do and are able to have fun with themselves," one said. "Because This Is Us is stripped down to stories about human nature and relationships, these actors can't hide behind special effects or fantastical story lines, which means that their acting chops have to be in check. And these two surpass expectations." Another panelist who admires both actors gave Ventimiglia the win in the end: "Both Milo and Sterling stand out for me with amazing character work encompassing humor and pathos across time periods. But the emotional punch of Jack's death gives Milo the edge for me."
Lead Actor in a Comedy
The nominees: Donald Glover (Atlanta), Bill Hader (Barry), Anthony Anderson (Black-ish), Larry David (Curb Your Enthusiasm), William H. Macy (Shameless), Ted Danson (The Good Place)
Our panelists overwhelmingly agree with the industry consensus: Donald Glover, following in the footsteps of Jim Parsons and Jeffrey Tambor, is likely to become the third actor this decade to win back-to-back Emmys in this category. More than half of the execs we surveyed said they'll be casting ballots for Glover's performance in Atlanta. "Hands down, Donald Glover, for having the foresight and innovation to push structure in comedy, which now everyone is trying to replicate," said one voter. Another noted Glover's ability to lose himself in his role: "I'm sure most people believe that the character he's playing is a real portrayal of himself. And his 'Teddy Perkins' episode alone is award-winning." (Two other voters cited "Teddy Perkins" as reason enough to vote Glover, too.)
As for the rest of the pack, loyalties were divided between a pair of comedy vets. One voter said Ted Danson, who won (only) two Emmys for Cheers, deserves another statuette for The Good Place because "he's so damn good, so skilled and really funny. He makes it look effortless but it's not." Bill Hader, meanwhile, could ride the buzz around Barry to his first acting Emmy. "Hader moves from being funny, to sad, to loving to scary from scene to scene," one exec said. "I think it showed a range most of us didn't know he had."
Lead Actor in a Limited Series or Movie
The nominees: Antonio Banderas (Genius: Picasso), John Legend (Jesus Christ Superstar Live in Concert), Benedict Cumberbatch (Patrick Melrose), Darren Criss (The Assassination of Gianni Versace: American Crime Story), Jeff Daniels (The Looming Tower), Jesse Plemons (Black Mirror)
Emmy prognosticators seem to think this category will come down to a battle between Versace's Darren Criss and Patrick Melrose's Benedict Cumberbatch, and both actors have support from our exec panel. "It was a total breakout performance for Darren Criss," one voter said. "The Aimee Mann scene in the bar, and what happened after, really stuck with me for a few days." Another exec said that while she thinks Criss will win, she's voting for Cumberbatch: "Benedict took on a role that could be so easily botched and he did a superb job." But our voters were also equally enthusiastic about the job Jesse Plemons did in his Black Mirror episode, "USS Callister," even if they acknowledge the Emmy odds are stacked against him. "I don't think he has a shot of winning, but his portrait of an unexpected tech mouse turned starship tyrant was both incredibly watchable and kept revealing layer after layer," one voter said.
Supporting Actor in a Drama
The nominees: Nikolaj Coster-Waldau (Game of Thrones), Peter Dinklage (Game of Thrones), Mandy Patinkin (Homeland), David Harbour (Stranger Things), Matt Smith (The Crown), Joseph Fiennes (The Handmaid's Tale)
Our industry panelists don't have a clear favorite in this category: Joseph Fiennes, David Harbour, and Mandy Patinkin were each picked by two execs, while three said they'd vote for Peter Dinklage. The Game of Thrones star has won this category twice before (most recently in 2015), and while many Emmy forecasters seem to think this race is Harbour's to lose, some of our execs remain House Lannister. "Peter steals every scene with a turn of a phrase, and is fun to watch," one said, raving over the actor's ability to show off "his heart and scheming all in the same scene." She added that while last summer's Thrones season "may have faded" in voters' memories, Dinklage is "always memorable." Another exec called Dinklage the "beating heart" of HBO's hit: "I look forward to every Dinklage scene, and he never fails to surprise, discovering twisted irony and pathos in ways you never see coming."
Those rooting for a Fiennes win were equally enthusiastic about their choice of the Handmaid's Tale villain. "He plays evil so well, and his portrayal leaves you haunted," said one exec. Another panelist praised Fiennes for his courage as an actor: "He had the guts to let it all go and be the bad guy. He gives a hauntingly believable performance as a villain." As for front-runner Harbour, "He holds your gaze when he's onscreen," one panelist said. "His performance is nuanced. He played his character with an arc that grew over time." The same exec gave him credit for doing so well opposite a mostly young cast: "It's tough to act with children and in sci-fi/horror and be believable," she said. Another exec admitted she didn't have a "super strong opinion" this category, so she's choosing Harbour for one simple reason: "He's fun to watch." Finally, while Patinkin hasn't won an Emmy since he beat baby George Clooney back in 1995 (for his breakout TV role in the first season of Chicago Hope), two execs are pulling for him to beat the odds with a repeat win this year. "The character of Saul has so many layers, and he peels them back slowly," one said. "That makes for brilliant work."
Supporting Actor in a Comedy
The nominees: Brian Tyree Henry (Atlanta), Henry Winkler (Barry), Louie Anderson (Baskets), Kenan Thompson (Saturday Night Live), Alec Baldwin (Saturday Night Live), Tony Shalhoub (The Marvelous Mrs. Maisel), Tituss Burgess (Unbreakable Kimmy Schmidt)
The Fonz for the win? After four decades of acting and six Emmy nominations, Henry Winkler seems poised to nab his first Emmy for performance as an acting teacher on HBO's Barry. It isn't that Winkler has no competition among our panelists, though: Consider Brian Tyree Henry's "heart-wrenching, visceral, and funny" work on FX's Atlanta, especially in the "Woods" episode, or Alec Baldwin's "incredible timing and skill" playing President Trump on Saturday Night Live. But Winkler seems to have won the industry over with what one exec called a "standout" performance in the Bill Hader–created comedy. Gold Derby experts have chosen Winkler hands-down, and so did most of our panelists: "There has never been a more perfect portrayal of a method acting teacher," one exec said. "I can see the character being a little flat on paper, but Henry makes it a three-dimensional, fully realized person that pops off the screen."
Supporting Actor in a Limited Series or Movie
The nominees: Jeff Daniels (Godless), Brandon Victor Dixon (Jesus Christ Superstar Live in Concert), Édgar Ramírez (The Assassination of Gianni Versace: American Crime Story), Finn Wittrock (The Assassination of Gianni Versace: American Crime Story), Ricky Martin (The Assassination of Gianni Versace: American Crime Story), Michael Stuhlbarg (The Looming Tower)
Emmy prognosticators are smitten by the performance of Jeff Daniels in Netflix's Godless, as the notorious, vengeful criminal who sets all kinds of chaos in motion. While the panel expressed admiration for Édgar Ramírez's work in The Assassination of Gianni Versace as the titular slain fashion designer — and for John Leguizamo in Waco — the pendulum among our panelists ultimately swung for Daniels, too. "Holy shit. He is creepy, menacing and freaky," noted one exec. "Who knew he could be this good, but I guess we did. Is there anything Jeff Daniels can't do?" Another expressed surprise at Daniel's acting range: "Jeff Daniels is lovely to watch when noble, as in Looming Tower, but so much more entertaining when he's a downright asshole. You don't see that coming from Dumber."
* For this survey, Vuture offered anonymity to panelists. Our group of ten decision-makers then agreed to be completely candid about their picks in 16 different races, revealing not just who they thought should win but why. Without getting specific about the identities of the participants, we chose TV execs from diverse backgrounds and a cross-section of programming outlets and studios. Also worth noting: While TV execs are able to cast ballots for the big series competitions, they don't get an official say in performance categories such as writing, acting, or choreography.