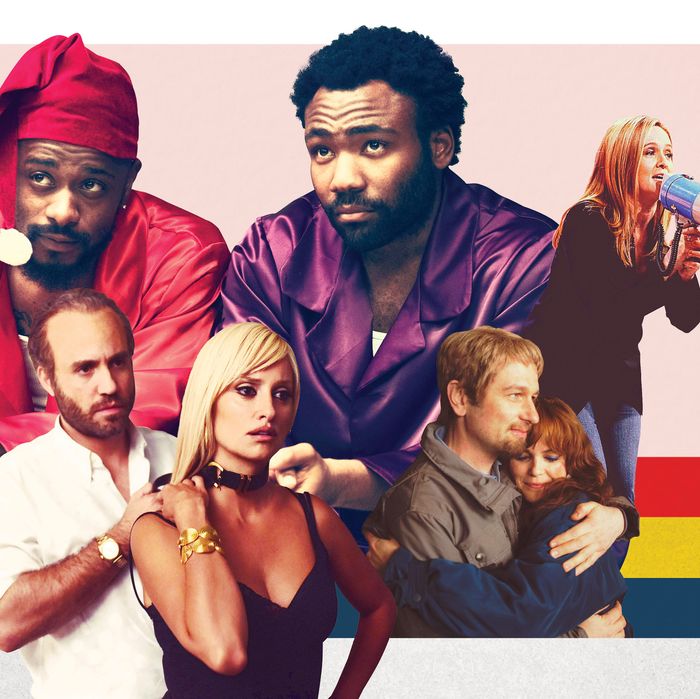 Photo: Stevie Remsberg/Vulture
Trying to predict the winners of any given awards show is an inexact science, and that's particularly true of the Emmys. While slightly more than 7,000 people decided this year's Oscar winners, the TV Academy's membership rolls have swollen to more than 23,000 potential voting members, up sharply from an estimated 16,000 to 19,000 just two years ago. There are also no fewer than 30 different "peer groups" which help determine various races, ranging from actors and animators to PR people and, yes, even TV executives. The same folks who determine which shows live or die also get a say in choosing Emmy winners and losers. So Vulture decided to find out what they're thinking about this year's key races, and how their opinions compare with the conventional wisdom of this year's TV awards season. Their responses may not help you win your office Emmy pool, but they do offer a fascinating peek inside the minds of TV's creative gatekeepers.
Outstanding Drama
The nominees: Game of Thrones, Stranger Things, The Americans, The Crown, The Handmaid's Tale, This Is Us, Westworld
This monster of a category includes the return of Game of Thrones (a zombie dragon!) to the Emmy race, heartbreaker This Is Us (Jack's tragic death!), adultery on The Crown (Prince Philip!), and the stellar final season of The Americans (Stan!) competing against last year's winner The Handmaid's Tale. For weeks, the industry experts at Gold Derby have predicted that Handmaid's Tale will be champion again. But only one of the surveyed TV executives found its second season deserving of another trophy: "This series is so timely, especially with the real-world parallel of children being taken from their parents. There were some episodes that were so heartbreaking and hard to watch."
Perhaps too hard to watch for the majority of our panelists, who chose FX's The Americans as the winner. One executive thought The Americans "stuck the landing as well as any series has ever done it." Only nominated one previous time in its six-year run, another exec called The Americans "one of the best overlooked series on TV" and argued its "time has come." One panelist picked it as a way to recognize its "total body of work." Another thought Game of Thrones was "incredible," but "feels like a distant memory" and The Americans' consistent production values and performances will triumph in the end. If our panelists are right, it would mark FX's first win for outstanding drama.
Outstanding Comedy
The nominees: Atlanta, Barry, Black-ish, Curb Your Enthusiasm, GLOW, Silicon Valley, The Marvelous Mrs. Maisel, Unbreakable Kimmy Schmidt
With Veep not in contention this year, Emmy forecasters think FX's Atlanta has the best shot of winning the statuette many believed it ought to have won its freshman season. Our panelists tend to agree: Donald Glover's creation snagged the plurality of mentions among our group. "Atlanta is ferociously inventive, like a great boxer that rope-a-dopes you into submission, teasing you with outrage and darting just out of reach, till it swivels and launches into a dizzying uppercut," one exec said. "Every episode a solitary gem, and so many are permanently riveted in my brain." Another praised how Glover's voice is evident at all times and in every scene. "You can feel his POV and the mirror he's holding up to culture," she said. "It makes you think, makes you see things differently — and it's also really damn funny and crazy." One exec pointed to the season's sixth episode, "Teddy Perkins," as reason enough to cast her vote for Atlanta: "Genius," she said.
If there's a dark horse in this category, it's Bill Hader's first-year HBO effort Barry, which won the hearts (and votes) of three of our executives. "While I know it won't win, I would vote for Barry," one said. "The idea is so unique, and I had so much fun bingeing the entire series in one day. It was unlike any comedy I have seen and I thought Hader was excellent." Another exec said Barry had "simply the perfect season," praising the show's central conceit of a hit man working in showbiz. "How has no one thought of this before?" he said. "They executed it beautifully."
As for the rest of the pack, Netflix's GLOW won praise from one voter for its "fantastic ensemble, fun period setting, and timely commentary on feminism," plaudits which could also apply to Amazon's The Marvelous Mrs. Maisel, the recipient of a solitary shout-out from our panel. "From beginning to end this was one of the most, if not the most, entertaining series of the year," the exec said. "It was authentic, funny, and poignant all at the same time." Meanwhile, Silicon Valley was singled out by a panelist who split her vote between the HBO comedy and Atlanta. "I still don't understand why Silicon Valley doesn't get more awards love," she said.
Limited Series
The nominees: Genius: Picasso, Godless, Patrick Melrose, The Alienist, The Assassination of Gianni Versace: American Crime Story
FX's first iteration of its American Crime Story franchise — The People v. O.J. Simpson — cleaned up at the 2016 Emmys with five wins in major categories, including outstanding limited series and lead actor and lead actress. The second installment, The Assassination of Gianni Versace, is the leader among Gold Derby experts, but our executives were all over the map with their votes. Those who support Versace praise the performances, particularly Darren Criss's as serial murderer Andrew Cunanan. Another executive appreciated the diversion: "With the doom and gloom of the media cycle, with it's fellow nominees, this had fashion, soap, Miami, fascination, and FX at its best." One supporter "reluctantly" chose Versace because "there was a lot of effort that was put into creating this series, but I had some problems with its storytelling." But the rest of the votes were divided evenly between Netflix's western Godless — "Scott Frank's gunshot of adrenaline into the Western genre" — and Showtime's Patrick Melrose, with the exception of one vote for Nat Geo's Genius: Picasso. "The series does a wonderful job exploring the man behind the canvas," the voter said.
Variety Talk Series
The nominees: Full Frontal With Samantha Bee, Jimmy Kimmel Live!, Last Week Tonight With John Oliver, The Daily Show With Trevor Noah, The Late Late Show With James Corden, The Late Show With Stephen Colbert
John Oliver's Last Week Tonight has won this category three years in a row, and he just took home another TV Critics Association award. But somewhat surprisingly, his HBO half hour didn't get votes from any of our execs. Instead, the group spread their love around, dividing their loyalties among Stephen Colbert, Jimmy Kimmel, and Samantha Bee. Colbert, one exec said, is "so brilliant dealing with the hardest-hitting issues of the day — even CBS's issues — taking on Trump while remaining one of the most important voices of our time." One suit said "Colbert found his voice this year after moving to broadcast" while also remaining "likable," and another said she was voting for the CBS host because he remains "funny, smart, and relevant."
But that last panelist said that while she'd likely cast her vote for Colbert, Kimmel "managed to keep late night funny, bold and [filled] with heart. His strong public outcry for health care cannot be forgotten." The ABC host's regular-guy bona fides was a recurring theme with our voters. "I believe Jimmy is the most authentic and genuine late-night host, while still being entertaining," one panelist argued. "Jimmy can be light, serious, political and self-deprecating, but each hour I always feel like he is speaking the same way he would speak in his own home." Added another exec: "I vote for Kimmel because he's not just funny, he's also so damn human. That, and because I loved him as the sports guy on [Los Angeles radio station] KROQ."
The two execs who voted for Bee were no less passionate in their support of the weekly TBS series. "I'm picking this show because they are fearless and unique, and we don't see enough of that," one said. Plus, "I'm so happy to see a female POV on late night. Some of her lines I still think about today." Another panelist summed up her support in six words: "So brave and pulls no punches." Finally, one of our execs opted for the least political of all the nominees, saying she's getting behind CBS's James Corden because he "simply makes me happy and laugh. He has a gift."
* For this survey, Vuture offered anonymity to panelists. Our group of ten decision-makers then agreed to be completely candid about their picks in 16 different races, revealing not just who they thought should win but why. Without getting specific about the identities of the participants, we chose TV execs from diverse backgrounds and a cross-section of programming outlets and studios. Also worth noting: While TV execs are able to cast ballots for the big series competitions, they don't get an official say in performance categories such as writing, acting, or choreography.