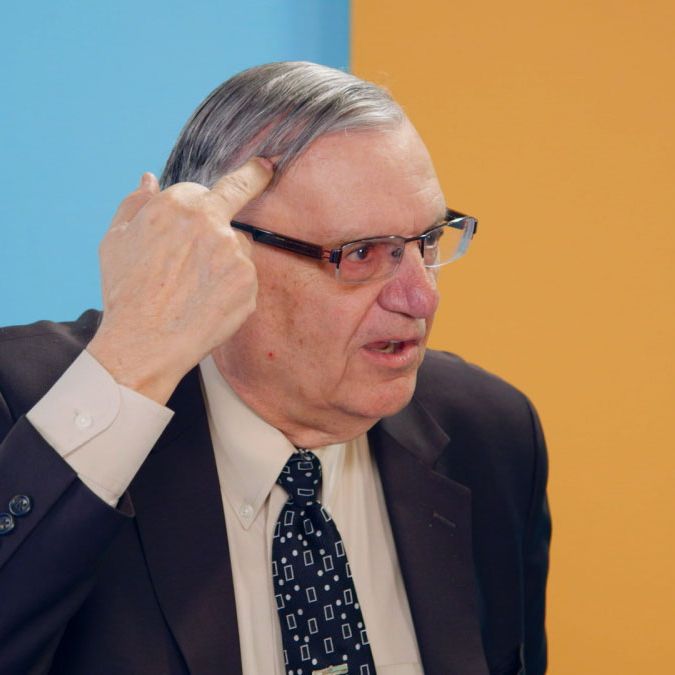 No one comes out of a Sacha Baron Cohen show looking good. Your mere presence on Showtime's Who Is America? means you've already been duped by a guy in a costume. It's an impossible game to win, but some guests make it out relatively unscathed by refusing to play along.
The people who look the worst on Who Is America? tend to look that way because they are the worst — egged on by Baron Cohen's characters, they reveal their own deeply held, morally repugnant beliefs. Or, just as bad, they reveal that they're willing to say morally repugnant things in order to be on television. Here is a ranking of all the guests in Who Is America? episode four, from those who leave with their reputations intact, to those who … do not.
4. David Pyne
Sometimes Sacha Baron Cohen's interview subjects are made of clay, and sometimes they're granite. The most malleable guest so far on Who Is America? was probably Bachelorette contestant Corinne Olympios, who was ready to agree with just about anything he suggested. On the opposite end of the spectrum is David Pyne, national director of the Utah Republican Assembly. Staunch both in his personality and his anti-pornography views — he thinks there should be some kind of national porn-user registry, if society won't ban it altogether — he never goes along with any of the suggestions that Baron Cohen's Dr. Nira Cain-N'Degeocello makes. Pyne doesn't want co-authorship of a pro-pornography children's book with graphic illustrations, he refuses to be called a pedophile despite Cain-N'Degeocello's protestations that it simply means "lover of children," and he doesn't even know what bukakke is. His greatest offense is vague approval of the old "make 'em smoke all the cigarettes" technique that Cain-N'Degeocello claims to have used on his son, Harvey Milk: After forcing him to masturbate to 58,000 images, the son was put off porn altogether. But even Pyne's final protestations are almost dignified: "You have caused me to have more negative energy than I've ever had … and it's offensive beyond words."
3. Joe Arpaio
Joe Arpaio is a serial civil-rights abuser and outright rotten human being, so you certainly don't feel sorry for him during his meeting with a new Baron Cohen character, YouTube sensation OMGWhizzBoyOMG. The former Arizona sheriff — known for mistreating prisoners and general racism — doesn't have a clue what to do in the presence of this Finnish man-child who's unboxing Shopkins while they chat. But Arpaio doesn't say anything particularly incriminating. He's just a confused, 86-year-old fuddy-duddy who thinks he's speaking to somebody who agrees with him. Their final exchange — in which he responds "I might have to say yes" to a hypothetical blow job from Donald Trump — is really just the equivalent of the Wayne's World "a sphincter says what?" joke. Arpaio wasn't actually agreeing to be serviced by the president who pardoned him, he just didn't understand the question. Through most of the segment, Arpaio isn't even espousing his awful worldview — he just looks like a pathetic grandpa.
2. Shaun McCutcheon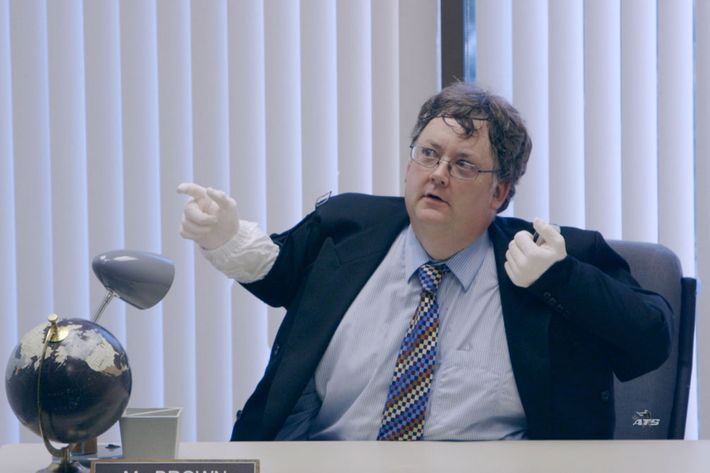 This setup closely echoes what Baron Cohen's Israeli agent Erran Morad did with Jason Spencer a couple of episodes back, in that it exposes a Republican activist's ignorance and racism with ease. (That ignorance and racism isn't far beneath the surface, and it apparently can't wait to show itself.) Shaun McCutcheon — a conservative who argued all the way to the Supreme Court that giving money to a political party is a First Amendment right — is duped completely because he wants so badly to believe that ISIS is around every corner. (In one of the episode's best lines, Morad claims that the likelihood of ISIS attacking a workplace is not actually that high — only 83 percent.) McCutcheon doesn't get his ass out for the camera like Spencer did, but he does defend himself with the two things that Morad tells him Muslims apparently fear: pork and gay porn. And when Morad asks him to disguise his cubicle as a mosque, he's quick to don a genie costume, charm a snake out of a basket, and eat some hummus. He doesn't know his perceived enemy, and he clearly has almost no self-awareness, either.
1. Unnamed Luxury Yacht Broker
But the worst of this episode is definitely the luxury yacht broker, who actively agrees to facilitate murder and human trafficking on behalf of a war criminal. The first Who Is America? guest with their name completely blacked out ought to be relieved to have accomplished that feat, because he comes across as truly conscience-free. When Baron Cohen's Gio Monaldo character begins to describe the features that he needs on a megayacht for his silent partner, Syrian dictator Bashar al-Assad, the sleazy salesman assents to basically everything. Even if we assume for a minute that he doesn't actually know who Assad is, he still goes right along with the idea that this boat could "put electricity in the water" to kill refugees, that it would be fine to shoot people with anti-aircraft guns as long as no one was around to see, and that rooms on the boat could fit 20 girls from Eastern Europe if that's what the client wanted. "If they want to write the check for it, it can be done," he says, summing up basically everything wrong with the entire world in one sentence. That he barely seems uncomfortable as Baron Cohen's character receives a hand job and then a blow job from his girlfriend is way down the list of his character flaws.