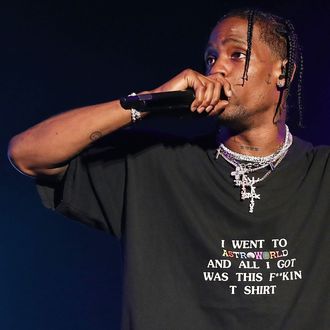 Travis.
Photo: Taylor Hill/Getty Images for Governors Ball
Travis Scott got famous for helping shape Kanye's abrasive, rap-punk sound on Yeezus; now he's even more famous for having a baby with Kylie Jenner and also building a reputation as one of the rowdiest performers around. (If you've entered a Travis Scott mosh pit and lived to tell the tale, count your blessings.) His orbit has only expanded since Yeezus, making his latest album Astroworld — named for the now-defunct Houston theme park — quite the cast of characters. It's a truly random assortment of collaborators including everyone from John Mayer to Stevie Wonder to James Blake. Let's break down the most interesting appearances. (This isn't comprehensive; others like Quavo and Takeoff from Migos, 21 Savage, Shek Wes, Juice Wrld, CyHi the Prynce, and more, were also involved.)
"Stop Trying to Be God"
Though he's not credited, Scott's reps have confirmed to Pitchfork that Stevie Wonder plays harmonica on the track, which Scott teased back in February with a photo of them together in the studio. Travis thanked Wonder in a tweet after the album's release, also thanking Earth, Wind & Fire's Philip Bailey, who sings on the song (though uncredited). James Blake is credited as a co-writer and co-composer, and sings at the end of the song, as does Wonder. And it appears Kid Cudi has an uncredited feature as well (humming, of course).
"Astrothunder"
Did you guess that John Mayer would pop up on Travis Scott's album? First of all, why? Second, you are correct! He co-produced and co-wrote this one, along with Kendrick Lamar collaborator Thundercat, who also plays bass on the song.
"Skeletons"
At this rate, we may never get another Tame Impala album, but rest assured that Kevin Parker hasn't been idle. After popping up on Kanye's latest, he's now produced this song for Travis. It also throws Pharrell and the Weeknd (he's also on "Wake Up") in the mix on vocals and includes this doozy of a line from Travis about how he and Kylie Jenner became a Thing: "We just rocked Coachella, I gave her half of the check / It was good sex, honorable mention to the net." Well then.
"Carousel"
Frank Ocean! Enough said.
"Sicko Mode"
Though Drake is the only credited feature, Rae Sremmurd's Swae Lee (who is both credited and uncredited elsewhere on the album, too) and Juicy J are also there. It also samples 2 Live Crew member Luke Campbell's hit "I Wanna Rock (Doo Doo Brown)" and Biggie's "Gimme the Loot."