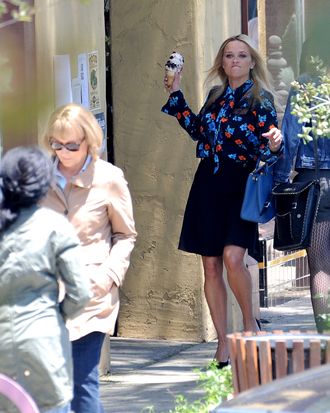 Photo: TheImageDirect.com
Hot off the success of her production of Avenue Q, Madeline Martha Mackenzie has gotten involved in a new bit of outrageous theater. In a photo from the set of Big Little Lies, we can see Reese Witherspoon throwing an immaculately put together ice-cream cone at Meryl Streep. First of all, how dare she do this to a national treasure who has deigned to do TV and put on a ridiculous wig for this role. Secondly, why is this happening? As far as we know, Meryl is playing Alexander Skarsgård's character Perry's mother, Mary Louise Wright, who arrives in Monterey "concerned for the well-being of her grandchildren following her son Perry's death." It seems she'll bond with Celeste initially, according to a first-look image, but things quickly turn sour between Mary Louise and Madeline somehow. So, why is Madeline throwing an ice cream cone? Our theories:
1) Meryl has sided with Renata and started calling Madeline "Madeline."
2) Meryl has started a petition to stop Madeline from producing her next musical, Urinetown.
3) Stressed by the lack of stress in her life, Madeline has started having dreams about fighting other people.
4) Meryl bit Amabella.
5) Reese is not acting. She just found out that Donna is dead in Mamma Mia! Here We Go Again.