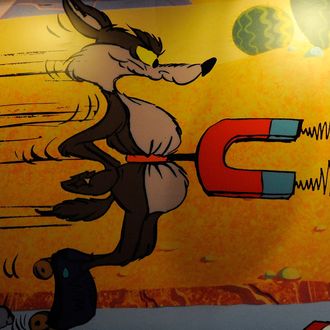 Artwork of Wile E. Coyote in Las Vegas, Nevada.
Photo: Ethan Miller/2012 Getty Images
It's been almost 70 years, and Wile E. Coyote has gotten no closer to catching that Road Runner. He has, however, scored his own movie with Warner Bros., the home of his family of Looney Tunes characters. Variety is reporting that the studio is moving forward with development on a Coyote vs. Acme movie, which almost sounds like our ill-fated predator is finally suing Acme for all these faulty products they keep selling him. The film is being produced by Chris McKay, who directed Lego Batman; and Jon and Josh Silberman, whose writing credits include It's Always Sunny in Philadelphia, have been hired to pen the script. Will Coyote have lines? Will he finally catch a meal? Is this all just another elaborate ruse to try and trap that sneaky little Road Runner in a movie theater somewhere? Maybe.