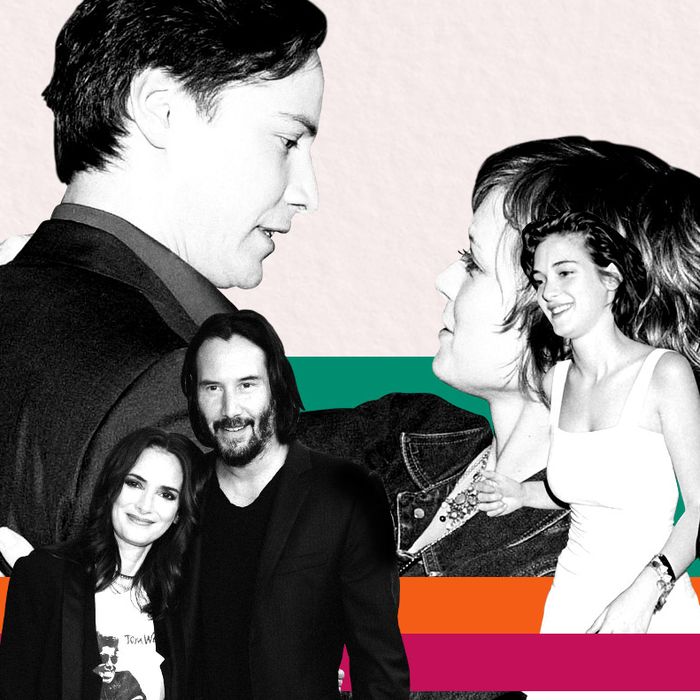 Photo-Illustration: Maya Robinson/Vulture and Photo by Getty Images
After three movies together and 30 years of being friends, Keanu Reeves and Winona Ryder have made a romantic comedy, or at least a comedy that is cynically romantic: In Destination Wedding, Reeves and Ryder play a pair of misanthropes who meet when they arrive at a wedding alone together. (There's wine and one-liners and flannel jammies.) It's a reunion of sorts for the '90s icons who have been working together consistently since Francis Ford Coppola's Bram Stoker's Dracula in 1992. (They actually met a few years before that, in 1988.) With Destination Wedding's arrival this month, we present: a timeline of the most important friendship we have cruelly not been invited to be a part of.
February 1988: Keanu Reeves and Winona Ryder meet at the third annual Independent Spirit Awards, held at the restaurant 385 North in Los Angeles. "It wasn't televised," Ryder recalled to People recently. "Buck Henry was the emcee, and we gave out Best Supporting Actor." (Morgan Freeman won for Street Smart.)
1992: Ryder brings Francis Ford Coppola the script for Bram Stoker's Dracula after she dropped out of Godfather III. Coppola agrees to direct the horror movie, casting Reeves in the supporting role of Jonathan Harker. He preferred Ryder's boyfriend Johnny Depp for the part, Coppola told Premiere magazine in 2005, but the studio wanted a bigger star. Ryder suggests her friend Keanu Reeves.
One of Reeves's scenes with Ryder involved a wedding scene. "I swear to God, I think we're married in real life," Ryder told Entertainment Weekly this month, saying that Coppola used an authentic Romanian priest in that scene. "We shot the master and he did the whole thing," she said. "So I think we're married."
1993: When asked to name his closest friends, famous or otherwise, Reeves says: "I get together with River Phoenix, Winona Ryder and Johnny Depp, and I was friends with Drew Barrymore for a long time."
2002: During Ryder's shoplifting trial in Beverly Hills, the case reveals that she had Reeves's number stored in her Filofax. (Her attorney said the Saks security guard who caught her copied Reeves's and Bono's numbers from Ryder's datebook.)
2006: The Dracula co-stars reunite for Richard Linklater's sci-fi thriller A Scanner Darkly. When a reporter asks Ryder if she played her part like she was in love with Reeves's character, she laughed, saying, "Oh, I am. He knows it. I tell him all the time."
2009: Ryer and Reeves both take on supporting roles in The Private Lives of Pippa Lee, where they hang out a lot off camera. "Most actors only agree to work on films for a specific amount of time. But I was like, Keep me up there the whole time," Ryder told BlackBook about the production. "Little did I know it would be in Danbury, Connecticut, without a rental car, living off of a highway. I had to rely on Keanu, who had the car he drives in the film, to get me to Starbucks."
2018: The zenith of romantic comedies arrives (thank you Netflix for the one-two punch of To All the Boys I've Loved Before and Set It Up), and Ryder and Reeves reunite in Destination Wedding, where they suffer through a wedding weekend and somehow fall in love. (Finally!) "I meet-cute him all the time," Ryder told the Today show. Reeves agreed: "Every time we see each other, it's a meet-cute."