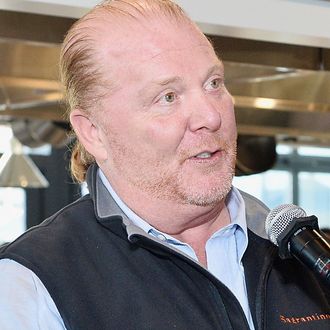 Mario Batali.
Photo: Stefanie Keenan/Getty Images for Eataly
A woman who has accused Mario Batali of sexual assault filed a lawsuit against the chef in Massachusetts superior court on Wednesday. Natali Tene's allegations were first reported by Eater earlier this year, and other female fans also allege that Batali groped them. The lawsuit states that Batali kissed Tene's face, grabbed her butt, put his hands on her legs, groped her groin, and rubbed her breasts. The incident occurred at a Boston bar in April 2017, and the lawsuit says Tene has suffered emotional distress, anxiety, and self-doubt. In a statement to Eater, Tene's lawyer writes, "Nobody should ever be subjected to this type of conduct," and that "without warning, [Batali] then sexually assaulted her."
This is the first lawsuit against Batali from one of the number of women who have accused him of sexual harassment and abuse. In May, the NYPD opened an investigation into one woman's allegations that Batali drugged and assaulted her. He remains a partner in Batali & Bastianich Hospitality Group. His co-owners had said they would buy him out by July 1, but say the process is still ongoing.