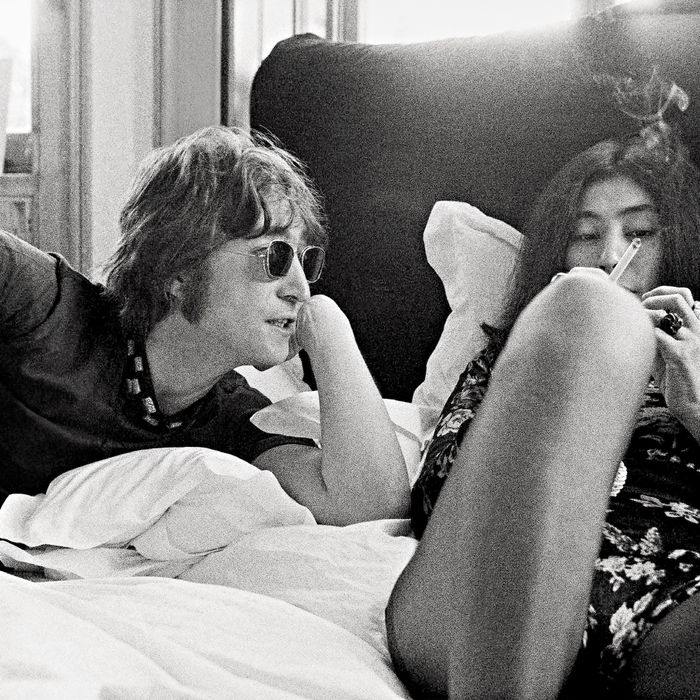 John Lennon and Yoko Ono at their home in Tittenhurst Park, soon after finishing
Imagine
.
Photo: Kieron Murphy/Photograph from IMAGINE JOHN YOKO by Yoko Ono Lennon/Courtesy of Grand Central Publishing
Yoko Ono is a visionary. She imagines and reimagines. In October, she'll release Warzone, which reprises 13 songs from her past albums. Spookily, or comfortingly, or depressingly, or rousingly, they are as applicable to the world today as they were when Ono wrote them. That same month, she'll reimagine Imagine in a 320-page book on the making of the album, which will compile previously unreleased images, including the one above. To mark the occasion, I asked her questions inspired by her 1964 book of creative prompts, Grapefruit. She responded over email.
What is the state of the world's imagination?
Two things, to make where we live beautiful and peaceful and to fly to another planet to experience something new.
Describe the weather in your head on most days.
I love every weather and when it's gray, I think of Paris. And when it's blue sky, I think of Berlin.
When you discovered your earlier songs to be about today, did you feel like a soothsayer, a doomsayer, a saint, a witch?
Many people think of me as a witch, and I hated it at first, but then I thought, it's okay. A man is called a wizard, and a woman is called a witch. What a difference, isn't it?
Can forgetting ever be a means of memorializing?
Not really. Sometimes you just forget it.
Where do you hang art in an empty room?
An old shoe on a table instead of a pedestal.
Can you draw your album as a floor plan or a garden map?
I'd rather imagine.
*This article appears in the August 20, 2018, issue of New York Magazine. Subscribe Now!