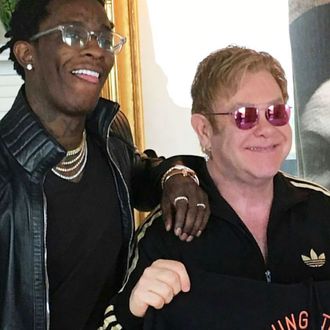 Photo: Instagram/toddmoscowitz
One of the best moments of Ghostface's 2004 album, Pretty Toney, comes on "Holla" when he raps and sings off-key over the Delfonics' "La La (Means I Love You)." Wikipedia erroneously describes what is happening here as a "sample," but it's actually just Ghostface being Ghostface over the entire original Delfonics track, occasionally dropping his verses to sing along with the chorus. It's a great song because his enthusiasm is palpable, but it's a memorable song because it presents music as a continuum.
Last night, Young Thug's long-talked-about remix of Elton John's "Rocket Man" popped up on SoundCloud. It didn't exactly come out of nowhere: In 2015, Noisey spoke with Elton John about his love of Young Thug. In 2016, the Fader reported that Young Thug and Elton John had FaceTimed, and that John had sent Thug the instrumental to "Rocket Man." Two years and a photo of the pair later, we now have the actual song.
Thug takes a bit more liberty with the instrumental, produced by Stelios Phili, than Ghostface did with "La La …" (a.k.a. he samples it instead of using it wholesale) but it still has some of the same unabashed enthusiasm for basically the entire history of music. Here, Young Thug free associates over the original's piano loop, before slowing down and allowing his gravelly but still wide-eyed singing voice to sync up with Elton John's chorus. I'm not saying Elton John and Young Thug should do a whole album together, but I'm not not saying that either.