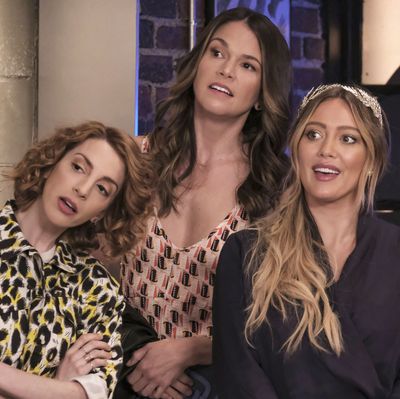 Well, that was a ride. There I was, on the highest of highs, hardly believing that my own eyes were witnessing Queen Trout riding the Staten Island Ferry while Carly Simon's "Let the River Run" played in the background, not knowing I was allowed to dream that big, when along came Josh to pull me back down to Earth again. Listen friends, I love Josh. Josh is great. Nico Tortorella is great. The chemistry between him and Sutton Foster is extremely great. It has just simply become increasingly clear this season that Josh has run his course on Younger. Fitting him into the main story lines feels like a stretch (I'm even here for him and Kelsey getting together not because I necessarily want that but because it would make much more sense story-wise than anything else he's been up to). When Josh showed up and dressed Liza down for her secret relationship with Charles, I audibly groaned. Really, dude? We're still here? Doing this? Pining for Liza? Angry with her? And although his questions do force Liza to make an interesting choice with Charles, revisiting this whole relationship just feels tiresome. Let Josh live!
But let's back up and discuss how Josh ends up in the middle of Liza's affairs.
Liza and Kelsey are working hard on Quinn Tyler's "call to arms" Claw, all while making sure Charles seems available enough to not rouse suspicion about his and Liza's relationship, but not available enough for Quinn to act on her crush. Not that Charles is interested in Quinn — he tells Liza that "divorced moms from Jersey" are more his type. If that doesn't make you swoon a little, maybe Liza's doodle of a giraffe wearing sunglasses that she seals with a kiss will do the trick. Hey! Those two need to be careful with their office flirting, so we have to take what we can get. And also maybe giraffes wearing sunglasses are really hot? Discuss below.
Regardless, this pent-up passion will have to wait a little longer for release because Charles is off to a big conference in Sun Valley. Not like Liza would have much time to hang out with her beau since Caitlin is in town with a surprise guest and the big reveal goes down at Inkburg's renovation party.
Inkburg 2.0 looks lovely! Josh really took committing to his ten-year lease seriously. He's building something important and everyone is noticing. That includes his roommates Kelsey and Lauren, who give Josh a very nice toast to kick off the party. It's funny to think back on this trio at the beginning of the series, but their friendship is one of the most authentic on the show — and honestly, feels very New York of Younger. It's a place where friends of friends easily become your own. Josh also has a toast to give — screw his roommates — he needs to thank Liza for always showing up for him. It's very sweet but also he's laying it on pretty thick. Before Liza can even process, she spots Caitlin, who is in town for a wedding with the guy she's seeing … who also happens to be a professor at her school. Liza tries to be cool with seeing her daughter smash faces with a dude in his 40s, but inside she is squirming.
What's a mom who is attempting to remain calm but is actually dying inside over her child's life choices to do? Well, go to brunch, that's what. Getting drunk and masking your feelings is basically why that meal was invented. Caitlin invites Josh to make a foursome, both as a buffer for her unhappy mother and to remind Liza that she, too, engaged in a relationship with a big age difference at one point in time. Unfortunately, no amount of Bloody Marys can make this brunch any more palatable (although Sutton Foster's reading of "I love brunch!" will bring me joy for years to come). I mean, the guy makes a joke about keeping Caitlin a secret until he makes tenure. We're all vomiting in our mouths a little.
By the time they part ways, even Josh tells Liza she needs to put an end to this ridiculous thing. Liza knows this, but she doesn't want to push Caitlin away nor does she want to be a hypocrite … because she, too, is involved in a relationship that has to be kept a secret. That's right, you guys, Liza tells Josh about Charles. He does not take it well. Instead, he tells her that her life is a lie, real relationships shouldn't have to be kept a secret. He's pretty much disgusted with her. So all in all, not the best brunch.
It only gets worse: Liza gets home and Kelsey shows her some of Quinn's Instagram stories that feature — surprise — Charles. They're in Sun Valley together. Charles doesn't really seem like the cheating type, but Liza is put off by the realization that this secrecy stuff doesn't just pertain to cute doodles and making out in the stairwell. Living in the Bubble and living in secret are two very different things.
It's all really put into perspective when Caitlin arrives after Greg kicks her out of the wedding because another faculty member is in attendance. He can't risk getting caught. She's tired of being kept a secret. Liza gives her daughter a little mom heart-to-heart about deserving better — which makes Liza realizes she needs to stop with the secrets. She tells Caitlin everything — about dating Charles and, yes, even her big age secret. Caitlin reacts as a daughter should and laughs at the insanity of it all. Although "have they seen you in daylight" is way harsh considering Liza's motivation for all these shenanigans.
Liza takes her No More Secrets show on tour and pays Charles a visit at home. When she brings up her Quinn Suspicions he quickly explains that she was only "flirting" with investing in the business. In case you forgot, Empirical needs some help. It might come in the form of Quinn Tyler. As for loving each other out in the open, Charles still needs Liza to keep their relationship quiet, for the good of the company. This feels like murky territory since, yes, Liza is right that no one deserves to be someone's secret, but how many people has she asked to keep secrets for her? Still, Charles won't budge and Liza tells him to give her a call once he changes his mind.
Remember that Diana Trout high I was talking about earlier? It is completely gone now. Are we seriously pumping the brakes on Charles and Liza already? Meanwhile, Josh is having the tattoo he got for Liza covered up and it all feels like too much to take. What's going on here?
It's Trout Season
• God bless Diana Trout. She has no time for overbearing mothers who will never think a woman is good enough for their sons. She has no time for being called out at family dinner for not knowing how to cook or not being Italian. And she certainly has no time for killing eels with hammers in the kitchen. When Enzo's mother tries to humiliate Diana, she ups and leaves. She won't be arguing with a woman over her adult son. Diana leaves Enzo's house in a blaze of well-dressed glory.
• This is how we know Enzo is the one: Instead of siding with Ma, he runs after Diana. He finds her on the Staten Island Ferry (not only is Younger a fan of Working Girl, but apparently Diana has been humming "Let the River Run" all week, seriously bless her) and tells her he's moving to Manhattan — it's time he got away from his mother and he's doing it for her. Aww.
• For a moment, Diana thinks Enzo wants to move in with her and she will not relive the Richard nightmare: "A parrot died." Poor Elphaba!
• I love that Maggie's amazing lasagna has become a staple of the show (she makes some for Diana to bring as her dish to family dinner). Can we get a recipe? Younger viewing parties complete with lasagna honestly sounds like heaven.
• While giving Charles notes for his Sun Valley conference with digital bigwigs, she reminds him to "smile and don't suffer through every photo … especially with Bezos and Cook. But not Zuckerberg. He's taken enough. From all of us." Diana Trout is savage.