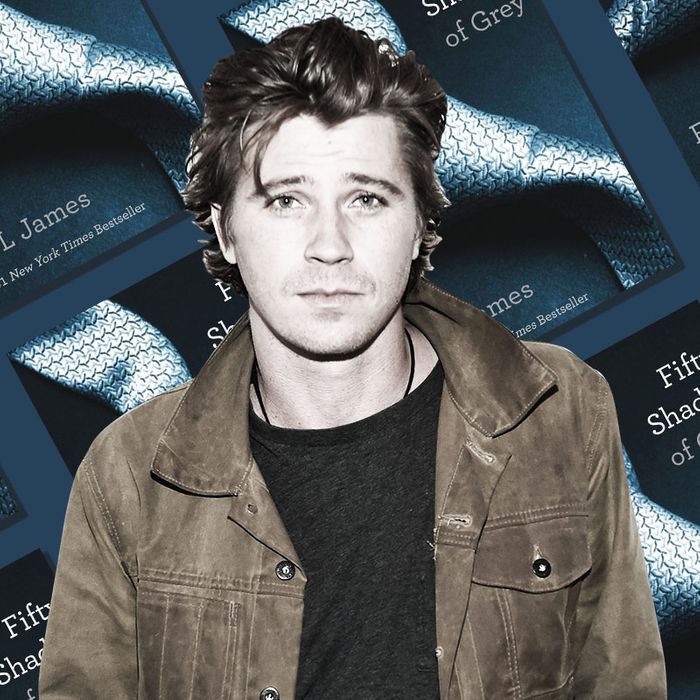 Wouldn't
you
like to hear Garrett Hedlund read the
Fifty Shades of Grey
line "I'd like to bite that lip"?
Photo: Vulture
Mahershala Ali could make instructions from your dentist's office sound compelling. So could Ethan Hawke, and so could Lana Condor of To All the Boys I've Loved Before. These are voices with an ineffable thing that makes them compulsively listenable: With the right material, their reading could turn into the most played track on your Apple Music. It's all the rage for A-list talent to read their own books — Lin-Manuel Miranda reading Gmorning, Gnight!, Nick Offerman and Megan Mullally reading an "oral history" of their coupling — but what about good, rich voices paired with equally good, rich texts? Vulture matched the best, deepest, most listenable voices we can think of with novels, essays, and nonfiction synced to their tempo. Here are our dream pairings:
Kristen Bell and Bob Woodward's Fear: Trump in the White House
Imagine it: "Hello fellow denizens of the D.C. swamp," in Kristen Bell's iconic Gossip Girl voice. The Trump White House is (rather stunningly) more dramatic than any scheme Upper East Side teen queen Blair Waldorf could conjure up, so why shouldn't Bob Woodward's definitive Trump book get a reader befitting its hijinks? Woodward's deep reporting inside the White House uncovers everything we already know plus a lot we're almost afraid to have confirmed: That staffers run around trying to avoid the president's "destructive whims," and that everyone thinks he's an idiot. Drama this damning deserves to be read in a voice we know we can trust. XOXO!
Mahershala Ali and Paul Beatty's The Sellout
Mahershala Ali has an Oscar and an impressive résumé of dramatic work, but the Moonlight star hasn't done a comedy. Paul Beatty's The Sellout is the coolest, most biting satire: a black man who attempts to bring back segregation, and to keep a slave in the fictional L.A. suburb of Dickens, California. The Sellout needs a reader who understands its message about wrestling with feeling seen as a black person in America, but who can also milk the transgressive humor of Beatty's words. Please, please let him laugh at The Sellout's jokes, too.
Lana Condor and American Girl's The Care and Keeping of You
The Care and Keeping of You is every 10-year-old girl's puberty bible — the book that talks us through our first period, our growing boobs, how to shave our legs, and appreciate our freckles. It's the cool older cousin, available day or night to answer the most embarrassing queries about showering in the locker room after sports practice. Its guides and infographics demand the steady voice of an older girl. Who better than Lana Condor, star of To All the Boys I've Loved Before? Her voice-over work in that movie was by turns whimsical and cautious and probing, exactly the kind I'd want telling me how to find the right bra size.
Tilda Swinton and Hannah Kent's Burial Rites
Call Me by Your Name filmmaker Luca Guadagnino is directing Jennifer Lawrence in an adaptation of this novel, so who better to read the chilly thriller than Guadagnino's muse Tilda Swinton? Agnes Magnusdottir was sentenced to death for killing two men and setting their home on fire, becoming the last woman to be publicly executed in Iceland in 1830. Before her execution, Agnes is exiled to live on a farm where she recounts her story to a young priest named Tóti. Swinton's voice has an undertone of calmness befitting an omniscient narrator telling a grim history tenderly.
Garrett Hedlund and E. L. James's Fifty Shades of Grey
Garrett Hedlund's voice is perfectly cavernous. It's a wrap-around porch. It wants to love you simply and unconditionally, and whisper sweet nothings. (It also has a hint of American ennui, like he's saddened by the state of affairs, and wishes he were just on a ranch somewhere.) No one in the Fifty Shades franchise took this book seriously, but Hedlund can give E.L. James and her red room an extra-dramatic reading. Mr. Hedlund will see you now!
Bob Odenkirk and Chad Harbach's The Art of Fielding
I am sad to report that nearly every boy I kissed in college had this book on his shelf. After seeing it around enough, I read it myself: it's a story of baseball and fate and star-crossed ambition. Two baseball players — one excellent but bored, another passable but passionate — are friends at a fictional college in Wisconsin, and they eventually sleep with the same girl, which only deepens the competitive streak in their friendship. The book has a wholesome, midwestern sensibility with a seedy, jealous undertone — not unlike the quality that pulses through Bob Odenkirk's voice. He sounds like a decent suburban dad, like somehow who, totally naturally, comes home after work to tinker around in the garage and say "aw shucks," but wouldn't he be tinkering on a motorcycle?
Adam Beach and David Grann's Killers of the Flower Moon: The Osage Murders and the Birth of the FBI
When oil was discovered in Oklahoma, white settlers rushed to take over land legally designated for Native Americans. After the Osage tribe got rich off of the oil in the 1920s, a series of murders and curious illnesses plagued the tribe. A wealthy Osage woman was found shot in the head, and days later an Osage man was killed in the same way, seemingly with an identical gun. Grann investigates the murders and the way they shaped the rise of the FBI — a ramshackle group of investigators before J. Edgar Hoover took over. The story of the Osage is the most compelling part of Grann's book. Adam Beach (Smoke Signals, Suicide Squad) is a member of a First Nations tribe. Grann's book is already stranger than fiction, perfect for Beach's voice, which isn't booming or thunderous. He speaks in prodding suggestions, exactly the timbre that could, layer by layer, peel back the mysteries and history Grann uncovers and keep us listening.
Tracee Ellis Ross and Roald Dahl's James and the Giant Peach
Roald Dahl gives us drama! Fantasy! Mischief! Despair! So does Tracee Ellis Ross, the only person who has made an interesting and genuinely exciting episode of Vogue's 73 Questions series. She zips between somber and zany, curious and contemplative, and can make it all thrillingly natural. Dahl is the only writer whose interest in the fantastical can match Ross's outsize personality.
Nia Long and Kathleen Collins's Whatever Happened to Interracial Love
Kathleen Collins was a filmmaker best known for 1982 comedy-drama Losing Ground. Her prose, brought together in this collection, is as insightful and surprising as her filmmaking. These are stories about black women working, writing, breaking up, making movies, cutting their hair, and falling in love. The only thing these women have in common is that they're headstrong and imperfect. Collins work was overlooked in Hollywood, so pairing her words with a bona fide black movie star makes for a fitting homage. Nia Long's voice is silky and ruminative, familiar and precise. She knows a thing or two about being an overlooked veteran talent.
Ethan Hawke and God's Old Testament
The Old Testament is all doom and gloom and a lot of men who lived to be, like, 900 years old. (I know this because I went to Catholic school.) In between all that, there's a big storm and the Ten Commandments. Why not have fun with the rest of it? Ethan Hawke was a hot, conflicted priest in First Reformed, and he can be the hot, conflicted fake priest teaching our wayward souls about David and Goliath, Lot's salty wife, and the original migos: Shadrach, Meshach, and Abednego? Hawke's voice can turn from tender to spiteful at a moment's notice, not unlike the whims of the man upstairs.