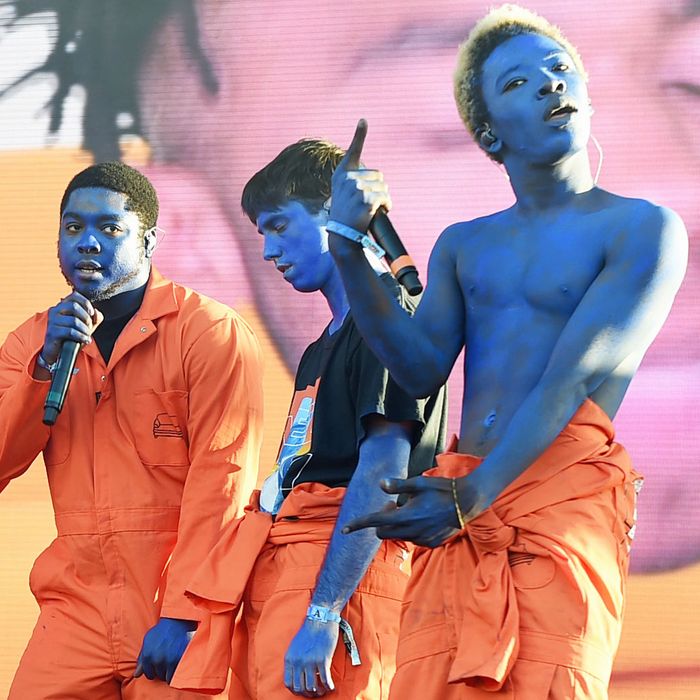 Photo: Kevin Winter/Getty Images
Last night, Brockhampton dropped their fourth studio album, iridescence. If you have no idea what those words mean, well, let's start at the top: Brockhampton is a boy band in the millennial sense. There are 13 members in the group and, between them all, they sing, rap, make merchandise, produce their own music, and have fans as energetic and erratic as One Direction's. The group is managed by the same team who used to manage Odd Future, which makes a lot of sense given how easily they occupy the same space in music as that collective once did.
Brockhampton officially arrived on the scene back in 2015 with their debut mixtape, but last year was when they really became a thing. The boy band released their debut album, Saturation, quickly followed by Saturation II and Saturation III.  The success of that trilogy led to a record deal with RCA. There were hiccups along the way — months later, they found themselves in the news when they kicked out one of their members amid allegations of sexual misconduct, and a scheduled album was scrapped. Until last night's release, that is —the new album is here and includes features by the likes of Tyler, the Creator; Jaden Smith; Ciara; and Ansel Elgort.
So, before you dive into iridescence, here's a list of ten essential Brockhampton tracks to familiarize you with the band that's showing no signs of slowing down.
"Bleach"
Frequent collaborator Ryan Beatty's infectious hook drives this song, but standout verses from Merilyn Woods and Matt Champion make "Bleach" a stan favorite. There's this weird distorted guitar throughout the song that makes it feeling hauntingly calming, but when the song gets to the end and Bearface croons during the outro, you can't help but feel his sadness and regret. "Bleach" is Brockhampton at their most pop-radio friendly and cohesive.
"Queer"
While the word "queer" has become an umbrella term for all LGBTQ+ identities, here Brockhampton takes the word back to its original meaning as each member raps about being weird and an outcast to some extent. It's super angsty, but it's the kind of tone and messaging that their fans intensely relate to. Beatty assists on the chorus, and it once again becomes clear that he is their secret sauce.
"Junky"
Having done a lot of interviews over the past two years, "Junky" still serves as one of Brockhampton's most honest offerings. On the almost five-minute track, they manage to cover everything from depression and homophobia to racism and selling drugs. Compared to their other songs on Saturation II, it's sonically and thematically darker and more eerie. Ultimately, it's an honest portrayal of what a diverse group of guys — specifically, this diverse group of guys — go through in their lives. The track also includes one of the standout moments in their entire discography, the chopped-and-screwed breakdown at the top of the song.
"Infatuation"
Despite many fans trying to pretend that the All-American Trash mixtape doesn't exist, I'm here to remind you that it does and it wasn't that bad. Proof: "Infatuation," an underrated and extremely important cut. For longtime fans, it serves as a nostalgic reminder of what once was and how far the band has come. The song might lack a little in substance, but vocalist-producer Joba makes up for it with a killer outro that hints at the potential that would come to fruition in the Saturation trilogy.
"Boogie"
Serving as the first single for Saturation III, Boogie is one of Brockhampton's most in-your-face records to date. There are plenty of different samples on this song, all used strongly, including the iconic theme music from the Wii. Yes, that is correct: They sampled the theme music from the Wii. The song feels like the first day of school, when you walk in and you want everyone to know that you're fresh as hell. That's the confidence that drips from this song, and they aren't afraid to let us know.
"Star"
Kevin Abstract, the group's founding member and de facto leader, finds a way to cheekily let fans know that he's a real person going through real issue in his standout out verse that, somehow, makes not being accepted by his family and friends less depressing than it sounds. Being gay and black isn't revolutionary, but this track serves as a reminder that it is hard. Jabari kills the production on this track, and each member's verse is stuffed with references to movies and actors. Bonus: The music-video version of the song features a stunning outro that, unfortunately, is not on the album version.
"Milk"
Every artist or group of a certain ilk has that song that is supposed to be an "I did it, so you can do it" manifesto, and that's what "Milk" is. Typically, theses kinds of song are corny and borderline unbearable, but here Brockhampton actually manages to uplift spirits and give fans a poignant message of self-love and acceptance. Merlyn delivers a verse about his experiences feeling alienated in college because he's African, and the production from Romil Hemnani makes you feel like you're in an early-2000s coming-of-age movie where the main character is crying and looking in the mirror.
"Team"
Bearface provides another killer outro on this song. While Ryan Beatty is their go-to chorus person, Bearface seems to be their go-to outro person. "Team" served as the final song on Saturation III and it's a farewell moment to the trilogy. It's a classic slow guitar ballad, but Bearface takes it to the next level with his falsetto, singing about a lost love, and Ameer and Kevin team up for a standout verse about black empowerment.
"Tonya"
The song pays homage to the movie I, Tonya, which should be all you need to know to like it. Okay, fine, there's a lot more to the track, which offers a somber look into the group's life after finding commercial success and the ways they deal with their newfound fame. The artistic combination Jazmine, Ryan, and serpentwiththefeet provides for a weirdly calming moment on the chorus; you end up wanting more of them together.
"Let's Get Married"
As of now, the future of this song lies in the hands of Brockhampton. A snippet of this song was played when Brockhampton announced they were signed to RCA and had a new album on the way. Later, another snippet was played during their Beats 1 radio show (hence the two clips above). However, the album that was supposed to feature the song was eventually scrapped, and there's been no mention of "Let's Get Married" since then. And yet: The song lives on as a stan favorite, something of a "Bleach 2.0" thanks to Ryan Beatty blessing the group with another beautiful chorus. The orchestral production matched with a clip of Bernie Mac talking about life makes for an interesting pairing, to say the least. If you're reading this, Brockhampton, give us the full version already.