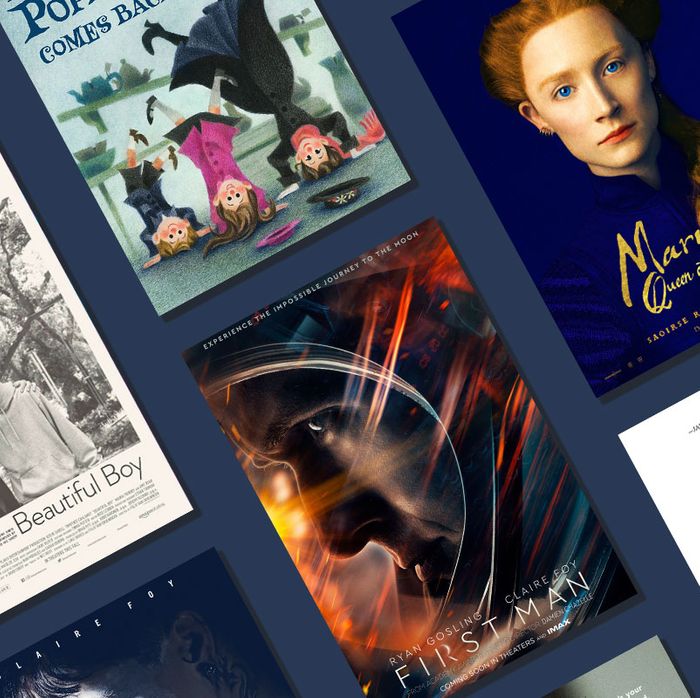 While television's fall slate might be best summed up as a nostalgia-palooza, the film industry instead took a few fruitful trips to Barnes and Noble and thought, Well, these paperbacks sure look nice! Let's consult the facts: For the remainder of the year, 19 films based on an array of literature will be making their big-screen debuts, ranging from children's classics (Mary Poppins Returns) to period dramas (Mary, Queen of Scots) to housewife mysteries (A Simple Favor). Whatever your genre preference is, here's what the second half of 2018 will bring forth.
Bel Canto (September 14)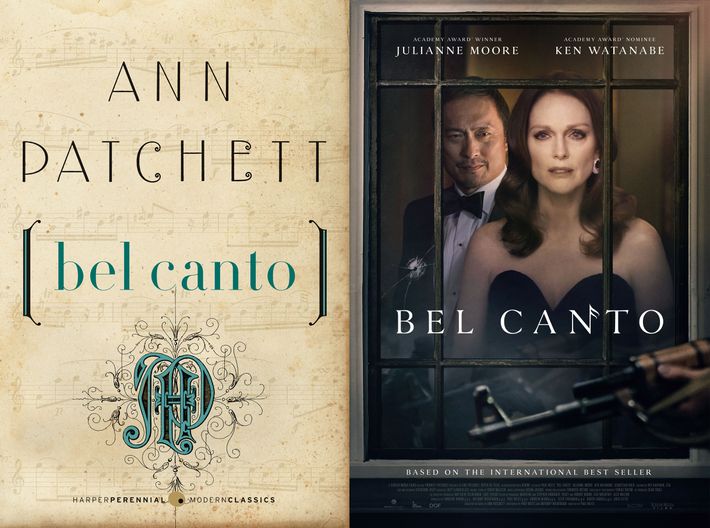 Source: Bel Canto by Ann Patchett (2008)
Premise: Turning a traumatic experience into a remarkable study in humanity, a famous opera singer — and a bunch of other well-to-do businessmen and government officials from around the world — find themselves held hostage in the Japanese embassy in Peru after a botched kidnapping attempt. (Based on the real-life Japanese embassy hostage crisis between 1996–1997.) As months dwindle, many friendships and romances begin to form despite the language barriers, even between the hostages and the terrorists.
The Children Act (September 14)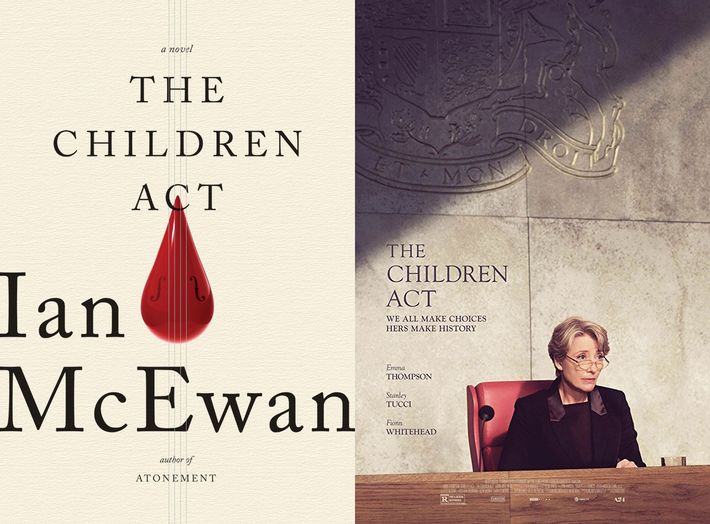 Source: The Children Act by Ian McEwan (2014)
Premise: A respected judge, whose 30-year marriage is reaching the point of divorce, has to grapple with her personal life falling apart by taking on her most difficult case yet: ruling if a dying teenage boy, with the support of his parents, can refuse a medical treatment to save his life on the grounds of religious beliefs. She only has a few days to make her verdict before it's too late for a life-saving blood transfusion, and her ruling might affect more than just this family.
A Simple Favor (September 14)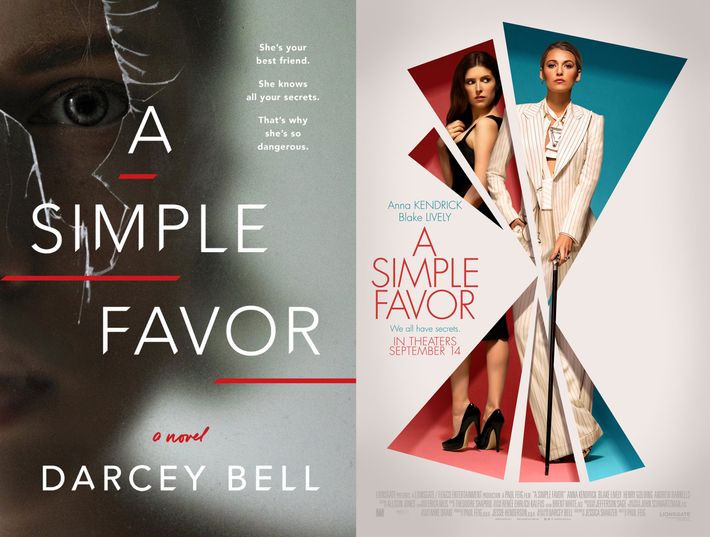 Source: A Simple Favor by Darcey Bell (2017)
Premise: A woman who seems to have it all rocks her tony suburb by failing to pick up her son from an after-school playdate and subsequently going missing under suspicious circumstances. Her best friend and admirer, a stay-at-home mommy blogger, begins to investigate the disappearance in the hopes of finding her, but everything changes when her pal seemingly turns up dead under even more suspicious circumstances. Or is she?
The Land of Steady Habits (September 14)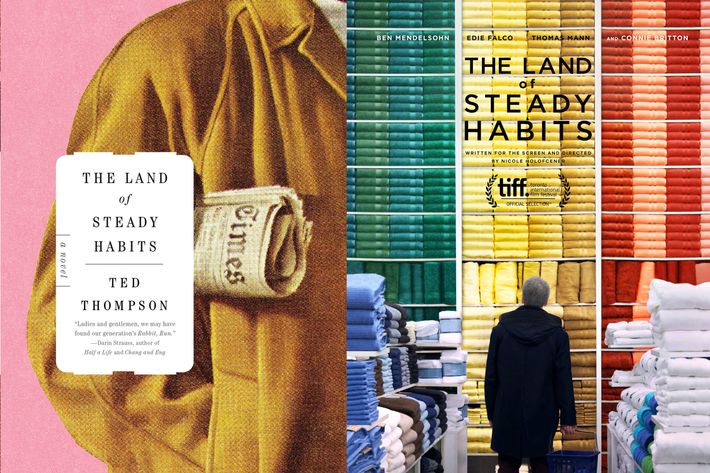 Source: The Land of Steady Habits by Ted Thompson (2014)
Premise: A sexagenarian man comes to a jarring realization upon retirement and paying off the final college tuitions for his children: His life in bougie Connecticut is actually pretty unfulfilling, so he divorces his wife and moves into a condo in the hopes of having a creative renaissance. However, his newfound freedom comes as a double-edged sword, as he slowly realizes his hasty decision and, you know, general family abandonment might not have been a great idea.
The Sisters Brothers (September 21)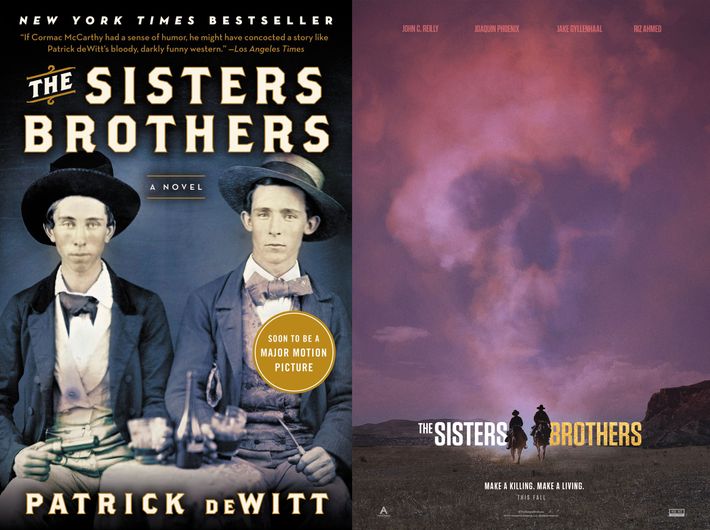 Source: The Sisters Brothers by Patrick deWitt (2012)
Premise: A humorous old Western tale, two hit-man brothers follow orders from their commander to track down and kill a double-crossing chemist who's concocted a formula for locating gold. While one of the brothers is a natural-born killer who revels in the chase, the other is more of a meditative fellow who aspires for a different, non-murder-y career path. Stumbling upon California during the infamous Gold Rush might change both of their lives for the better.
The House With the Clock in Its Walls (September 21)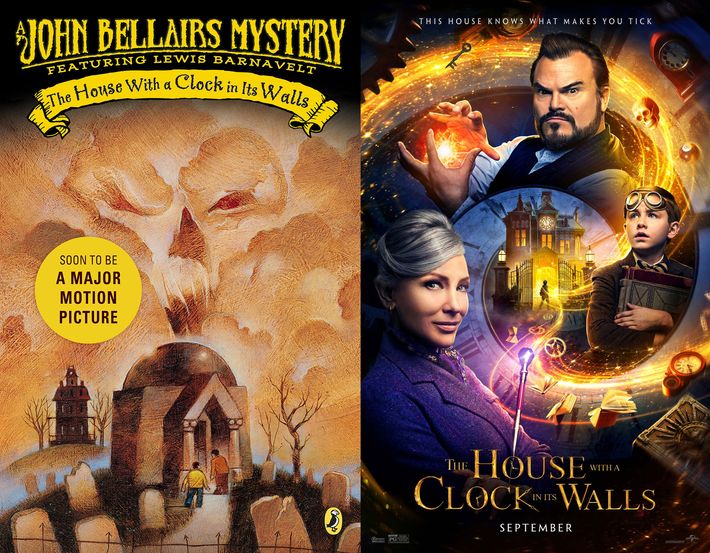 Source: The House With the Clock in Its Walls by John Bellairs (1973)
Premise: An orphan gets the shock of his life when he's sent to live with his eccentric uncle in a spooky old mansion, only to discover that he's a warlock with a witch BFF as his neighbor. (It's cool, they're friendly.) That's fine and all, but he has more important matters to tend to besides making new friends and fitting in at school — mostly that a clock with the power to destroy the world is ticking away somewhere in the mansion's walls, and it has to be stopped before it's too late.
First Man (October 12)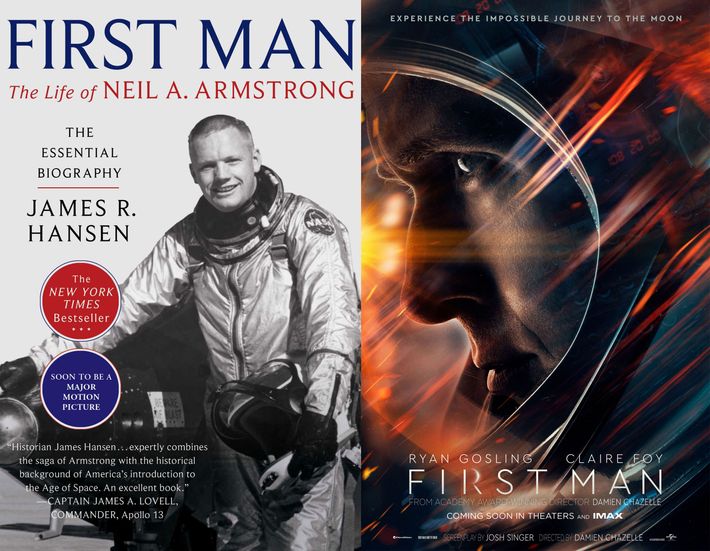 Source: First Man: The Life of Neil A. Armstrong by James R. Hansen (2005)
Premise: This biography chronicles Neil Armstrong's life in the years leading up to his dream of being the first man to walk on the moon becoming a reality. Also shedding light on Armstrong's psyche is his neglected first wife, Janet, and fellow astronaut pals Buzz Aldrin, Deke Slayton, and Ed White, all of whom greatly influenced the person who eventually made a giant leap for mankind.
Beautiful Boy (October 12)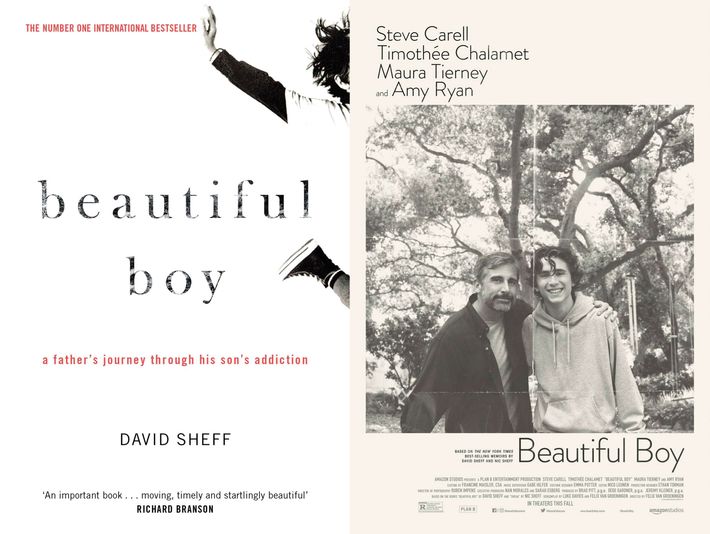 Source: Beautiful Boy: A Father's Journey Through His Son's Addiction by David Sheff (2008) and Tweak: Growing Up on Methamphetamines by Nic Sheff (2009)
Premise: Two different, "he said, he said" sources of methamphetamine literature weave together to form the harrowing DNA of the film. Beautiful Boy is a memoir written by a father, David Sheff, who witnesses the slow spiral of his teenage son facing a brutal addiction to every kind of drug under the sun. The son, Nic Sheff, later responded with his own memoir, Tweak, which gave his side of his addiction and recovery story. While different in tone, both explore the same question that often haunt American families today: How can such a thing happen?
Goosebumps 2: Haunted Halloween (October 12)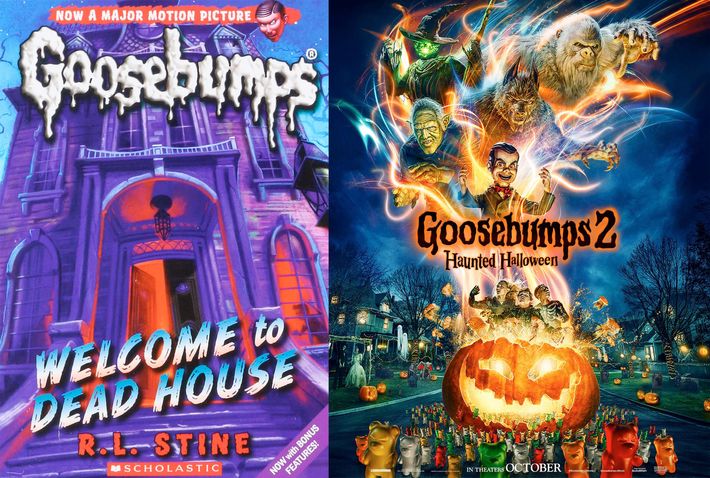 Source: The Goosebumps children's novel series by R.L. Stine (1992–1997)
Premise: Plans for the best Halloween ever go incredibly awry for a group of rambunctious teens, who somehow decide it's a great idea to sneak into an abandoned house and release an evil ventriloquist dummy from a magical manuscript. (Okay, it was an accident, but still.) That dummy relishes his newfound freedom in the real world by trying to start the creepiest ventriloquist family of all time, but not if the teens get their act together in time and stop him from, ugh, procreating.
Can You Ever Forgive Me? (October 19)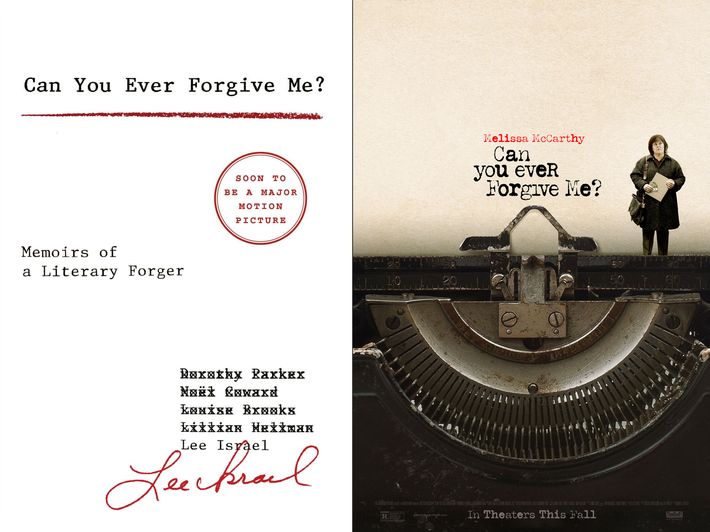 Source: Can You Ever Forgive Me?: Memoirs From a Literary Forger by Lee Israel (2008)
Premise: In the 1970s and '80s, Lee Israel had a booming career as an official biographer for some of the world's most interesting women. But when people began to care less about that sort of reading experience, Israel did what she had to do to remain out of crippling debt: use her talents to forge — and later, flat-out steal — letters from prolific literary figures, which she would then sell for colossal amounts of money. Her ex-con friend helped her run this criminal enterprise, which resulted in around 400 stolen letters being sold before her actions were exposed.
The Girl in the Spider's Web (October 19)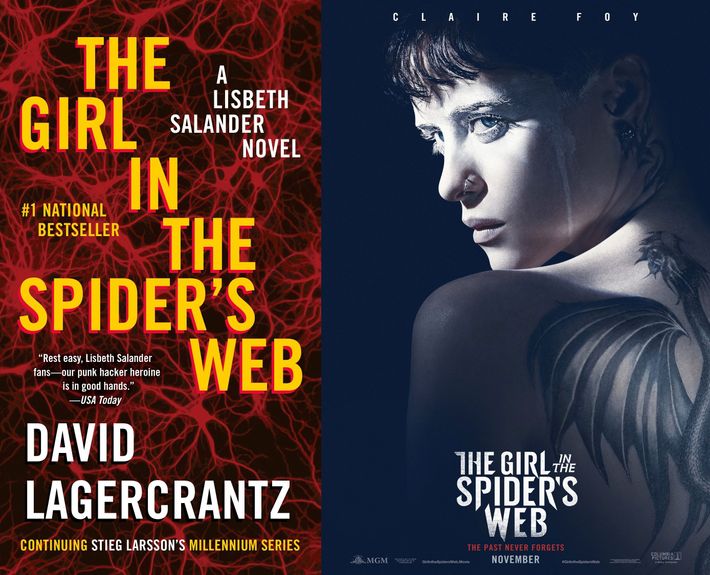 Source: The Girl in the Spider's Web by David Lagercrantz (2015)
Premise: As a continuation of the novels originally written by Stieg Larsson, a prolific "righter of wrongs" computer hacker and her journalist sometime lover, get embroiled in an international cyberconspiracy involving a bunch of governments. She might be involved, she might not, but either way, it isn't ideal — this guy really needs a scoop for his Swedish newspaper, even if it means bringing down his friend with benefits as a result.
The Hate U Give (October 19)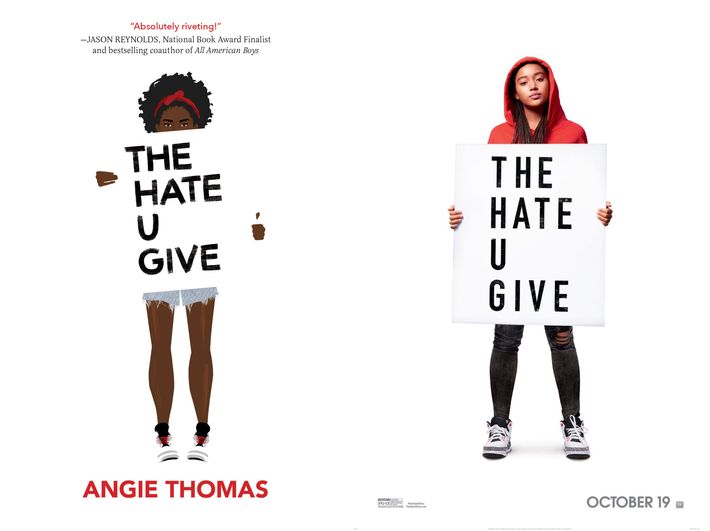 Source: The Hate U Give by Angie Thomas (2017)
Premise: A teenage girl juggles two very different lives for the sake of a good education — she lives in a poor, predominantly black neighborhood, commuting to her affluent, white prep school during the week thanks to a scholarship. She's well-liked in both communities and makes the best of her separate worlds, but when her unarmed best friend is shot to death by a police officer in her town, it sets off a chain of events that soon becomes a national controversy. As the only witness to the shooting, she has to grapple with all sides pressuring her on how to act and speak in the wake of tragedy, potential backlash be damned.
Galveston (October 19)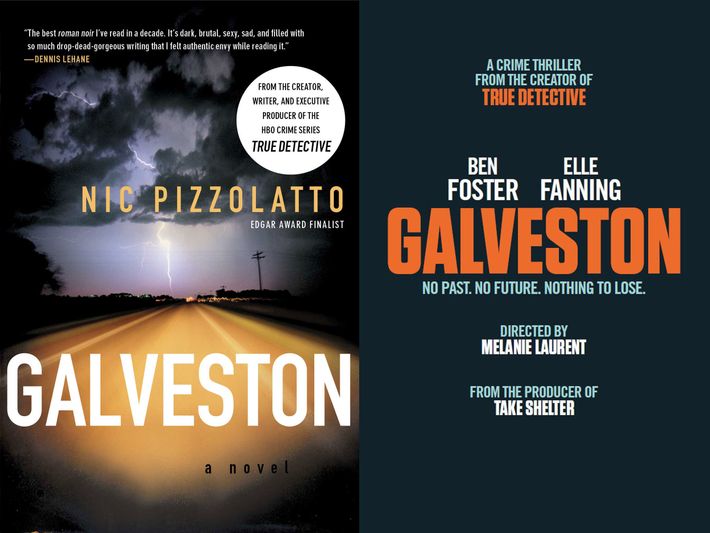 Source: Galveston by Nic Pizzolatto (2010)
Premise: A terminally ill hit man, correctly sensing his boss wants to whack him, manages to escape his would-be death by murdering his own assassins. (He's that good!) However, upon the discovery of a frightened young woman hiding in the apartment where all of that bloodshed happened, he shows an act of mercy by bringing her on a trip to his hometown of Galveston, Texas, to plan his revenge. Too bad she might be just as crazy as he is.
Mary, Queen of Scots (November 2)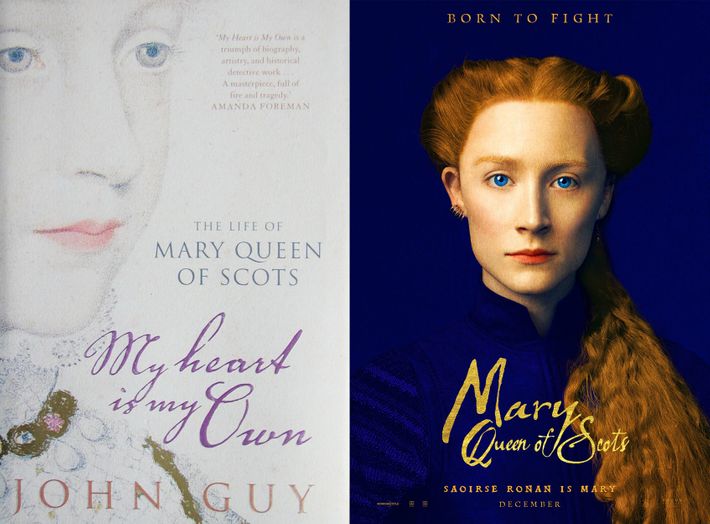 Source: My Heart Is My Own: The Life of Mary Queen of Scots by John Guy (2004)
Premise: We'll try to make this a concise history lesson: Mary Stuart, the Queen of Scotland, wasn't too jazzed she was only given one country to reign over, believing her birthright allowed her the whole United Kingdom and beyond. She subsequently tried to murder her older cousin Queen Elizabeth I, the monarch at the time, as a result. (It boils down to a Protestant versus Roman Catholic thing.) Understandably, Elizabeth wasn't happy about this, and believing Mary's treacherous actions to be true, had her locked up for the remainder of her life before approving her execution.
The Nutcracker and the Four Realms (November 2)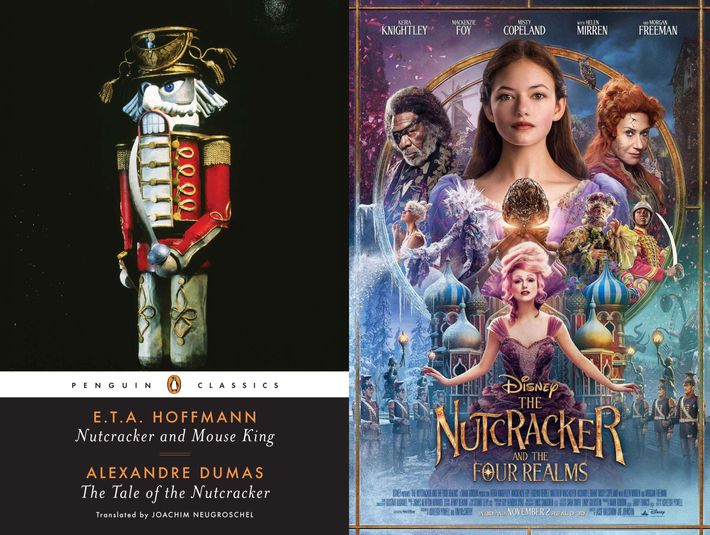 Source: The Nutcracker and the Mouse King by E.T.A. Hoffmann (1816) and The Nutcracker ballet by Pyotr Ilyich Tchaikovsky (1892)
Premise: Combining the somewhat twisted children's tale and the power of ballet, the film is loosely based on Hoffmann's original story — a young girl's beloved Christmas toy, a Nutcracker, comes alive and she has to witness a bizarre battle between an army of mice and dolls. But instead of being subjected to her drab family home and fainting all the time, the girl instead gets to immediately transport herself to a magical land where she's already a princess. Lucky her!
Boy Erased (November 2)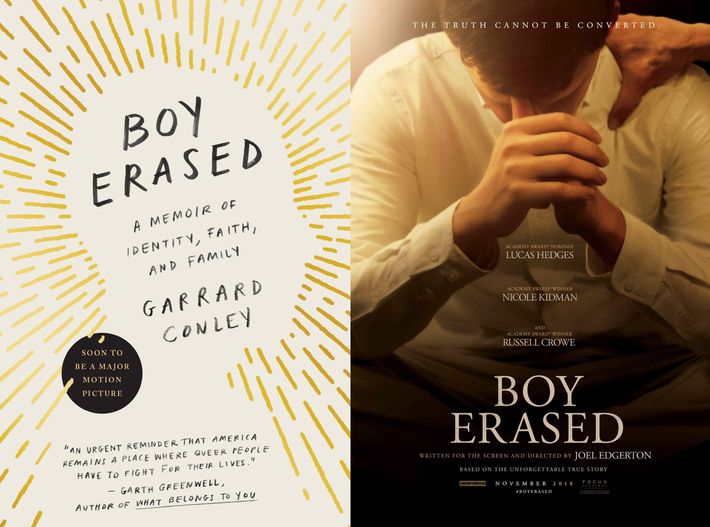 Source: Boy Erased: A Memoir by Garrard Conley (2016)
Premise: Based on a true story, a college boy growing up in a small and close-minded Arkansas town gets outed to his parents as gay. This isn't great for his family, as his father, a rising Baptist pastor, regularly preaches how homosexuality and everything related to it is a sin. As such, he faces an ultimatum: He can either attend a gay-conversion therapy program and become straight, or be disowned for who he truly is. A journey in self-discovery and acceptance ensues.
The Grinch (November 9)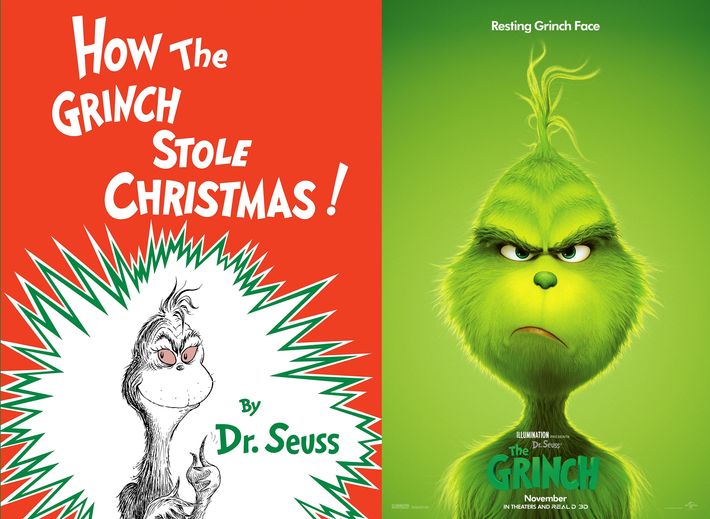 Source: How the Grinch Stole Christmas! by Dr. Seuss (1957)
Premise: There's a crisis in Whoville! Our old foe the Grinch with his "two sizes too small" heart once again decides Christmas needs to be ruined for all of his neighbors, and he hatches a plan with his pup to prevent the holiday festivities from going as planned. Cindy Lou Hou, as inadvertent as it might appear, could be able to stop this green grouch from wreaking havoc during the most wonderful time of the year. (Shout-out to Dr. Seuss for that rhyme.)
Mary Poppins Returns (December 19)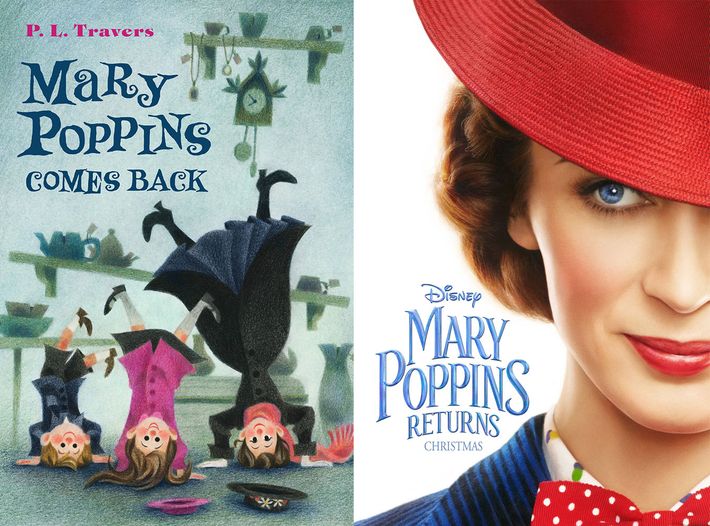 Source: The Mary Poppins novel series by P.L. Travers (1934–1988)
Premise: Set 20 years after Mary Poppins' original outing, the queen of all nannies has to make another house call to the Banks family. And boy oh boy, does Michael Banks need the help: He's still living on London's enviable Cherry Tree Lane and has three lovely children, but the unexpected death of his wife has turned his life into a downward spiral, and his sister, Jane, can only do so much. Enter Mary, stage right! And she's brought along some eccentric new friends to help!
Alita: Battle Angel (December 21)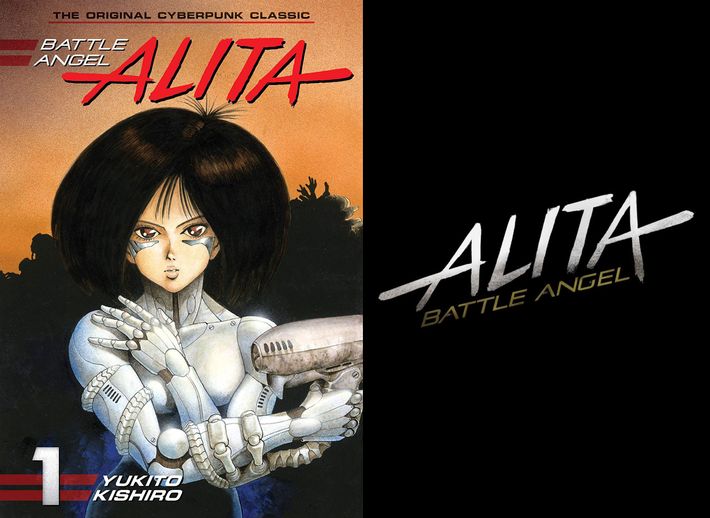 Source: The Gunnm manga series by Yukito Kishiro (1990–1995)
Premise: A female cyborg is birthed anew after her head and upper body are discovered and reassembled by a friendly scientist. Despite suffering from amnesia, the newly named Alita realizes she can thoroughly whup the ass of anyone who crosses her path — the power of martial arts transcends time and space, truly — and she's soon recruited as an agent to kill off criminals in this dystopian world. She might even find out her true identity in due time, too.