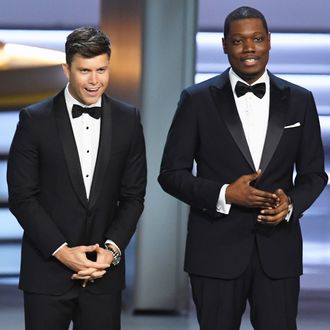 Don't tell Colin Jost and Michael Che.
Photo: Kevin Winter/Getty Images
Monday night's Emmy Awards notched the smallest audience ever for TV's annual ceremony, but that's not quite as much of a Nielsen disaster as it might seem. Per preliminary Nielsen national data, 10.2 million viewers tuned in for the Michael Che and Colin Jost–hosted event, about 1 million fewer than the previous Emmy low-water mark of 11.3 million set back in 2016. But while it was the lowest-rated Emmys in the modern Nielsen era, NBC's broadcast came in just 7 percent behind last year's show, which drew 11.4 million on CBS. Among adults under 50, the demo group most attractive to advertisers, Monday's Emmys scored a 2.4 rating, nearly matching 2017's 2.5 rating.
Establishing a new record low is never something to celebrate, but NBC and the TV Academy can rightly point out that things have been much worse for other big awards shows of late. The Peacock did just that in a press release, noting this year's Grammys fell 24 percent versus last year, while the Oscars audience declined 19 percent. Despite the ever-shrinking viewership, broadcasters still view them as effective ways of getting streaming era audiences to tune in live (and actually watch commercials). That explains why the Big Four networks last month signed a new eight-year deal that will keep the Emmys rotating among ABC, CBS, NBC, and Fox through 2026.