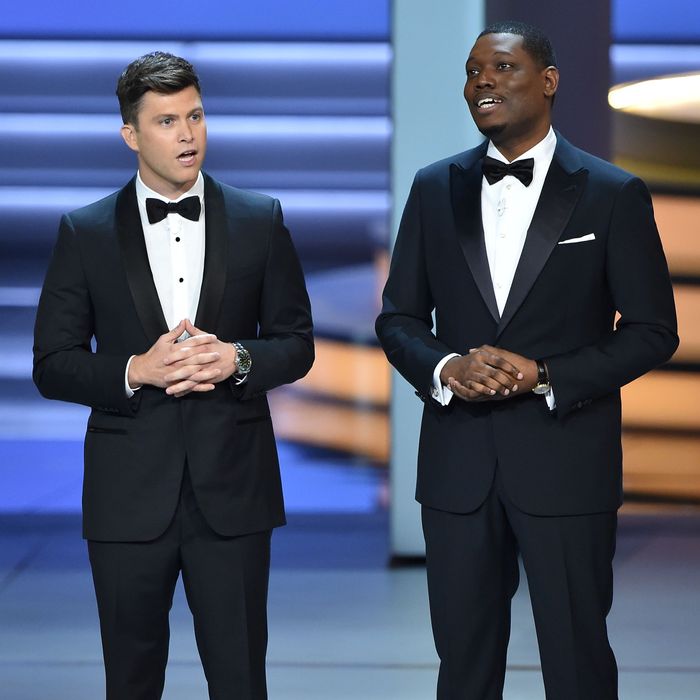 Colin Jost and Michael Che, your lackluster Emmy Awards hosts.
Photo: ROBYN BECK/AFP/Getty Images
In the opening monologue during Monday night's Emmy Awards ceremony, Michael Che joked that his mother never watches the Emmys because on white awards shows, winners never thank Jesus. "The only white people that thank Jesus are Republicans and ex-crackheads," he added. The not-that-funny-in-the-first-place remark became a running joke throughout the evening, with Che noting more than once when a white Emmy winner neglected to mention good ol' Christ.
Well, I'm a white person who is neither a Republican nor an ex-crackhead. And while I didn't have any reason to thank Jesus, as I didn't win any awards on Monday, I said the word Jesus a ton during NBC's telecast.
Like when I thought: "Jesus, Colin Jost and Michael Che are even more listless than I expected them to be as hosts."
And: "Jesus, Jost and Che somehow managed to suck the funny out of Maya Rudolph and Fred Armisen, which is a thing I did not think was possible."
And: "Game of Thrones won the Emmy for outstanding drama and The Americans didn't? Jesus, you've gotta be kidding me."
You could say Jesus was really in the room with me as I watched the Emmys, which honored some deserving veterans who have waited more than their turn to get some recognition (see: Henry Winkler, Amy Sherman-Palladino, Thandie Newton, Alex Borstein, Matthew Rhys, and Merritt Wever) but didn't quite live up to the promise implied by the fact that this year's slate of nominees was the most racially and ethnically diverse in Emmys history. The opening number, "We Solved It," satirically celebrated how inclusive the TV industry has become, but the fact that every winner in the hour that followed was white made it doubly clear that TV hasn't quite reached the "mission accomplished" stage of diversification. Of the 12 lead and supporting actor winners in the comedy, drama, and limited series categories, only three — Thandie Newton, Regina King, and Darren Criss (who is half-Filipino) — are people of color.
If the Emmys are supposed to reflect not only the mix of people who make television but also the vibe of the medium at the moment, they missed the mark on that count as well. The industry is in a fraught and anxious place. The #MeToo and Time's Up movements have, arguably, had a more immediate impact on TV than any other segment of popular culture. In the past year, the lead of a consistently Emmy-nominated program was fired because of sexual harassment allegations, several prominent broadcast journalists were dismissed for the same reason, a stand-up comic who became a mainstream name because of his TV show was booted after admitting to masturbating in front of female colleagues, and just this month, the head of a major network stepped down because of a dozen allegations of sexual harassment and assault against him.
Yet, aside from a few jokes in Jost and Che's monologue and an occasional comment here or there, that stuff didn't really come up much, especially in the acceptance speeches. This was the first Emmys ceremony since the #MeToo movement caught fire, but it was very easy to forget that on Monday night. Given that the midterm elections are a month and a half away, it was a remarkably apolitical broadcast, too, even if Rachel Brosnahan did make sure to encourage people to register to vote when she won the award for outstanding lead actress in a comedy.
There were some exciting moments, including a win for RuPaul's Drag Race, some unexpected upsets like the wins for King and Wever, and an impromptu marriage proposal (more on that in a moment). But too often it felt as though the life was being leached out of the proceedings. A lot of the blame for that falls on Jost and Che, whose blasé attitudes were a weird fit for an awards show. Instead of seeming energized, they came across like two high schoolers who were just hosting the Emmys to earn community service hours toward graduation. Many of their jokes fell flat, and even when they brought in more able entertainers to help them out, like Rudolph and Armisen, the Che/Jost ambivalence managed to drag them down too.
Every time two people walked out to present an award, I thought, "Why didn't they ask them to host this thing instead?" Dave Chappelle and Neal Brennan? Would have been better. Ilana Glazer and Abbi Jacobson? Also a stronger choice. Connie Britton and Eric Bana? Look, I don't know if they have comedic chemistry, but I am willing to find out. Also, even though they didn't present anything, I will sign any petition necessary to get Keri Russell, who was robbed of an Emmy for The Americans, and Matthew Rhys, who was not, to co-host this sucker next year.
Actually, it was Hannah Gadsby — another person who could have ably hosted the ceremony — who had the funniest moment of the night when she got to riff before presenting the Emmy for outstanding drama direction. "What are jokes these days?" she asked. "Nobody knows. Especially not men."
The fact that Che and Jost looked so lost up there only proved her point.
Nevertheless, there's one thing that most people will always remember about the 2018 Emmys, if only because it will be shown in highlight montages until the end of time: Glenn Weiss, who won yet another Emmy for directing the Oscars, proposing to his girlfriend in the middle of his acceptance speech. What might have been awful and awkward — the margin for error on public proposals is, in my view, quite high — turned into a lovely, delightfully spontaneous moment. It was unexpected, fun to witness, and added a spark to the Emmys that Che and Jost could never manage.
It was a bit ironic, too. On an Emmys telecast that seemed to be gasping too often for air, the person most equipped to add an influx of oxygen was the guy in charge of orchestrating the trophy show for the movie business.