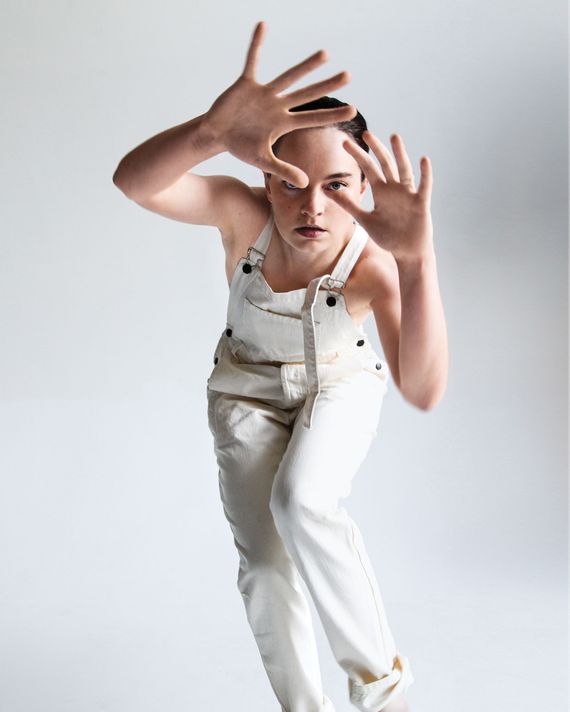 Dancer and choreographer Emma Portner.
Photo: Alexander Black
September
9/9
Emma Portner, through 9/10, Solomon R. Guggenheim Museum
Dancer and choreographer Emma Portner, whose ferocious style incorporates elements of hip-hop and tap, performs highlights from her upcoming Hubbard Street Dance Chicago commission, with original music by Blood Orange's Devonté Hynes. She'll also share snippets of a new duet with Anne Plamondon and screen her film Femme Debout.
9/11
Resonant Bodies Festival, through 9/13, Roulette Intermedium
See and hear nine contemporary vocalists over three days, with voice-and-electronic pieces from Pamela Z and compositions from Pulitzer winner Caroline Shaw.
9/12
There Will Be Blood: Live, through 9/13, David Geffen Hall, Lincoln Center
The New York Philharmonic performs Jonny Greenwood's hair-raising score to a screening of Paul Thomas Anderson's film.
9/19
The Crossing, through 9/20, Park Avenue Armory
The chamber choir wanders from room to room, singing choral works by David Lang, Louis Andriessen, and a new piece by Ted Hearne. Conducted on the go by Donald Nally.
9/21
Trifonov, Beethoven, and The Rite of Spring, through 9/25, David Geffen Hall, Lincoln Center
A three-act evening with the New York Philharmonic: the world premiere of a new work from composer and installation artist Ashley Fure; followed by Beethoven's "Emperor" Concerto, featuring Russian pianist Daniil Trifonov; then the big finish — Stravinsky's The Rite of Spring.
9/24
Samson et Dalila, through 10/20, Metropolitan Opera
Saint-Saëns's biblical potboiler, starring mezzo-soprano Elina Garanca and tenor Roberto Alagna. Darko Tresnjak, making his Met debut, directs.
Hinterland, through 9/28, Joyce Theater
John Jasperse Projects dances to a score from violinist Hahn Rowe as part of the NY Quadrille festival.
9/26
Proving Up, through 9/28, Miller Theatre
Composer Missy Mazzoli and librettist Royce Vavrek's chamber opera imagines life on a Nebraska homestead a decade after the Civil War.
Performed by Opera Omaha, it's the first work to emerge from Miller Theatre's new Chamber Opera Commissioning Initiative.
9/27
New York City Ballet, through 10/14, David H. Koch Theater
City Ballet's fall gala: world premieres by Kyle Abraham, Matthew Neenan, and Gianna Reisen, with custom costumes by Giles Deacon, Gareth Pugh, and Alberta Ferretti. Also this season, the company will perform Balanchine's classic Jewels, Peter Martins's La Sylphide, and multiple tributes to Jerome Robbins.
9/28
Nightcap: Curated by Conrad Tao, Stanley H. Kaplan Penthouse, Lincoln Center
Piano virtuoso, with a view.
October
10/1
Fall for Dance Festival, through 10/13, New York City Center
One of the city's most vibrant and stylistically diverse dance events, from ballet to tap to tango, and Mark Morris to Honji Wang and Sébastien Ramirez.
10/4
Debussy's La Mer and Stravinsky, through 10/6, David Geffen Hall, Lincoln Center
Violinist Leila Josefowicz takes center stage in Stravinsky's Violin Concerto. She's preceded by a new work from Dutch composer Louis Andriessen and followed by Debussy's La Mer.
10/10
Trisha Brown Dance Company, through 10/13, Brooklyn Academy of Music
This year's Next Wave Festival stages three early Trisha Brown works: Ballet, Working Title, and Pamplona Stones.
10/11
Lucy Guerin Inc, through 10/13, Baryshnikov Arts Center
In Guerin's Split, two dancers gradually cordon off the stage into successively smaller sections. Accompanied by a score from U.K.-based composer Scanner, it's both grueling and engrossing.
Place, through 10/13, Harvey Theater, BAM
Composer Ted Hearne and slam poet Saul Williams's Fort Greene–inspired musical meditation on the consequences of gentrification.
10/12
Battle! Hip-Hop in Armor, also 11/9, Metropolitan Museum of Art
Dancers from It's Showtime NYC! don armor from the Met's collection to stage a Medieval Times–style hip-hop battle in one of the museum's galleries.
Tere O'Connor Dance, through 10/13, NYU Skirball Center for the Performing Arts
O'Connor's new endurance work, Long Run. Expect extra-sweaty dancers by the end.
10/14
Orchestre Révolutionnaire et Romantique, through 10/15, Carnegie Hall
Two Berlioz performances as the French composer himself would have heard them, on period instruments. Works include La Mort de Cléopâtre, selections from Les Troyens, and the dreamily melancholy Harold en Italy.
10/17
American Ballet Theatre, through 10/28, David H. Koch Theater
ABT's fall gala consists entirely of works from women choreographers, including Lauren Lovette's Le Jeune, a world premiere by tap genius Michelle Dorrance, and Twyla Tharp's In the Upper Room. The season continues with performances of Balanchine's Symphonie Concertante, Jerome Robbins's Fancy Free, and a new piece from Jessica Lang.
10/18
277 Dance Project, through 10/20, Muriel Schulman Theater
The result of a multiyear collaboration between choreographer Nicole Philippidis, her brother the musician Johnny Philippidis, and filmmaker Jennifer Klein, Cardboard Stage portrays the search for self-worth in a society obsessed with superficial achievement. Dancers are set against Klein's video backdrop, and the performance is punctuated by the ambient sounds of the city.
10/19
Marnie, through 11/10, Metropolitan Opera
Nico Muhly's second work for the Metropolitan Opera is based on Winston Graham's 1961 novel about a bewitching young woman with multiple identities. It stars Isabel Leonard as Marnie and Christopher Maltman as her hapless pursuer.
10/24
Everywhere All the Time, through 10/27, BAM
To celebrate its 20th anniversary, Seán Curran Company enlisted Chicago-based Third Coast Percussion for a pair of works set to stirring drumbeats. The first, Abstract Concrete, is a reworking of Curran's 2000 piece, while the second, Everywhere All the Time, is set to composer Donnacha Dennehy's Surface Tension.
10/25
Visions de l'Amen, Carnegie Hall
Pierre-Laurent Aimard and Tamara Stefanovich collaborate for an evening of piano duets, highlighted by Messiaen's masterpiece. Also on tap: the U.S. premiere of Harrison Birtwistle's stunning Keyboard Engine, selections from Bartók's Mikrokosmos, and Ravel's Sites Auriculaires. The performance is preceded by a Q&A with Aimard, Stefanovich, and Carnegie Hall senior director Jeremy Geffen.
10/27
"Composer Portraits: Kate Soper," Miller Theatre
Soper, along with members of the ensemble Wet Ink, performs her Ipsa Dixit ("She herself said it"), a fusion of music and frantic monologue revolving around the words of Aristotle, Freud, Jenny Holzer, and others.
Somehow, Soper's wit and comedic timing make this all less daunting than it sounds.
10/30
Hungarian State Opera, through 11/11, David H. Koch Theater, Lincoln Center
Come for Hungarian classics like Erkel's Bánk bán and Vajda's Mario and the Magician, stay for crowd faves like Swan Lake and Don Quixote, along with more up-to-date works like Hans van Manen's three-part LOL.
10/31
"Balanchine: the City Center Years," through 11/4, New York City Center
City Center's tribute to George Balanchine is remarkable for its sheer breadth: 13 distinct works performed over the course of two matinees and four evenings, with dancers from eight ballet companies, including ABT, Joffrey Ballet, and Paris Opera Ballet.
I Hunger for You, through 11/3, BAM
Choreographer Kimberly Bartosik, an alumnus of Merce Cunningham, draws on her experiences with religious ritual, employing light and movement to suggest the ecstatic throes of spirituality.
November
11/14
Twyla Tharp Dance, through 12/9, Joyce Theater
In Minimalism and Me, members of Twyla Tharp Dance perform snippets from some of her pivotal early works created between 1965 and 1971, exploring how they relate to the '60s artistic movement Minimalism.
11/15
The Creation, Alice Tully Hall
Haydn's Creation, a collage of otherworldly sound and text from the Bible and Milton's Paradise Lost, comes alive at the hands of conductor William Christie.
"Composer Portraits: Du Yun," Miller Theatre
Composer, artist, and human-rights activist Du Yun, who received a Pulitzer Prize for her 2016 opera Angel's Bone, presents a collection of works with the International Contemporary Ensemble.
11/17
Only the Sound Remains, through 11/18, Frederick P. Rose Hall, Lincoln Center
Dancer Nora Kimball-Mentzos, countertenor Philippe Jaroussky, and bass-baritone Davóne Tines perform this supernatural opera based on Ezra Pound's translations of Japanese Noh plays.
11/26
Glass Handel, through 11/27, Cathedral Church of Saint John the Divine
Come worship this dizzying art-fashion collaboration among Anthony Roth Costanzo, Visionaire, and painters, filmmakers, dancers (including Justin Peck), performance artists (including Ryan McNamara), and vocalists. Calvin Klein's Raf Simons provides the wardrobe.
11/28
Alvin Ailey American Dance Theater, through 12/30, New York City Center
The dance company's 60th-anniversary opening gala features a new work by artistic director Robert Battle as well as Ailey's old standby Revelations, accompanied by a live gospel choir. The remainder of the fall season will feature work by Jessica Lang, Ronald K. Brown, and a two-act piece, Lazarus, inspired by the life of Ailey himself.
11/30
Socialized, 92nd Street Y
Tap whiz Caleb Teicher joins Wild Rhythm's Gaby Cook and Nathan Bugh, Tap Phonics' Lisa La Touche, and others for a rhythmic afternoon.
December
12/1
Julia Wolfe: Anthracite Fields, Carnegie Hall
Wolfe's Pulitzer-winning Anthracite Fields is an arrangement for choir and chamber ensemble that incorporates interviews with Pennsylvania coal miners, historical speeches, nursery rhymes, and outtakes from Trump rallies (just kidding).
12/4
William Kentridge, through 12/15, Park Avenue Armory
The Head and the Load is a kaleidoscopic tribute to the thousands of African porters who died in World War I, with a libretto composed of passages from various writers and historical sources. Played by the New York–based orchestra collective the Knights.
12/5
Halfway to Dawn, through 12/8, BAM
David Roussève brings together nine dancers of diverse styles — modern, jazz, social dance — for a tribute to composer and arranger Billy Strayhorn, Duke Ellington's primary collaborator. The score incorporates some of Strayhorn's greatest hits, while the backdrop comes alive through archival footage from Strayhorn's heyday.
*This article appears in the September 3, 2018, issue of New York Magazine. Subscribe Now!