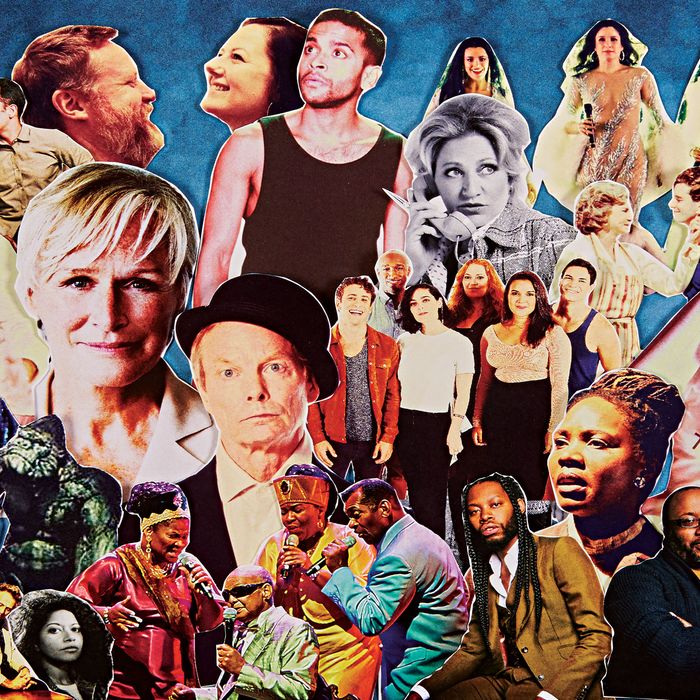 Photo: All Courtesy of the Networks. Collage by Stevie Remsberg.
Editors' Picks
9/25
Uncle Romeo Vanya Juliet – A.R.T./New York Theatres; in previews 9/14
Bedlam has made its name with smart, stripped-down productions of classic stories (including Saint Joan, Hamlet, and Sense and Sensibility), reinvigorated by the energy and versatility of its small ensembles. Now director Eric Tucker mashes two big plays together and, true to form, uses only five actors (himself among them) to explore both Shakespeare's tragedy and Chekhov's moody comedy. Tucker originally intended to stage the plays in rep, but became so fascinated by their thematic overlap that he steered the company towards a more collage-like approach, emphasizing the flights and follies of romantic desire in both impetuous youth and wistful, embittered age.
Bernhardt/Hamlet – American Airlines Theatre; in previews now
In 1899, the great French diva Sarah Bernhardt donned doublet, hose, and inky cloak to play the world's most famous Danish prince, in a performance that became a popular hit and a critical hot-button. Playwright Theresa Rebeck dramatizes the backstage politics surrounding Bernhardt's controversial star turn in a production with its own indomitable leading lady, British actress Janet McTeer, who's torn up stages and screens in roles from Nora Helmer (for which she won an Olivier and a Tony in the '90s) to Jessica Jones's feral, terrifyingly protective mom in the recent Netflix series.
10/1
What the Constitution Means to Me – New York Theatre Workshop; in previews 9/12
Playwright and actor Heidi Schreck performed her thoughtful, funny, articulate memoir play as part of Clubbed Thumb's 2017 Summerworks series, and now it returns to the East Village for a full run. Schreck and her fellow performers revist and restage speeches about American government that she made as a teenager in Washington state, where she travelled around participating in American Legion rhetoric competitions in order to pay for college. Combining her high-school responses to the Constitution with adult ruminations on everything from the 14th Amendment to her great-great-grandmother — a German mail-order bride who travelled west in 1879 — Schreck creates a witty, moving meditation on the strengths and the deep flaws of the piece of paper that has become both America's origin story and, for better and worse, its enduring gospel.
10/7
Oklahoma! – St. Ann's Warehouse; in previews 9/27
Experimental director Daniel Fish looks through a glass darkly at Rodgers and Hammerstein's usually sunny — and, in its day, revolutionary — 1943 musical Oklahoma!, in a diverse, bare-bones production that brings the play's frictions to the fore. Gideon Lester, who produced the much-lauded show at the Bard SummerScape Festival in 2015, describes Fish's Oklahoma! as dramatizing the inevitable violence that comes along with a "history of colonization, expansion, and the building of nationhood." When juxtaposed with the musical's bubbly humor and its beautiful score — here performed by a six-piece band, including pedal steel and banjo — that violence becomes all the more disquieting. "And how do we reconcile those things?" asks Fish, "Or do we not reconcile those things?"
10/16
Measure for Measure – BAM, through 10/21
British director Declan Donnellan and his acclaimed company Cheek by Jowl collaborate with Moscow's Pushkin Theatre on a Russian-language production of one of Shakespeare's knottiest, most contemporary-feeling plays, the story of a repressive, puritanical government and the young nun who attempts to challenge its rank hypocrisy. A play of dark corners, darker humor, moral outrages, likable villains, and villainous heroes, Measure for Measure has more to say about our moment than a dozen self-serious productions of Julius Caesar, and Donnellan and his physically daring ensemble are bound to shed some fascinating light into its shadowy, resonant depths.
11/14
Wild Goose Dreams – The Public; in previews 10/30
Hansol Jung's play about a South Korean father, whose family left for America, and a North Korean defector, who left her family to travel south, returns to the Public where it had a developmental run in 2017. Jung has a gift for frank, off-kilter humor and stories that prick the heart without turning maudlin, and Leigh Silverman directs this spare, imaginative production — which earned praise at La Jolla Playhouse — about displacement, loneliness, and unexpected intimacy discovered amidst the oppressive noise of the modern world.
12/9
Slave Play – New York Theatre Workshop; in previews 11/19
Up-and-coming playwright and Yale Drama student Jeremy O. Harris (whose play Daddy can also be seen at the Vineyard Theatre this season in a production starring Alan Cumming) takes on the sexual violence of slavery in this "antebellum fever-dream" of a play, which premiered in New Haven and has already won several writing awards. Fear, desire, shame, and trauma lurk in the shadows of the master's house at the MacGregor Plantation, as Harris examines race, gender, and sexuality in the Old South through a thoroughly contemporary lens.
September
9/4
The Gospel at Colonus – Delacorte Theater in Central Park; through 9/9
Lee Breuer's 1983 transformation of Sophocles' Oedipus at Colonus into Pentecostal parable, with the gospel group the Blind Boys of Alabama collectively playing Oedipus, as they did in the original production.
9/12
Collective Rage: A Play in 5 Betties – MCC Theater at Lucille Lortel; in previews now
Dana Delany, Lea DeLaria, Adina Verson, Ana Villafañe, and Chaunté Wayans play a group of women united by a shared name, and anger at the world and each other, in Jen Silverman's new comedy.
9/20
The True – Pershing Square Signature Center; in previews 9/4
Sharr White takes on the real-life New York Democratic politics of the 1970s (which seem to eerily echo those of the present), with Edie Falco as Polly Noonan, a player in the Albany party machine, working with "mayor for life" Erastus Corning 2nd (Michael McKean) during a primary.
9/27
The Nap – Samuel J. Friedman Theatre; in previews 9/5
Richard Bean, of One Man, Two Guvnors, provides America with a new, very British comedy about snooker, the very British variation of billiards. The cast includes the current U.S. national snooker champion, Ahmed Aly Elsayed, among a group of others only pretending to be good at the game.
October
10/1
Girl From the North Country – The Public; in previews 9/11
A musical for which Conor McPherson fitted selections from Bob Dylan's catalogue into a set of stories about a collection of people stopping by a guesthouse in Great Depression–era Duluth, Minnesota. The slice of Nobel-laureate Americana is actually transferring from London, where it debuted to acclaim.
10/2
Final Follies – Primary Stages at Cherry Lane Theatre; in previews 9/12
A farewell to great Wasp chronicler A. R. Gurney, who died last year, with three of his one-act plays: The Love Course, The Rape of Bunny Stuntz, and Final Follies.
10/3
On Beckett – Irish Repertory Theatre; in previews 9/26
Bill Irwin's show about Samuel Beckett: hats, benches, and absurdity.
10/10
Black Light – Greenwich House Theater; in previews 9/24
Daniel Alexander Jones takes his stage persona, a thrilling diva named Jomama Jones, Off Broadway, after a well-reviewed run at Joe's Pub.
Jomama belts out a whole imagined biography.
10/13
The Things That Were There – Bushwick Starr; in previews 10/10
Experimental-theater impresario David Greenspan sets a memory play around a family dinner, which sounds conventional enough, but don't expect comfort food.
10/15
Fireflies – Atlantic Theater Company; in previews 9/26
Donja R. Love continues the trilogy that began with this summer's Sugar in Our Wounds with a play set in the Jim Crow South, where a marriage between two black activists (Khris Davis and DeWanda Wise of TV's She's Gotta Have It) is threatened by violence against black children.
10/16
Apologia – Laura Pels Theatre; in previews 9/27
Stockard Channing plays a former radical activist of the 1960s who is publishing her memoir, which awakens conflict between her and her two sons (both played by Hugh Dancy); they've disappointed her with their conventionality, so she'd decided to edit them out of her book.
10/17
Mother of the Maid – The Public; in previews 9/25
Each season, it seems, there must be a new production about Joan of Arc; this time, Grace Van Patten is Joan, while Glenn Close gets center stage as her mother Isabelle, a down-to-earth peasant who doesn't understand her divinely inspired child.
10/18
The Lifespan of a Fact – Studio 54; in previews 9/20
Daniel Radcliffe (as a persnickety fact-checker), Bobby Cannavale (as a blowhard writer), and Cherry Jones (as their fed-up editor) debate the truth and whether you can know it, in an adaptation of John D'Agata and Jim Fingal's book.
10/21
The Ferryman – Bernard B. Jacobs Theatre; in previews 10/2
A hit in London, Jez Butterworth's drama set during the Troubles in Northern Ireland comes to America to spin its brutal tale.
10/22
Plot Points in Our Sexual Development – Claire Tow Theater at Lincoln Center; in previews 10/6
Two romantic partners, one a cisgender woman and one genderqueer, try to be honest with each other about their sexual histories and end up risking their relationship in a new play from Miranda Rose Hall.
School Girls; Or, the African Mean Girls Play – Lucille Lortel Theatre; in previews 10/16
Jocelyn Bioh's cutting and hilarious play about girls at a Ghanaian boarding school who compete in a beauty pageant returns after premiering last fall. Most of the original cast is back, including standout MaameYaa Boafo as the reigning queen bee.
10/23
India Pale Ale – Manhattan Theatre Club; in previews 10/2
A traditional Punjabi family in Wisconsin faces generational strife as one son celebrates a wedding while a daughter announces that she wants to move away and open a bar.
10/25
The Waverly Gallery – John Golden Theatre; in previews 9/25
Elaine May is back onstage, playing the owner of a Greenwich Village art gallery who is facing the ravages of Alzheimer's. With a supporting cast of Joan Allen, Lucas Hedges, and Michael Cera (completing his hat trick of Kenneth Lonergan plays on Broadway) and direction from Off Broadway darling Lila Neugebauer.
Renascence – Transport Group; in previews 10/5
The life of Edna St. Vincent Millay becomes a biographical musical, her poetry set to music by Carmel Dean.
10/30
Days of Rage – Tony Kiser Theater; in previews 10/9
Dear Evan Hansen book writer Steven Levenson goes from teenage anxieties to the passions of radical 20-something idealists, who are planning a revolution from a quiet college town in upstate New York circa 1969, with limited success.
November
11/1
Torch Song – Hayes Theater; in previews 10/9
After an Off Broadway run last fall, the Michael Urie–led revival of Harvey Fierstein's trilogy of plays — International Stud, Fugue in a Nursery, and Widows and Children First! — about a gay man with the then-impossible dream of having a conventional family, moves to Hayes Theater (where it first ran on Broadway 36 years ago).
11/4
American Son – Booth Theatre; in previews 10/6
With the end of TV's Scandal, Kerry Washington returns to Broadway with Steven Pasquale (sadly not singing); they play a couple looking for their son in a police station.
11/8
King Kong – Broadway Theatre; in previews 10/5
The big ape — a 20-foot-tall puppet that made its debut in Australia—immigrates to New York in a musical sure to awe, or maybe just terrorize, tourists.
11/15
The Prom – Longacre Theatre; in previews 10/23
A gaggle of washed-up Broadway actors (played by seasoned charmers, including Beth Leavel and Brooks Ashmanskas), descend on a small town's school dance in a sure-to-be-camp new musical.
11/18
Downstairs – Primary Stages at Cherry Lane Theatre; in previews 11/7
Professional siblings Tyne and Tim Daly appear onstage together in New York for the first time, with Tim as the wayward brother who ends up crashing at the more put-together Tyne's house, in Theresa Rebeck's new play.
All Is Calm: The Christmas Truce of 1914 – Sheen Center for Thought & Culture; in previews 11/9
A musical where all is not quiet on the Western front, depicting a few hours of peace between German and Allied soldiers during World War I, sampling songs from the era as well as readings from soldiers' letters and other primary documents.
11/19
The Hard Problem – Mitzi E. Newhouse Theater at Lincoln Center; in previews 10/25
A psychology researcher (played by Adelaide Clemens) explores the nature of consciousness in the New York debut of Tom Stoppard's play. Considering the pace of Stoppard's writing, you might want to study up on the subject in advance.
11/28
The Prisoner – Theatre for a New Audience; in previews 11/24
British director Peter Brook's collaboration with Marie-Hélène Estienne sets a story about crime and punishment around a man condemned to sit outside, not within, a town prison.
The White Album – BAM; runs through 12/1
Lars Jan sets a live reading of Joan Didion's essay of elegantly phrased anomie at a house party. Didion describes the period between 1966 and 1971, when she "participated in the paranoia of the time" but lost the plot.
December
12/3
The Cher Show – Neil Simon Theatre; in previews 11/1
A trio of Chers play the icon at various ages in a musical that's essentially Three Tall Women with more No. 1 hits.
12/6
Network – Cort Theatre; performances begin 11/10
Bryan Cranston is mad as hell and not going to take it anymore, yelling in front of you, behind you, and on a huge screen as the delusional and maybe prophetic anchor Howard Beale in Ivo van Hove's whiz-bang production beaming in from London.
12/9
The Jungle – St. Ann's Warehouse; performances begin 12/4
This Stephen Daldry–directed production will re-create in Brooklyn the now-closed refugee camp in Calais, as it did in London, where it won raves. The play is written by two men who spent time in the camp, and its cast includes former Calais "Jungle" refugees.
12/11
Clueless, the Musical – Pershing Square Signature Center; in previews 11/20
Amy Heckerling's long-awaited return to the movie that, like, totally defined a generation; here, it's reborn as a musical set to the songs '90s kids will definitely remember.
12/12
Strange Window: The Turn of the Screw – BAM; runs through 12/15
The Builders Association's Marianne Weems assembles a multimedia stage adaptation of Henry James's unnerving novella about a governess alone in a country house with two children and mysterious figures that may or may not be ghosts. A haunted house, essentially, for adults.
12/13
To Kill a Mockingbird – Shubert Theatre; in previews 11/1
Aaron Sorkin dares to adapt Harper Lee, with Jeff Daniels as Atticus Finch and adults playing the children (Celia Keenan-Bolger is Scout). The drama began before rehearsals with a lawsuit from the Lee estate centered particularly on Sorkin's changes to Atticus. (It was settled out of court this past spring.)
*This article appears in the September 3, 2018, issue of New York Magazine. Subscribe Now!