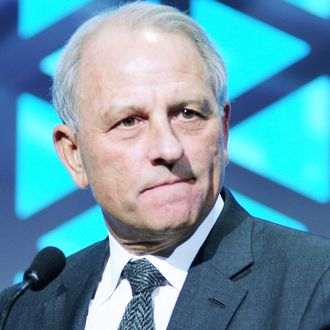 Jeff Fager.
Photo: Brad Barket/Getty Images for Peabody
Jeff Fager, the executive producer of 60 Minutes who was accused of promoting a culture of sexual harassment alongside Les Moonves within CBS's news division, is leaving the company. According to a note president of CBS News David Rhodes sent out to employees, Bill Owens will manage 60 Minutes in Fager's absence. The memo also claims that Fager's departure is "not directly related to the allegations surfaced in press reports" though he "violated company policy." The investigations into CBS and CBS News, one of which started after allegations against Charlie Rose surfaced and another after reports on Moonves, will continue. Fager initially denied the allegations against him, which included claims that he touched women inappropriately at parties and shielded men beneath him who were accused of misconduct. In The New Yorker's later report, on which Fager declined to comment, Sarah Johansen, a former intern, said Fager groped her at a work party. He took an extended vacation after the first New Yorker story broke in late July, but reportedly returned to work on August 10.
Read Rhodes's memo below:
Jeff Fager is leaving the company effective immediately. Bill Owens will manage the 60 Minutes team as Ingrid Ciprian-Matthews and I begin the search for a new executive producer of the program. 60 Minutes is the most significant news broadcast on television. We are fortunate to have incredibly talented journalists in place whom we know will continue to deliver our defining investigative work.




This action today is not directly related to the allegations surfaced in press reports, which continue to be investigated independently. However, he violated company policy and it is our commitment to uphold those policies at every level. Joe Ianniello is in full support of this decision and the transition to come."



Fager also released a statement, claiming that the company's decision was not related to the "false allegations" against him, and instead saying that his termination was due to a text message he sent to a female employee about covering the story in which "my language was harsh." "One such note should not result in termination after 36 years," Fager said, "but it did."
Update: CBS reporter Jericka Duncan tweeted that the text messages referenced by Fager were sent to her after she reached out to him for a comment on the unfolding harassment story.
Duncan then shared those text messages on a tonight's broadcast on CBS Evening News.